EB550 - 1978 Honda CB550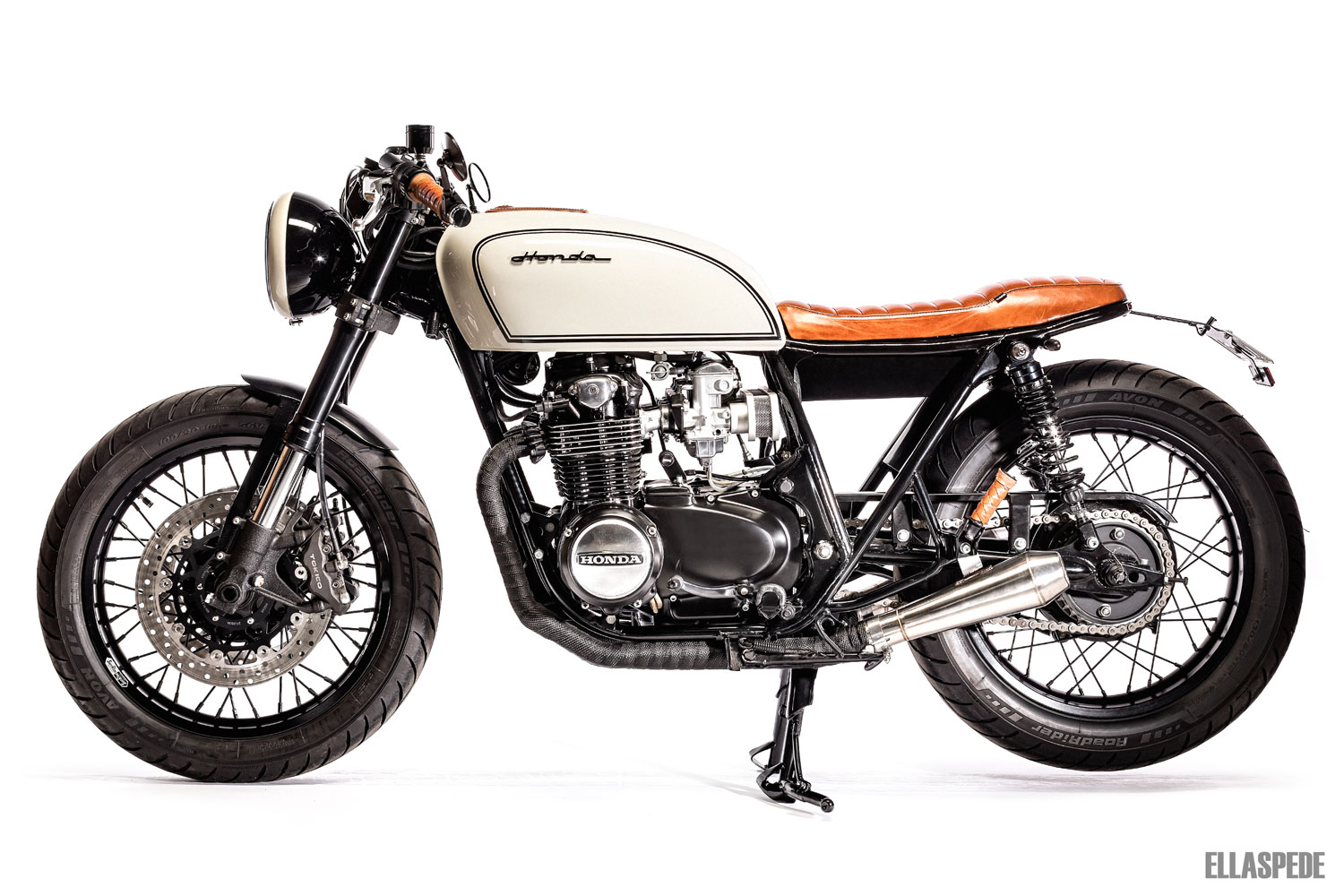 Is the 550 Four the best all round Honda of the 70's? It just might be. Owner Kevin wanted a Honda CB cafe racer and after owning the smaller CB350 twin he knew something a little larger from the same family tree was going to be right in the sweet spot for this project.
History
In the mid 70's many manufacturers were still experimenting with their public offerings, including Honda who already had the smaller CB's (350, 400's etc) and their big CB750. But it was the battle for the mid market that produced a number of new bikes including the Yamaha TX500 and Suzuki GT550.
Honda evolved the CB450 'black bomber' twin into a CB500 twin to compete, but soon replaced it with a 4 cylinder 500 version. It wasn't long before the 500cc mill was taken out to 544cc to create the CB550 Four, but it took until 75/76 that Honda had ironed out most of the early issues with this model. This left only few years where the CB550 Four really was the 'best of both worlds' in terms of size, weight and performance before the model was finished in 1978.
Reviews lauded the 550 Four for it's better performance than the smaller CB's and better handling than the flagship 750's. It wasn't as fast in a straight line as the bigger CB, but a stiffer frame and lower centre of gravity when compared to the 750 meant that it was well regarded as being easier to ride, especially for those under 6'ft tall.
As with any bike of this era, we discussed with Kevin the importance of doing the 'whole job' on an old bike like this to ensure trouble free riding once the build was complete. It can be daunting at the start, but Kevin agreed that going through every component on the bike was essential. In reality, it does save time and money 'doing it once and doing it right' so away we went.
Getting started
First port of call was the motor, which was pulled out for full inspection. The top end needed work and 1mm oversize pistons found their way into fresh bores. The head was completely torn down and leak tested before being completely rebuilt with all new Honda genuine parts. While the top was off the bottom end was inspected and it was deemed within spec and screwed back together.
Keeping it in the family, a Honda CBR front end was sourced and dummied up for testing before being disassembled for rebuild and anodising. The front steering lock was modified to prevent the new forks from introducing themselves to the stock tank. Rear shocks were also spec'd at the same time to get the stance right from the get go. Old lower suspension bushes had to be cut out before new ones were pressed in at the bottom with new spacers at the top.
Getting the bike rolling in the right direction is a Cognito Moto front hub to suit the CBR front end. This took some of the pain out of changing front ends as it retained the ability to mount the CBR brake discs and lined up with the stock CBR Tokico calipers.
The stock rear hub was retained and both wheels were laced up to new 'Sun Rim' outers from the USA using fresh nipples and spokes. Prior to reassembly both hubs, spokes and nipples were coated in satin black to match. Avon Roadriders in 100/90-18 and 130/80-18 wrap the wheels front and rear, new chain and sprockets getting them turning. A custom made chain guard made to be as 'stealth' as possible keeps things legal.
With the rear suspension and wheels specified the rear frame could be trimmed and adjusted to allow for adequate clearance. A custom hoop was welded on with a recession for an LED tail light to slot in. Once some major de-tabbing was completed a battery box and rear wheel splash panel were folded and welded up.
Continuing the fabrication, the rear seam lip on the factory tank was removed and the back edge of the tank lowered to cover the hole exposed from using a lower seat. Two custom seat pans were then made to suit the new frame shape and rear tank profile, one for a full two person seat and the other as a single seater with a rear cafe style cowl. The 'cafe' seat was an off the shelf unit that was modified to achieve a lower profile and to make it suit the shortened CB frame. It has a hinged seat pad (also required modification) that reveals a storage unit in the rear cowl.
A custom front guard was fabricated and mounted to the CBR upside-down front end. With the guard fitted a custom bracket for the bottom mount headlight could be made to position it as low as possible.
Continuing up the front end, Daytona speedo and tacho units were bolted to custom made mounts. The mini warning light panel sits on a custom shroud bracket nestled above the headlight between the gauges. CBR clip on bars, switch gear and ignition switch were sourced and fitted with a few light mods.
Once the fabrication was complete, all relevant parts were then sent off for powder coating in stain black.
Assembly
With all parts back from coating the assembly process began and soon started to resemble a bike again. The finished motor was lifted back into place. Rebuilt and freshly painted carburettors were refitted to the engine which was now finished in high temp satin black. Sanded cooling fins, laser etched and polished side covers provide some subtle detail on the new motor.
Exhaust gasses exit through modified stock header pipes which were cut and mated to new custom made 4-into-2 stainless pipes. Cone baffles and extra exhaust matting were fitted to the stainless mufflers before they were custom mounted 'tight and low' with a slight upsweep below the passenger foot pegs. The factory centre stand was modified to fit snugly around the new exhaust.
The 'achilles heel' for most old bikes is definitely the electrical system, especially where customs are concerned. To minimise future issues, all new electrical components were sourced and mounted. An Anti Gravity 8 cell battery now resides under the seat and all the components are mated via a custom aircraft-grade wiring loom. All wires were sheathed in braid and hidden where possible.
Motogadget indicators, Truflex LED tailight and a JW Speaker LED headlight all made their way on, accompanied by a trick little projector light which shines a Honda logo beneath the bike. At the back a modified Ellaspede Ninja Star licence plate mount extend the rego plate, rear reflector and plate light towards a more legal position.
A new custom clutch cable and braided brake lines fit to new brake and clutch levers up front. New grips and Motogadget mirrors slide on to bring the riders cockpit close to completion.
All other components were either painted, polished or powder coated across the whole bike. Fresh bolts, bearings and seals also replace almost all standard items with genuine Honda replacements used where possible.
Highlighting the important areas is a smooth 'bone' hue laid across the tank, headlight rim and cafe seat cowl. A classic double pin stripe shapes the tank and cafe cowl, with a pair of 3-D printed vintage Honda badges finished in satin black residing on the tank sides.
'Mid tan' leather wraps both seats in a horizontal stitch style. It also provides some detail and continues the theme across the custom wrapped fuel cap, grips, throttle pull elbow, kickstarter and passenger foot pegs. Always wanting to be part of the build process, Kevin was responsible for the patterned leather on the grips, kick starter and pillion foot pegs.
Finishing thoughts
With the 'whole job' now complete Kevin can enjoy some classic Honda cafe racer riding without the worry of leaving a stone left unturned. It's a credit to him that he was willing to 'do it once and do it right' on this build and riding the bike certainly reflects that.
As the original reviews suggest, the CB550 Four really does have the right mix of power and agility. 40 years later and now with some custom, aesthetic and mechanical improvements Kevin can continue to enjoy Honda's middle market machine for years to come.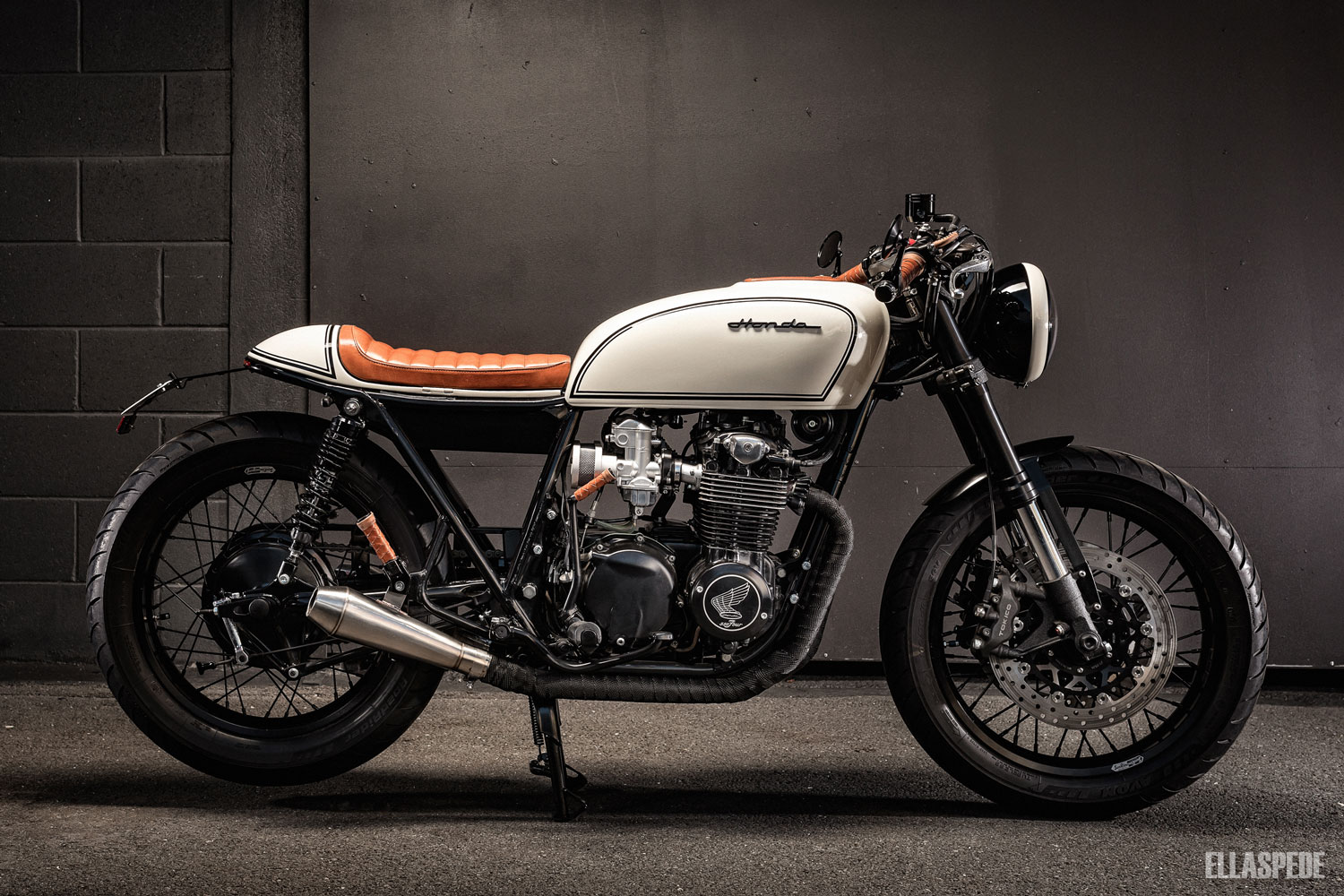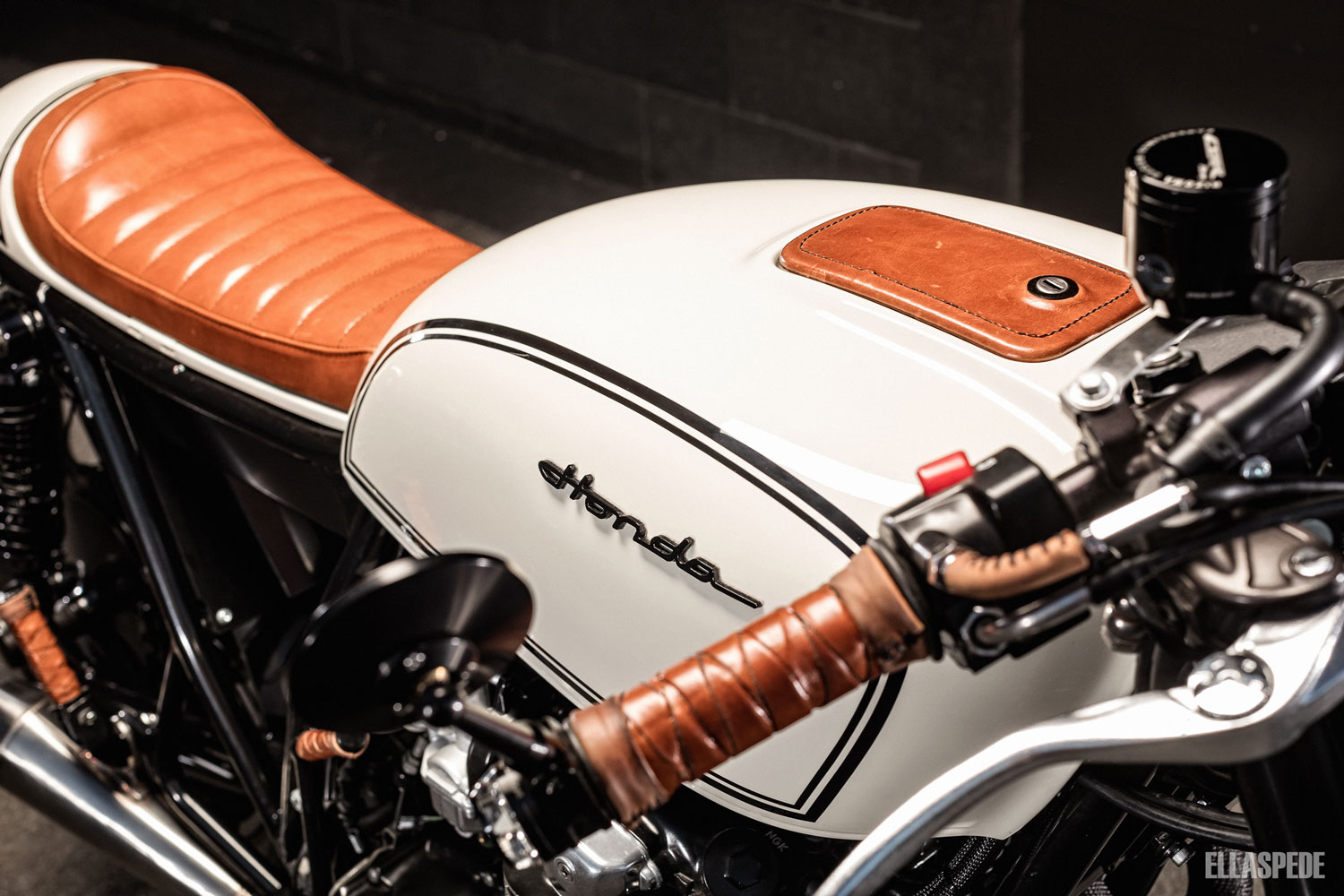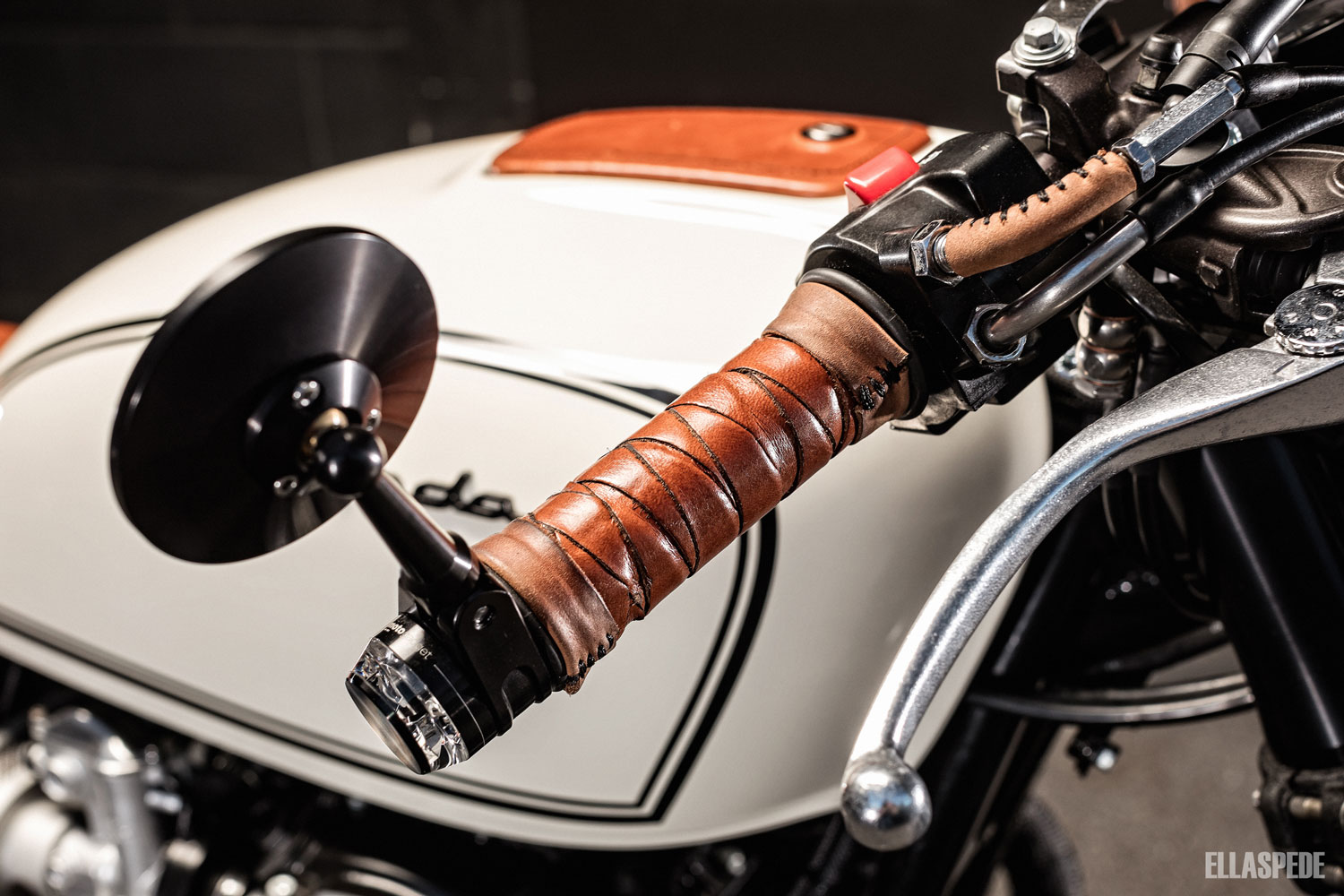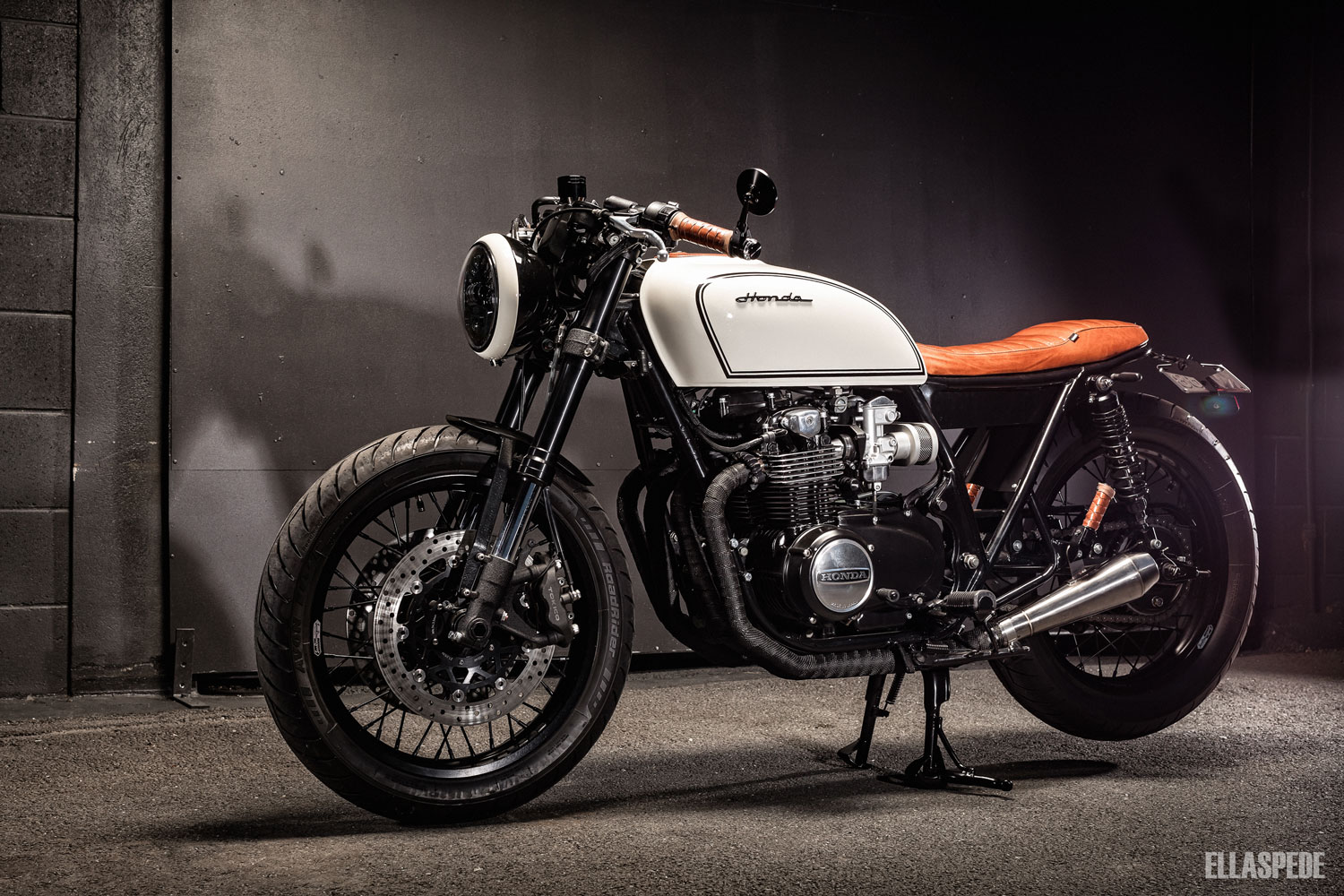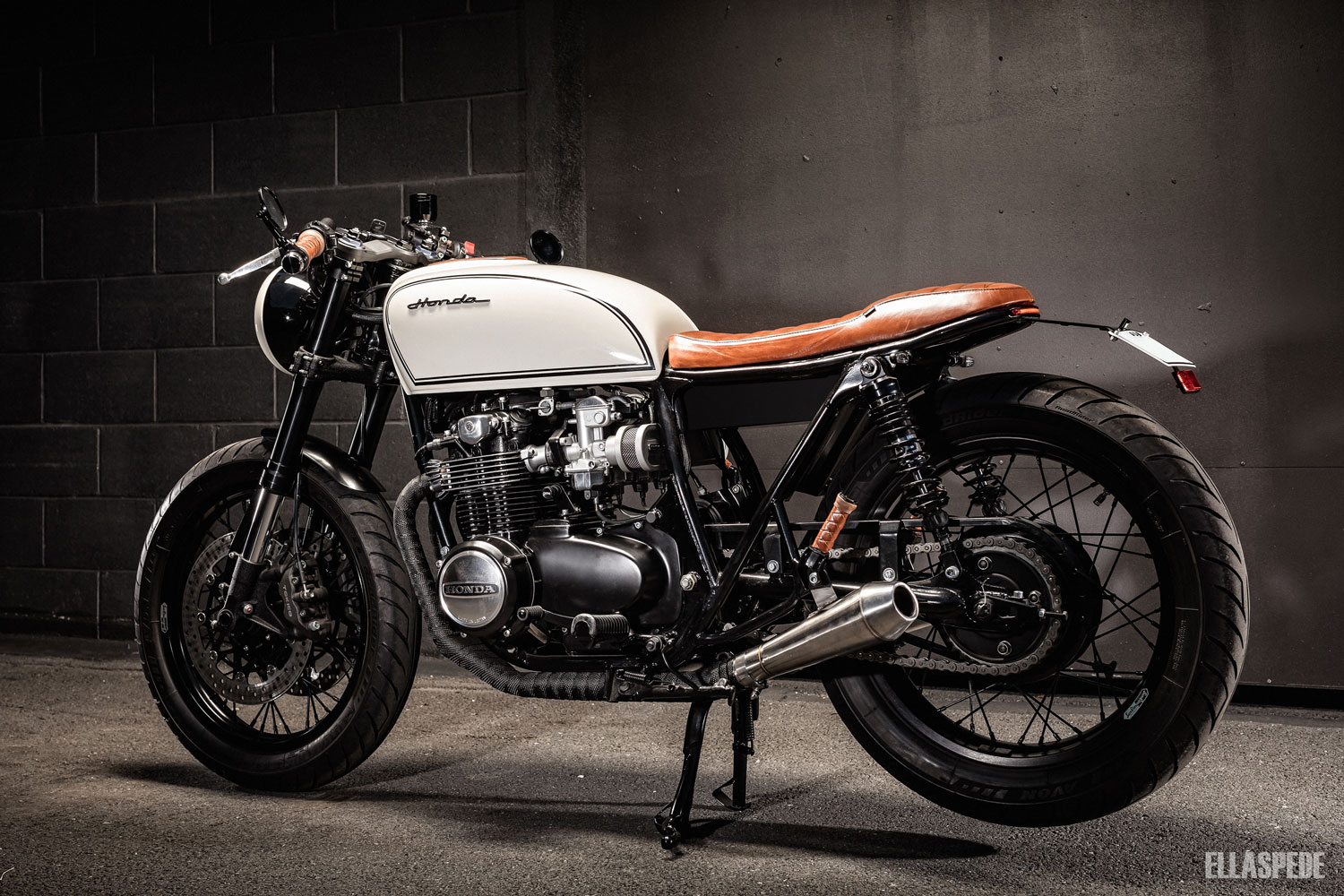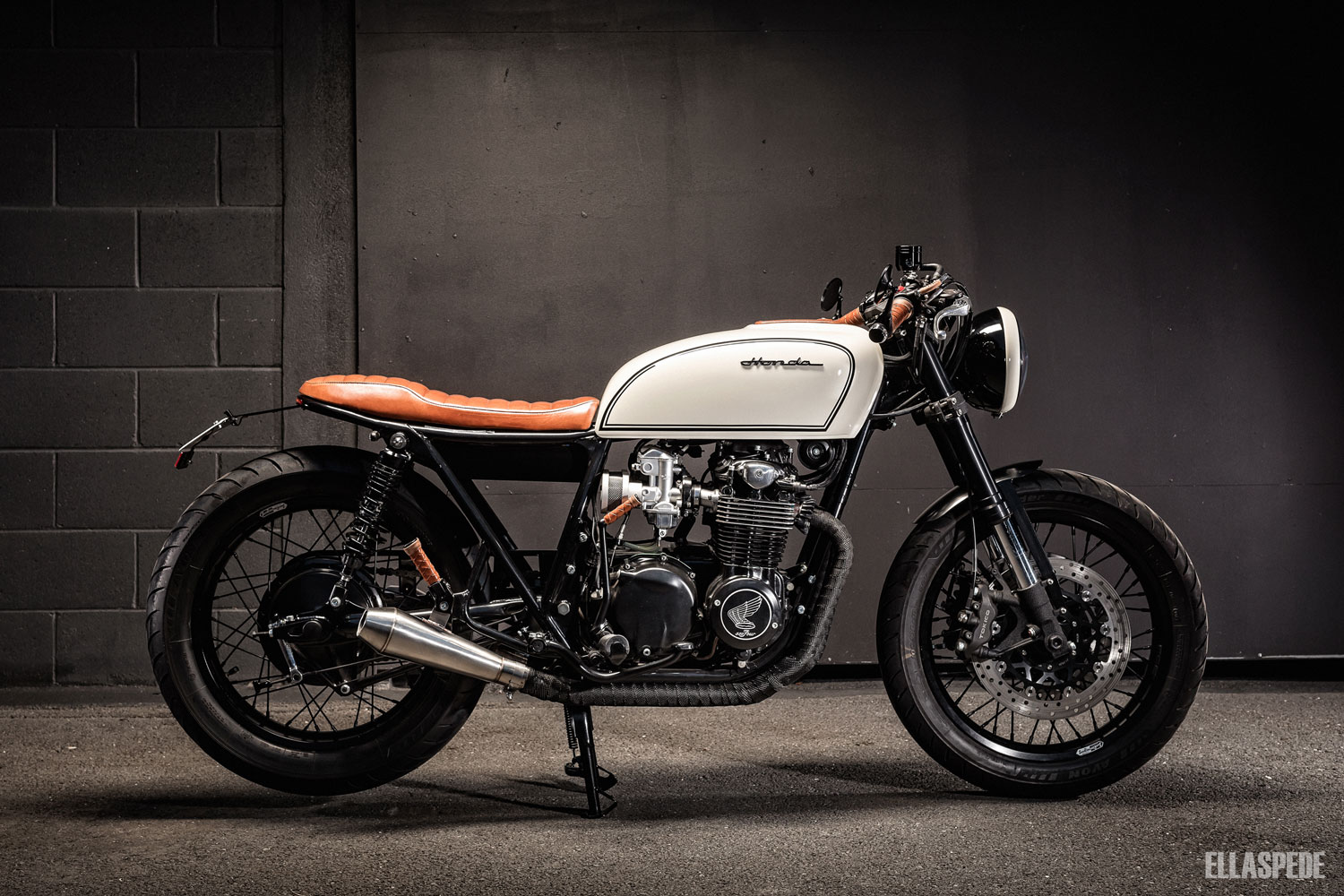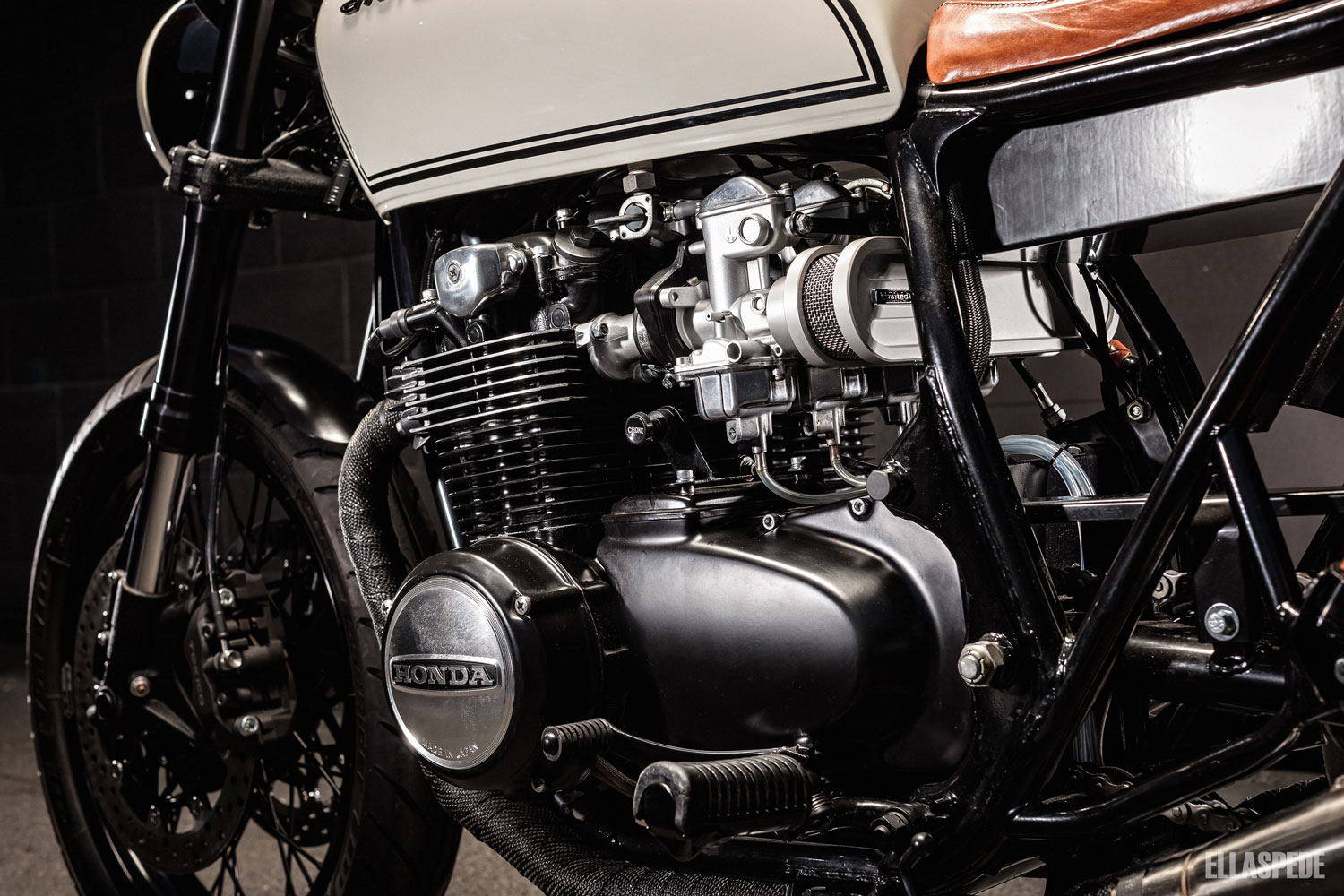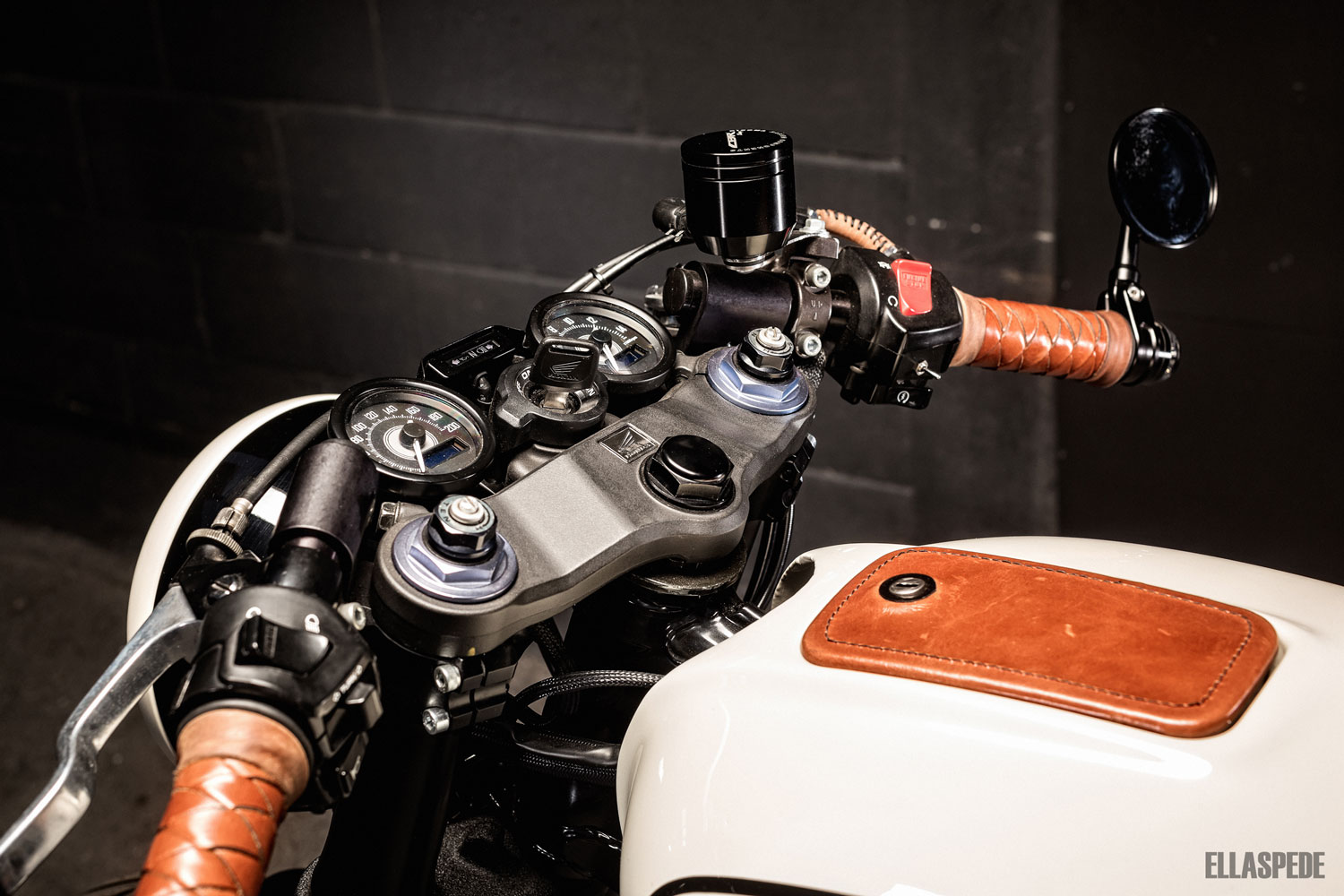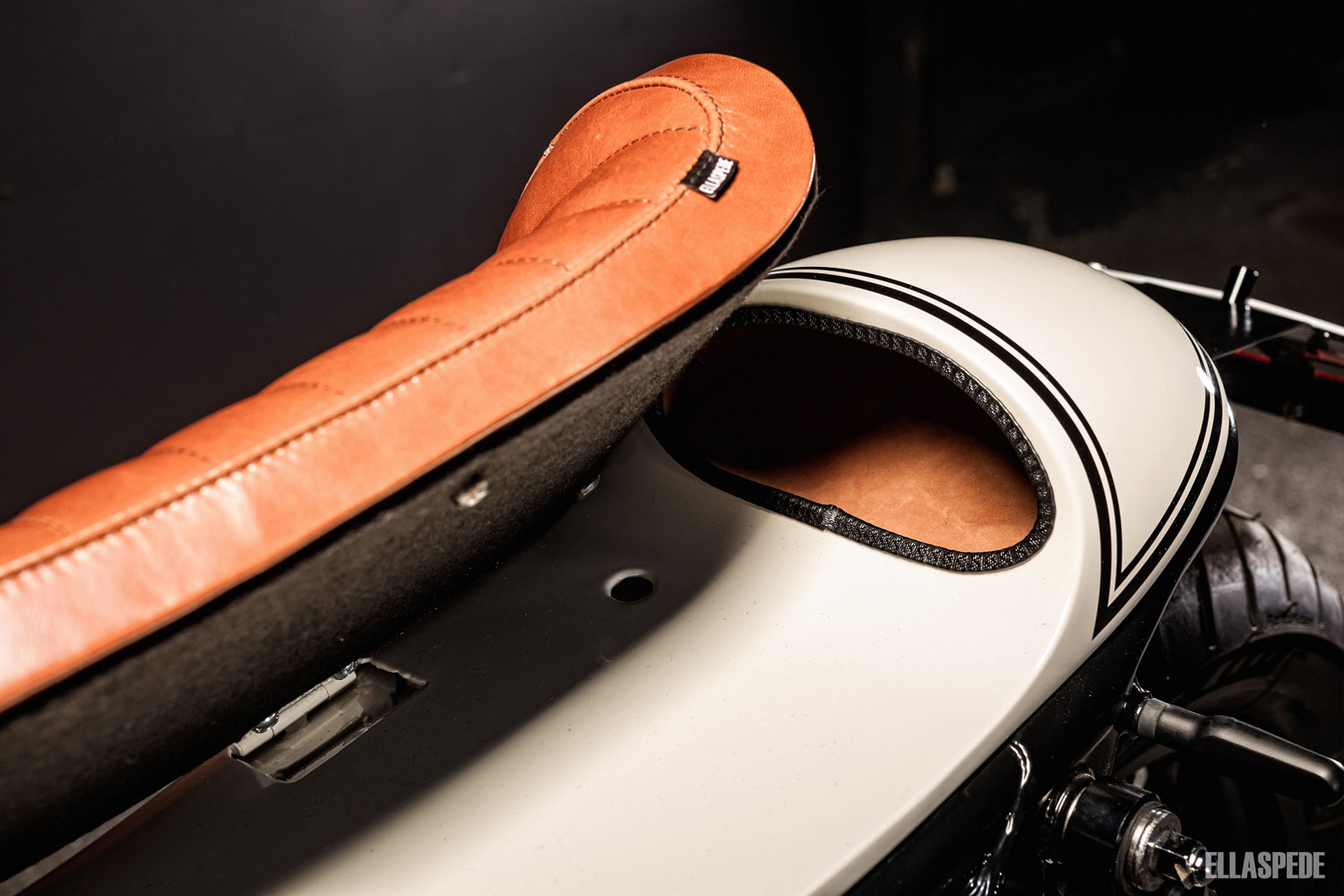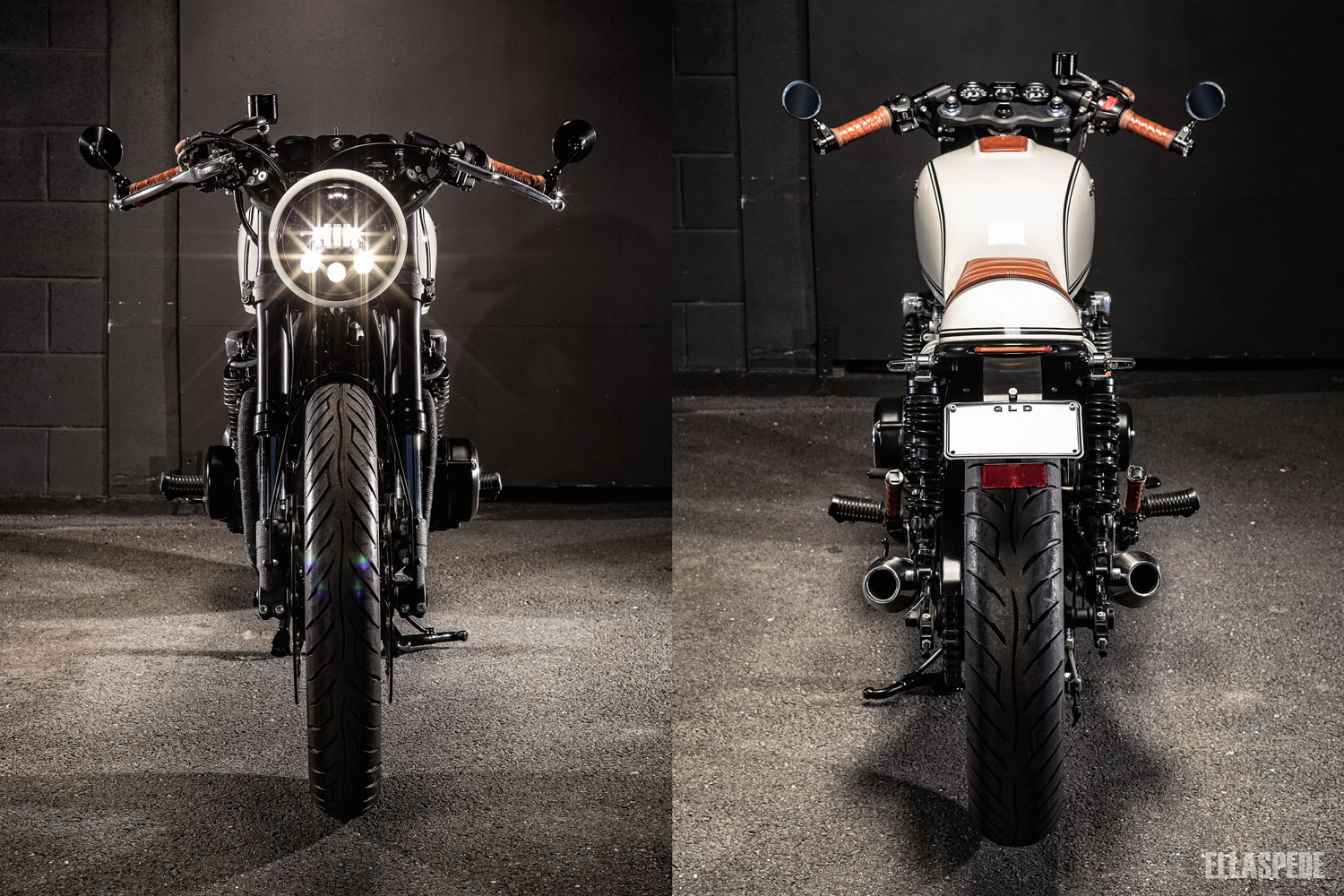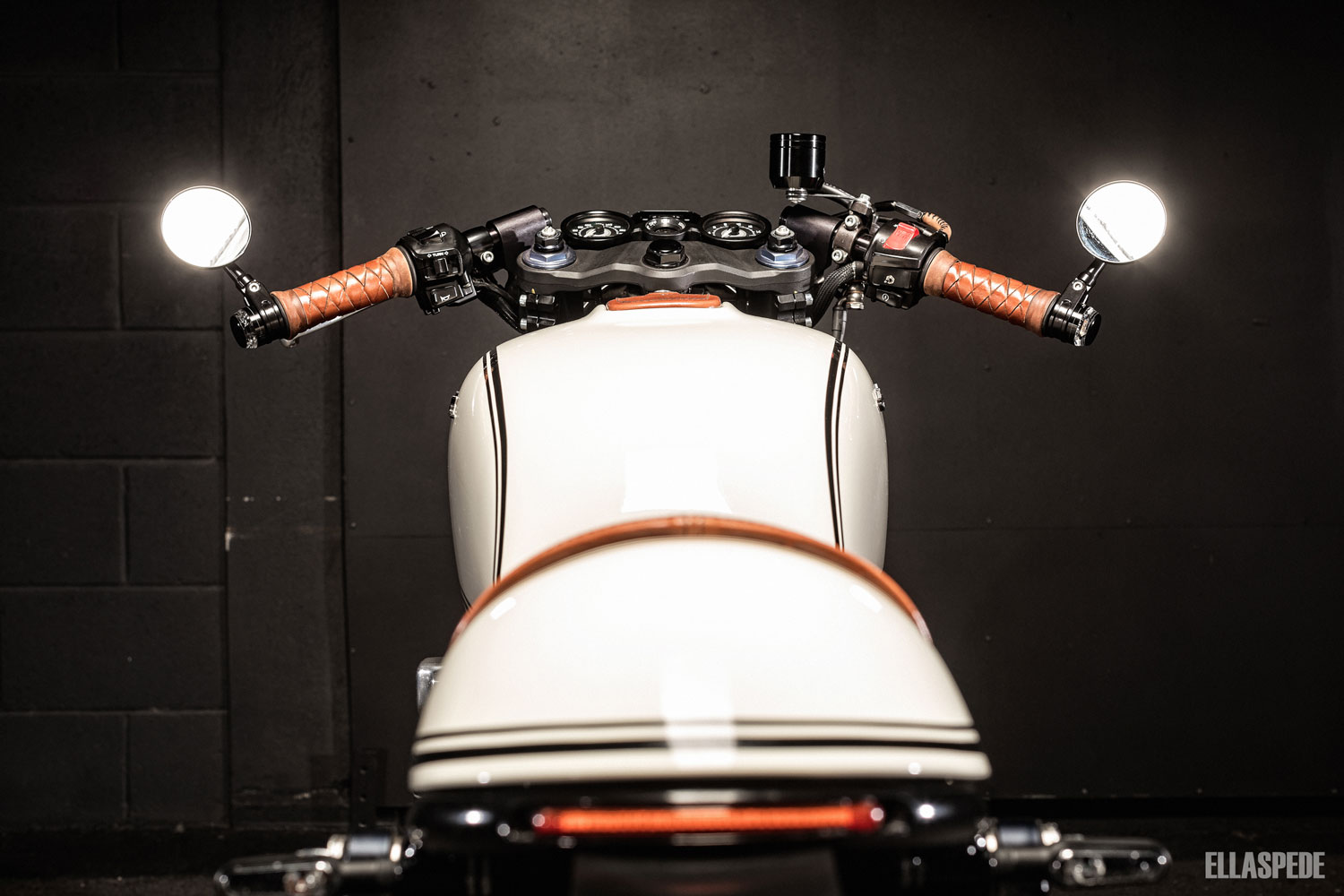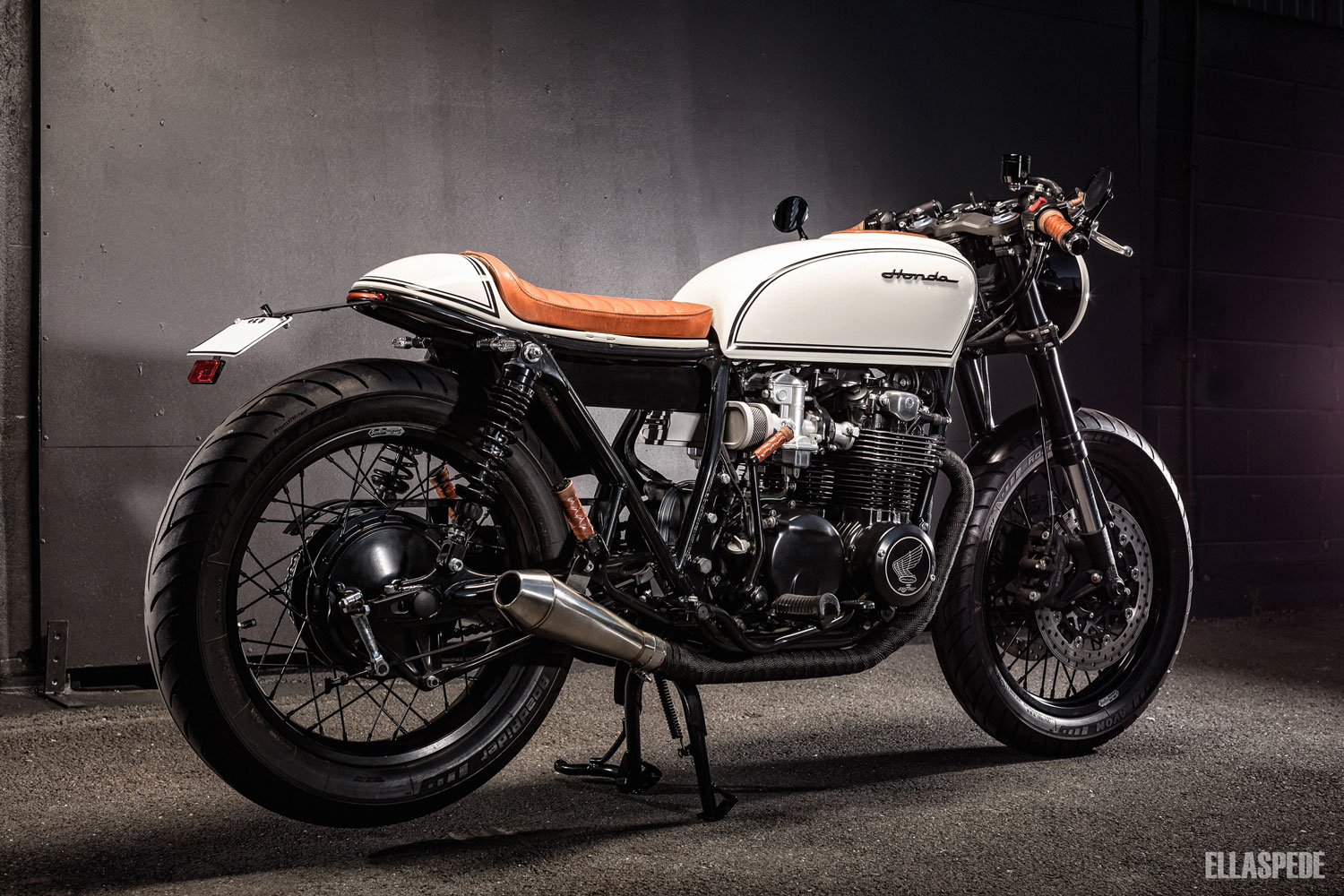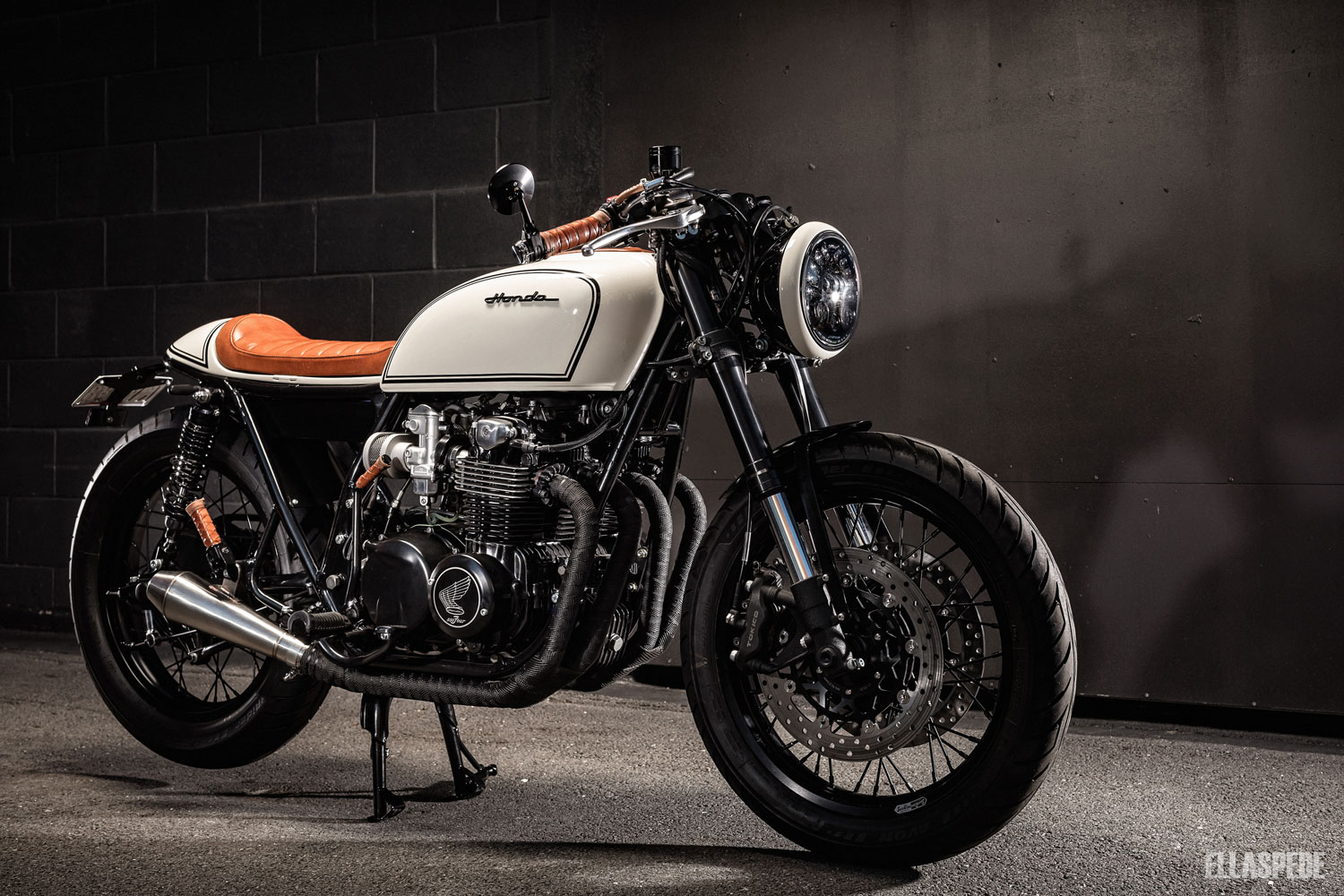 ---
Albums we listened to during the build of this bike:
---
Photos and Features:
---
---
Comments (9)
Beautiful Bike!

By:

Sherry

on 14 October 2021

Hello! I recently just picked up a 77 CB550F and was looking around for inspiration. Your build looks truly amazing! There's not too many aftermarket exhausts out there that clear the center stands. I was wondering which exhaust it was that you ended up going with (or was it a custom make)! Again, amazing build!





Ellaspede Response
Hi Sherry, We're glad you like our CB550 custom build. The exhaust was custom made headers and pipes with the stainless cone mufflers we found online. If you want it to clear the centre stand then custom might be the way to go! Cheers
---
Curious about wheel sizes

By:

Morgan

on 22 January 2021

I'm considering doing a fork swap on my CB450 for a CBR1000rr front end. Looks like you guys went a size up with 18" rims rather than the spec'd 17" on the CBR, did this change the overall handling at all? I'd really like to go with 18" rims for my bike and don't want to be stuck with 17". also did you happen to use an offset front sprocket to accommodate the rear wheel sizing?





Ellaspede Response
Hi Morgan, We're glad you like our CB550 build mate! Yes we wanted to keep a classic look with the spokes and wheel size so went for 18" front and rear. It would probably have sharper turn in with a 17" front, but we weren't building a full race bike so were happy to sacrifice a little for the look. No offset sprocket on the rear, it's only a 130 on a 2.5" rim. All the best with your build! Cheers!
---
Thanks for the inspiration!

By:

Larry (Charlotte, NC)

on 20 October 2020

I just found your post on-line and have book marked it. What an amazing bike! I'm currently doing a resto-mod on a 1970 Honda CB350 K2. I'm going for more of a Cafe Racer/Street Tracker look. I love the older Honda CBs (this is my third project). I'm really interested in your seat. You mentioned it was an 'off the shelf purchase'. Where did you get the seat - if you could provide specifics, I would really appreciate it. Love your bike!





Ellaspede Response
Hi Larry, Thanks for getting in touch, we're glad you like our CB550 build. You'll have to send us some photos of yours when its done. The seat was an off the shelf unit that the customer sourced but then it was heavily modified to get it fitting as you see in the photos. Unfortunately we don't have any details as to where it came from sorry. All the best with your build! Cheers
---
Stunning build!!

By:

Shelley Cork

on 11 August 2020

Love this bike it's stunning!! Would love to own this!!
---
Awesome build

By:

Chris Alexander

on 9 August 2020

Love the leather components on this build really makes the bike shine.
---
I want this bike!

By:

Dennis Arnold

on 26 April 2020

I'm in the early stages of a '71 CB500 café project. (It's currently scatter all over my garage.) I've been scouring the web for inspiration and this bike is The One to emulate. I wouldn't change anything. Please send me all the parts to replicate this build! (Seriously, I could use some help.)





Ellaspede Response
Hey Dennis! We're glad you like our build mate. Even better to hear you're working on one of your own! Was there any specific parts you were after for your build? Many of the parts on this bike are custom but let us know and we'll see what we can help out with. Cheers!
---
Beautiful

By:

Darren

on 10 April 2020

Just beautifully cool
---
Class Act

By:

Jason

on 17 March 2019

This bike is one of the best I've seen . This is exactly how I would want my bike to turn out . Everything about this build is perfect to the colour scheme to the small touches. Amazing work
---
Dream

By:

Michael Wirihana

on 11 August 2018

Immaculate!! Would love something like this for my first bike. Great work
---
Leave a comment