EB192 – 1977 Yamaha XS400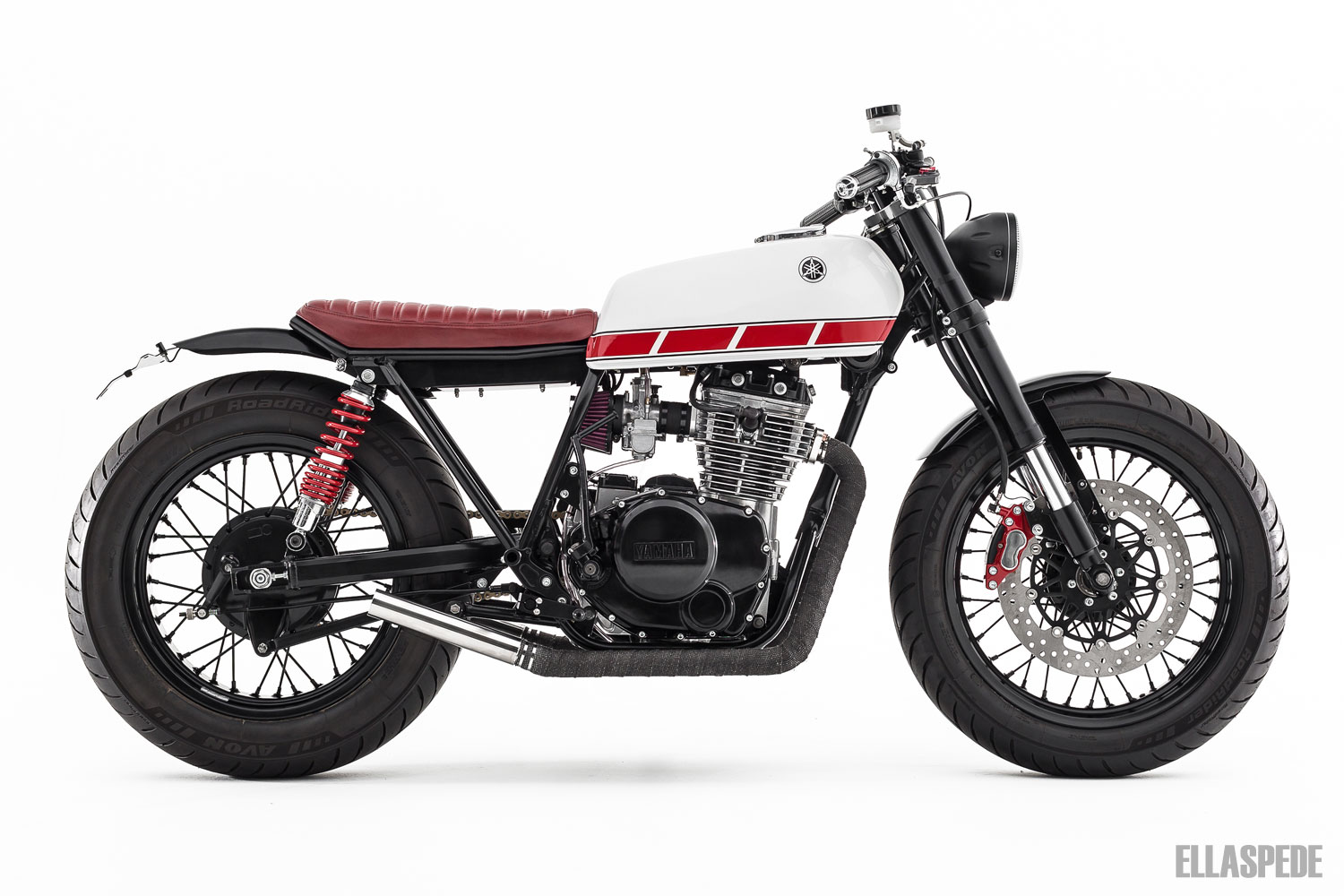 These days we see some of the best custom motorcycles being made from a variety of styles, and Dan's Yamaha XS400 here is a prime example.
Often lurking in the shadows of its more popular RD400 brother, the XS400 is a good candidate for a compact custom build. Although making less power then the two stroke RD, the four stoke engine is generally considered more useable for a bike around town. Attracting less of a price hike compared to the bigger XS650's but benefitting from their aftermarket support is also a plus. The XS400's now put forward a strong case as a donor bike, if you can still find one in reasonable condition that is.
Dan had always loved the XS400 for its nimble size and very 70's looking appearance, so when it came time to build a custom with some classic inspiration he knew it would be at the top of the list. After some searching he turned up this one tucked away in a shed (barn?) in northern Queensland.
Style wise, Dan loved the bobber scene and wanted to blend that with a little cafe custom. Living in Brisbane at the time he liked the Ellaspede approach to custom motorcycle design, so got in touch to make the mixing of styles a seamless reality.
With a collection of online inspiration images from Dan, the Ellaspede industrial designers got to work on a custom concept that included some classic Yamaha and Japanese bobber influence. Once the bike arrived from the top of the sunshine state it was time to tear in…
All unnecessary tabs were removed from the frame before modification of the rear section began. After trial fitting a number of other angular vintage tanks, the stock tank was decided upon and formed the basis of inspiration for the new rear custom work, our aim was to replicate in a subtle manner the rear profile of the XS400 tank.
The frame mods continued with a recess cut into the rear frame bar for the frenched in tail light. Pillion peg mounts were also cut down to act as exhaust mounts for the 2-into-2 system and the frame also adjusted to suit new rear sets.
The desired lowered ride height meant the battery box, seat pan and rear guard were specifically made to maximise rear wheel suspension travel and tyre clearance. The battery box was folded up out of sheet steel, sitting as shallow in the frame as visually possible while still accommodating the electrical components.
Again with angular inspiration from the tank, the rear guard was custom made to sit as high as possible, with the leading face extending through the notched rear section of the battery box. The sheet metal seat pan was a complex shape to maximise foam depth where needed, whilst still accommodating the 'tucked' position of the rear guard.
Overall the rear section became a nice relationship of interacting frame, battery box, rear guard and seat pan; each accommodating the next to provide the required wheel travel for the final ride height while matching the angular aesthetic of the build.
The Aprilia RS125 upside down front end was a good match for the build and a surprisingly easy swap, slotting straight in to the XS400 front end. Cleaning up the headstock is an aftermarket CNC top triple tree, with the factory lower fork clamp being machined smooth to match.
A subtly angled front guard was shaped up and sits on custom mounts to snugly hug the bigger front tread.
Out the back custom Ikon 7610 series shocks with colour-coded springs soak up the road surface, though of course their limited travel make for a firm ride.
Replacing the factory mags are Yamaha hubs laced up to Excel 18×2.5″ front and 17×4.25″ rear rims. Avon Roadrunner rubber wraps the new hoops in 120/90-18 and 130/90-17 to round out the big wheel combo.
The front rim was a reasonably straightforward fit with some custom axle and brake spacers bringing everything together. The factory Aprilia disc rotor bolted straight onto the Yamaha hub and the Aprilia name was machined off the brake calliper before being rebuilt. A aftermarket master cylinder and stainless braided line completes the front brake setup.
At the rear things were a little more complicated given the new wheel width. An aftermarket SR500 alloy swingarm provides some more room for rubber while matching the subtle angular aesthetic of the build. Custom spacers keep the new rear hub in place with offset adapters required to space both sprockets out for the re-specced 525 chain to clear the wider rear wheel.
The bulky factory rear disc / caliber combo was discarded in favour of a compact Yamaha drum setup, which provided the required look and is braced via a custom dogleg linkage. The rear brake actuator rod was also made to clear the wide rubber.
The Motogadget catalogue was raided for a full list of electrical components including m-Unit, m-Blaze indicators, motoscope mini gauge, m-Grips and m- Switches. An aftermarket 'Halo' headlight lights the way, linked to the other components via an Ellaspede aircraft grade-wiring loom with internal bar wiring and hidden routing. An Antigravity lithium battery provides power when the keyless Motogadget m-Lock RFID ignition lock gives the signal.
Rider controls feature adjustable levers and a Tommaselli throttle on LSL low rise bars.
The 400 twin got a full makeover before finding it's way back into the frame. A complete top and bottom end rebuild with genuine Yamaha parts was the order, with the oversize pistons, rods, valves, shift forks, bearings and seals coming care of Japan. The original crank was crack tested and balanced, while up top the head was ported and polished before being shaved to bump up compression.
Re-chromed or replaced bolts screw the hydro blasted parts back together. Selected side and top engine covers were painted in 2-pack black to visually offset the raw engine alloy.
Flat slide performance carbs now breathe through oval pod filters, ensuring there's enough mixture going into the oversize bore.
Exhaust gases exit via custom 2-into-2 stainless exhausts made to match the frame angle and bolted to the head via laser cut header pipe flanges. Bolt in pipe baffles slot in the exhaust rear, further modified to produce a healthy mix of noise and backpressure.
Addressing the colour question is a Ducati Red and Ducati pearl white paint combo inspired by the Yamaha speed block livery. Black pin stripes tie in the custom metallic tuning fork badges. Splashes of red highlight the front calliper and rear fork springs, with the remainder of paint and powdercoat opting for a smooth black to keep things subtle.
Thankfully, the aged stock XS400 tank required little preparation prior to paint.
Maximising the available seat space is some high-density foam, custom shaped before a gel insert was added for extra comfort. The oxblood red leather makes the most of the monochromatic theme, wrapping the seat with a horizontal stitch pattern for further shape.
We loved that Dan had an original idea but let it grow organically into the finished bike you see here. This is important when considering a build on an old donor bike. He wasn't afraid to rebuild, replace or customise every component to achieve a great look and ensure the bike functioned as-new.
Putting the bike together for the final time revealed a bike 'bigger' than the sum of its parts. It's combination of bobber, classic and cafe influences blended to reveal a bike that feels like 3 of our favourite motorcycles combined in one neat package. We know we'd gladly give up 3 bikes to own just one of these!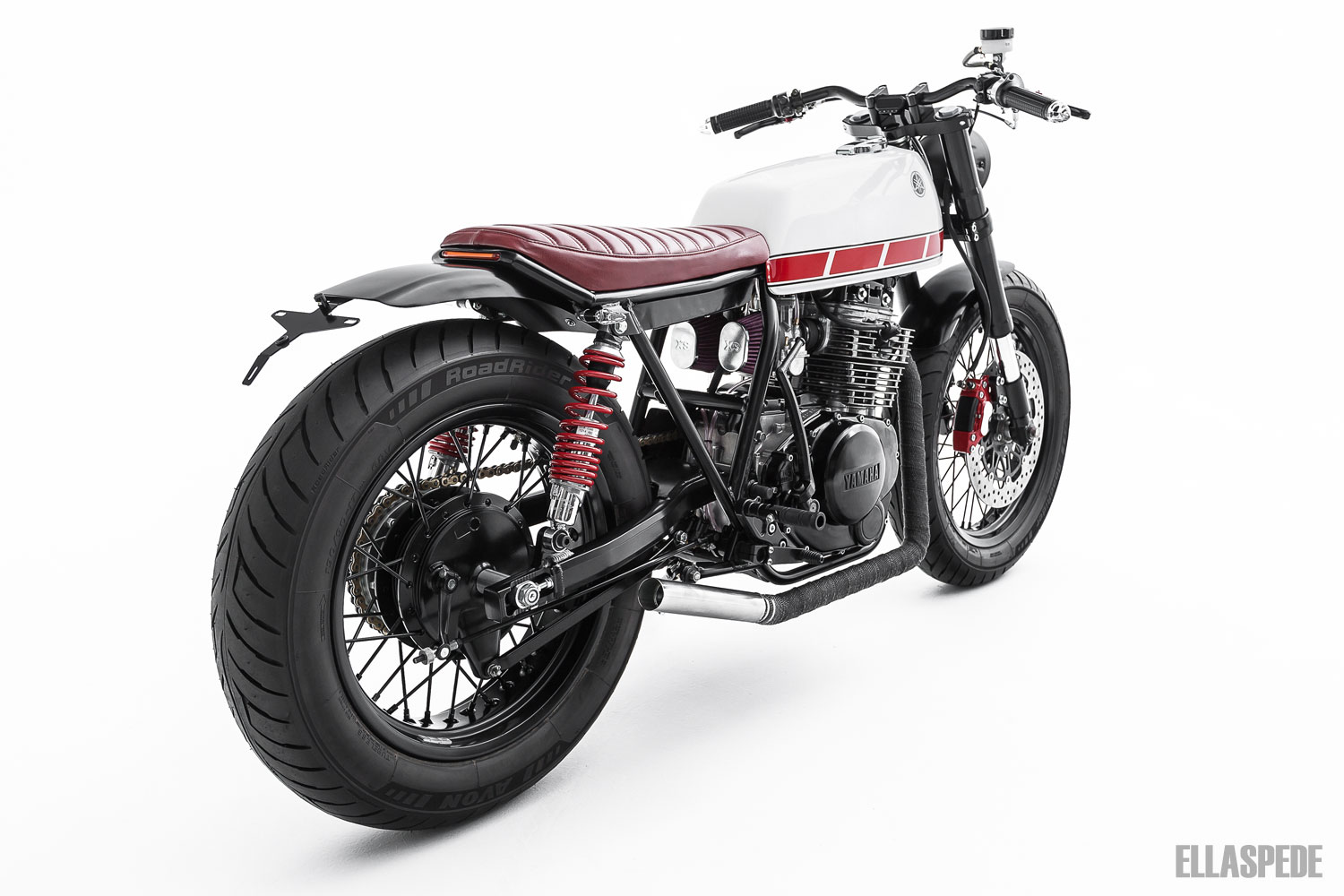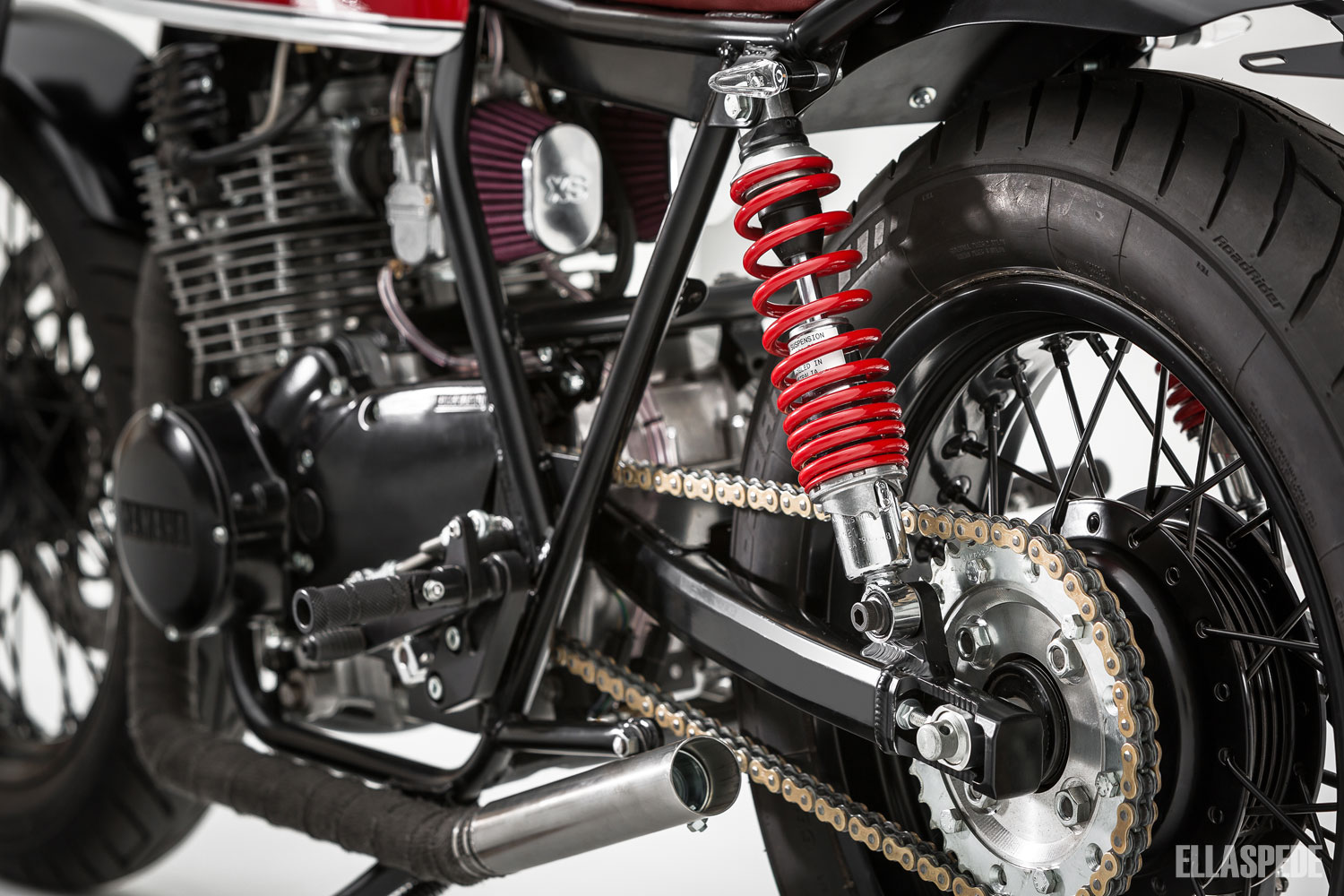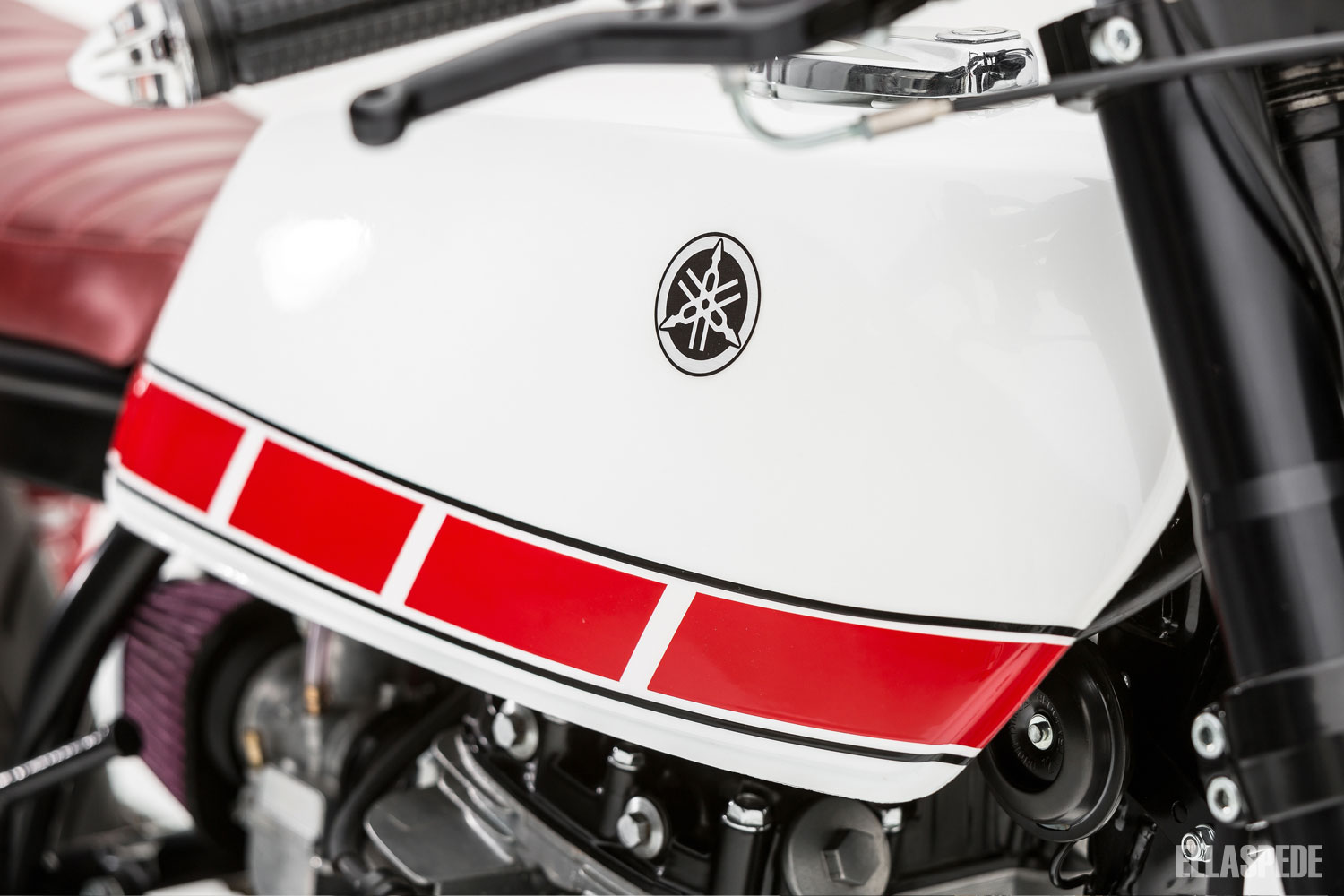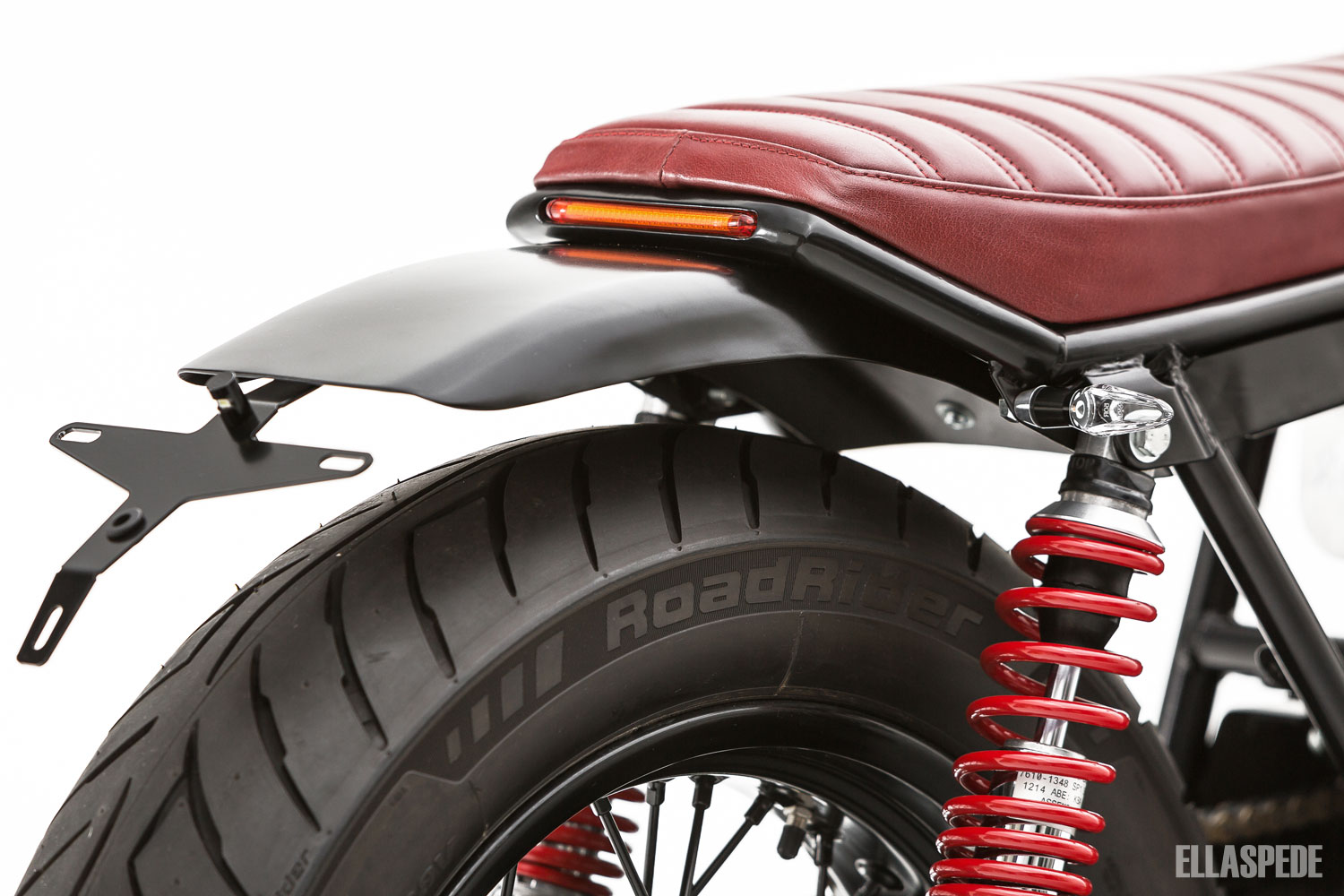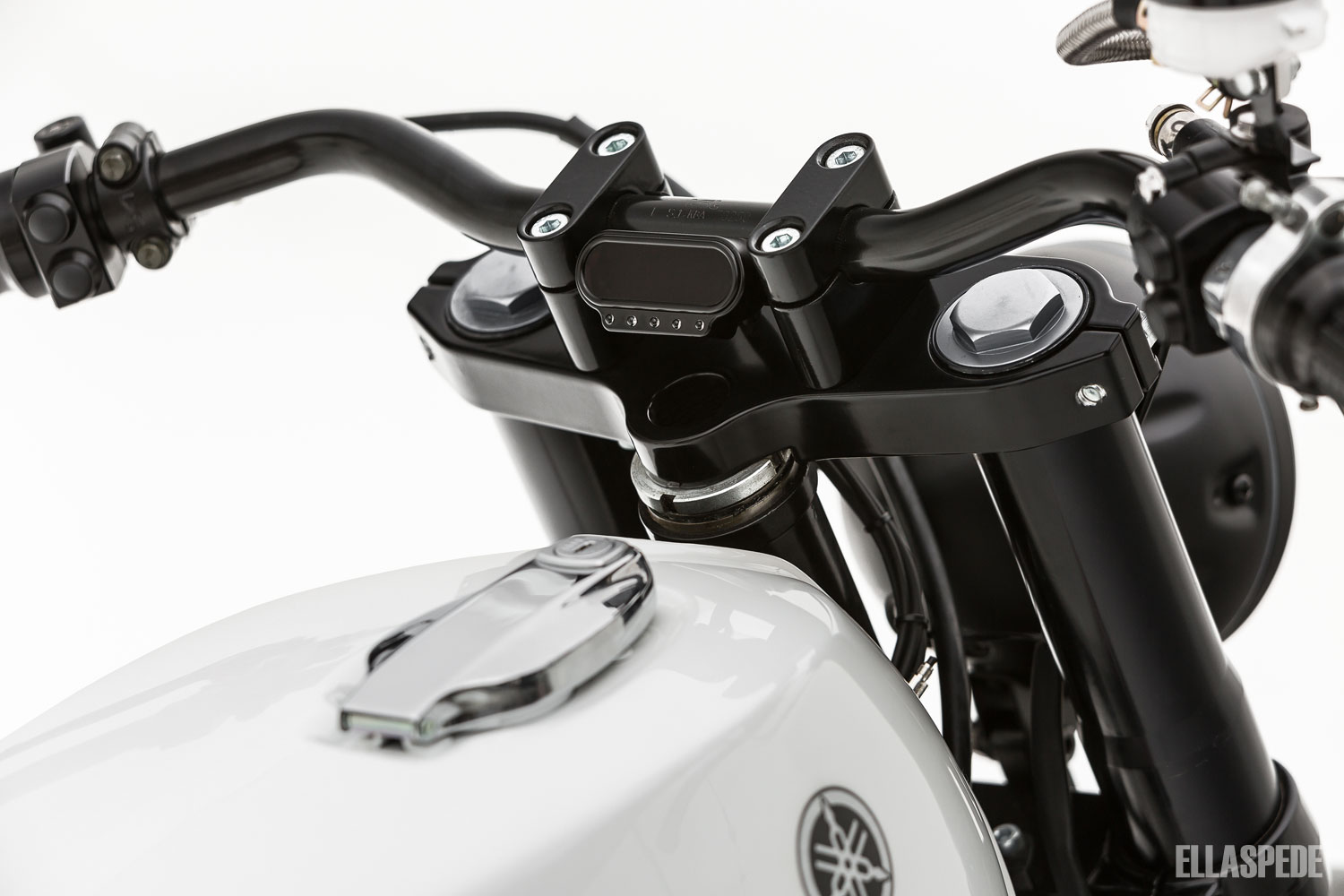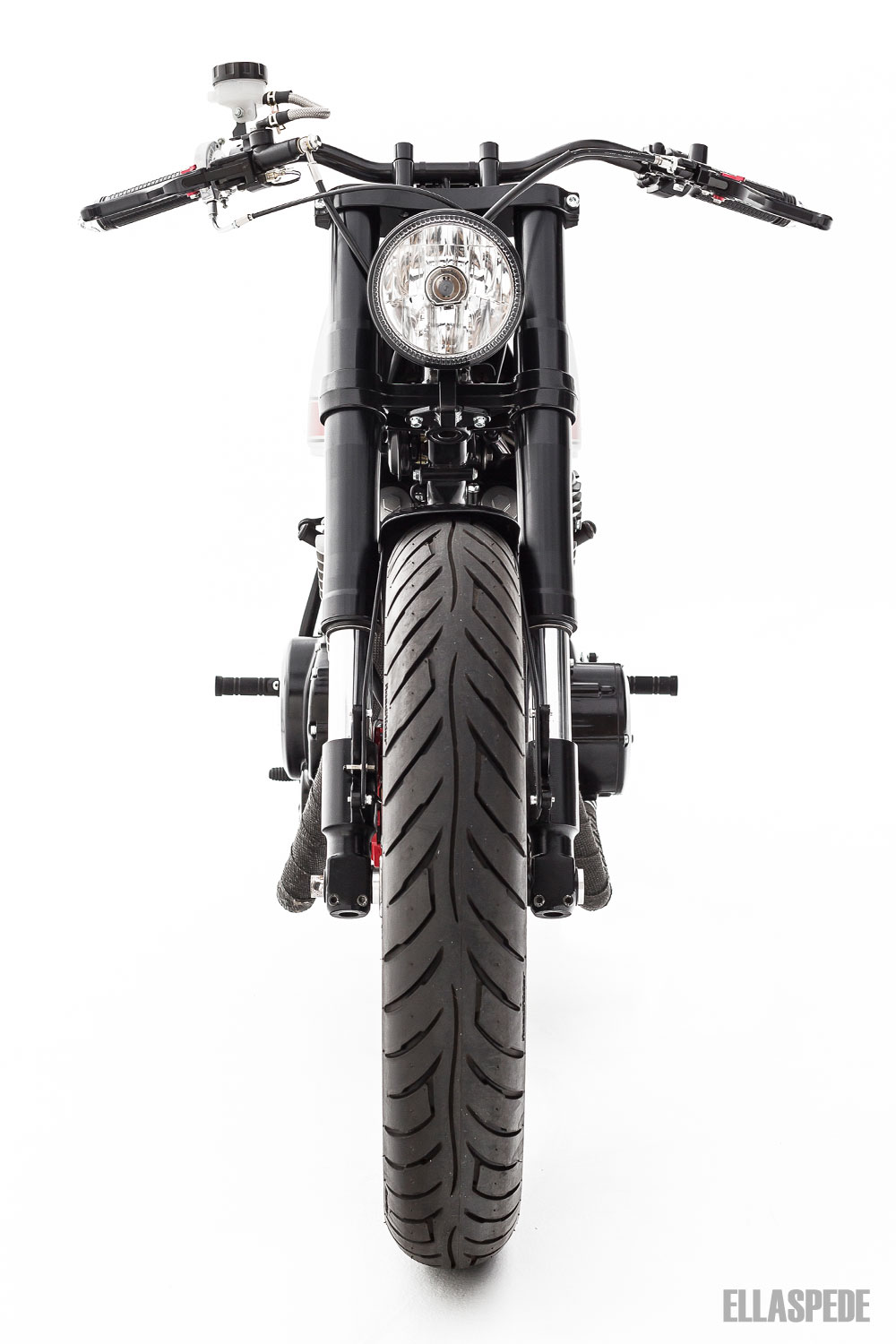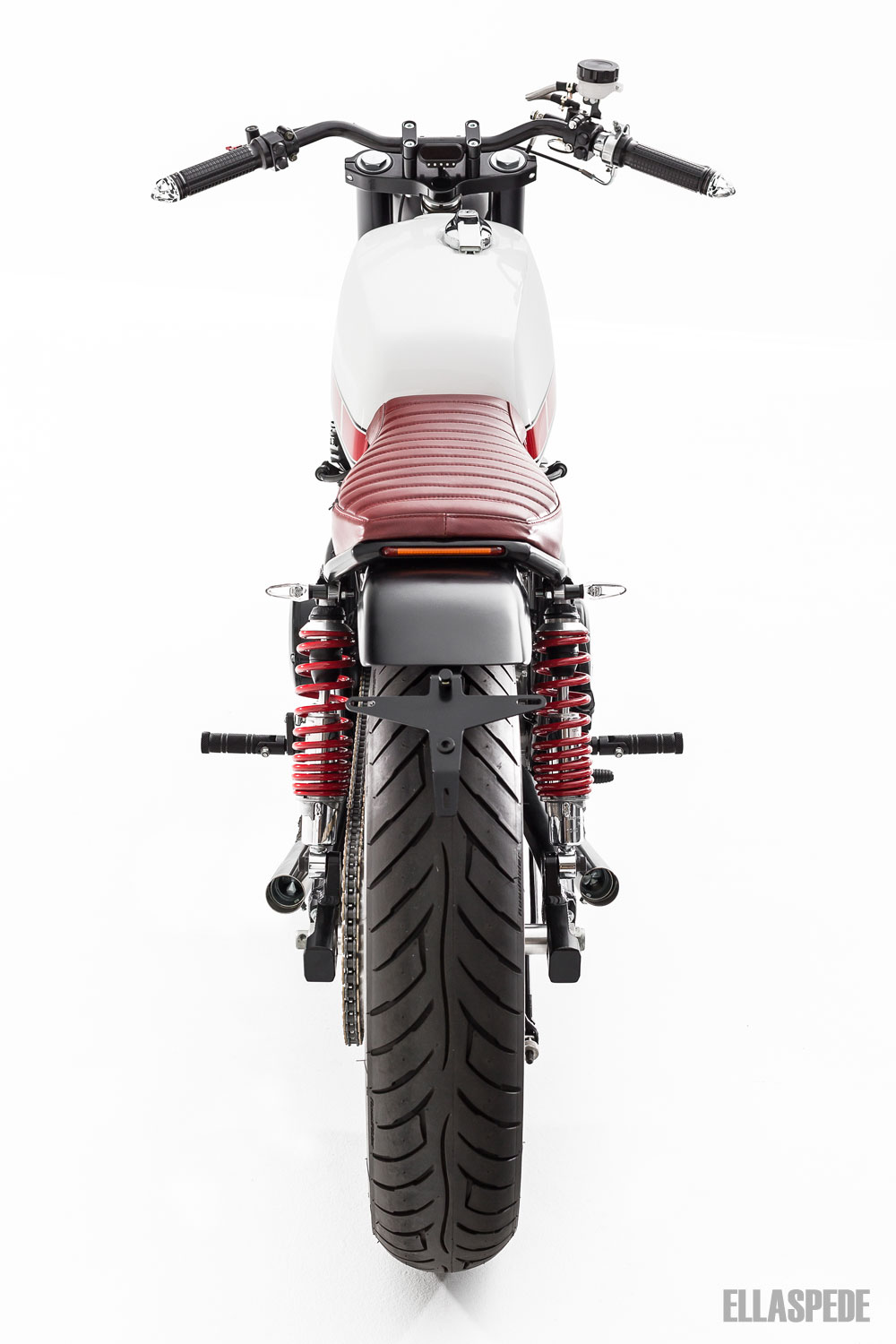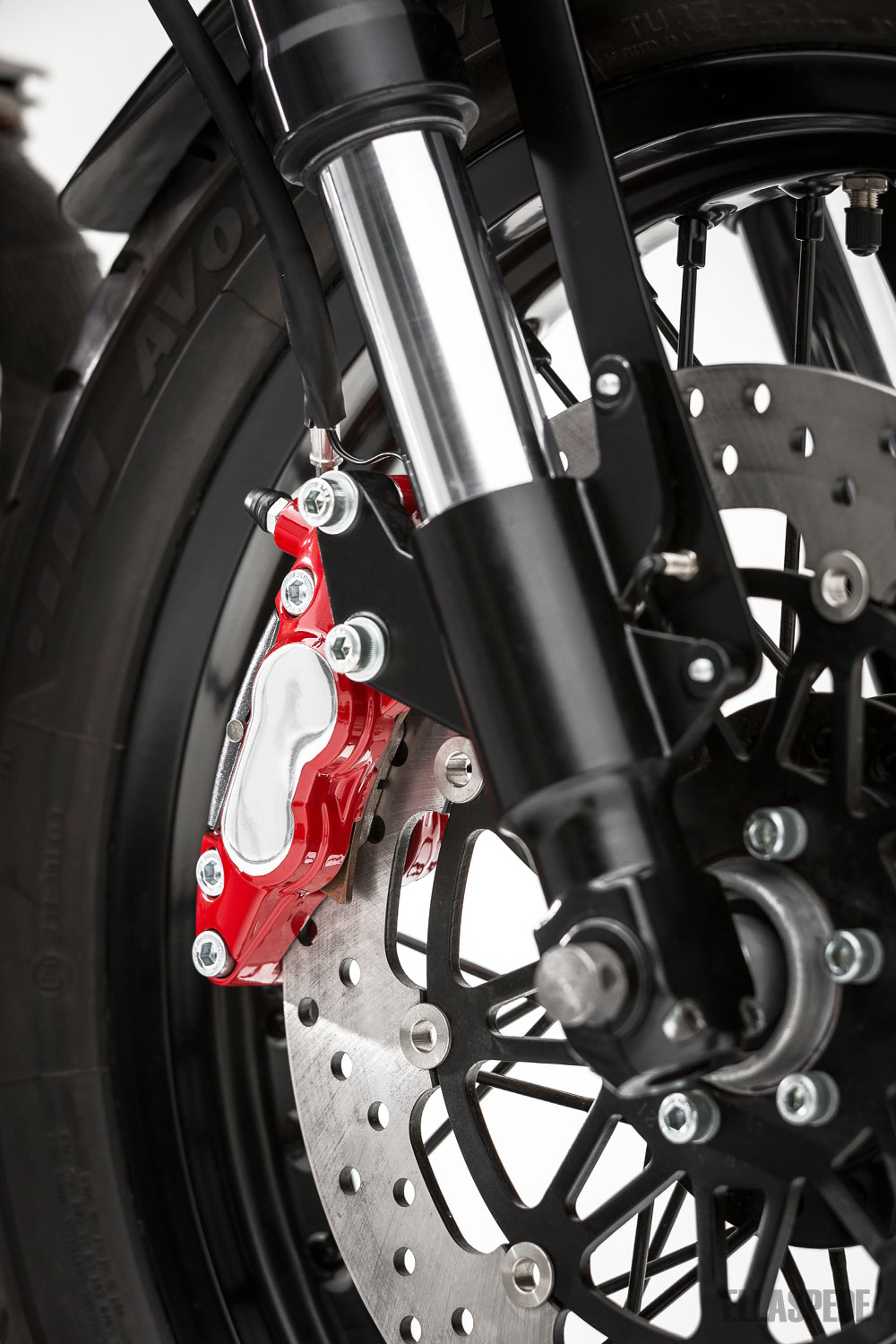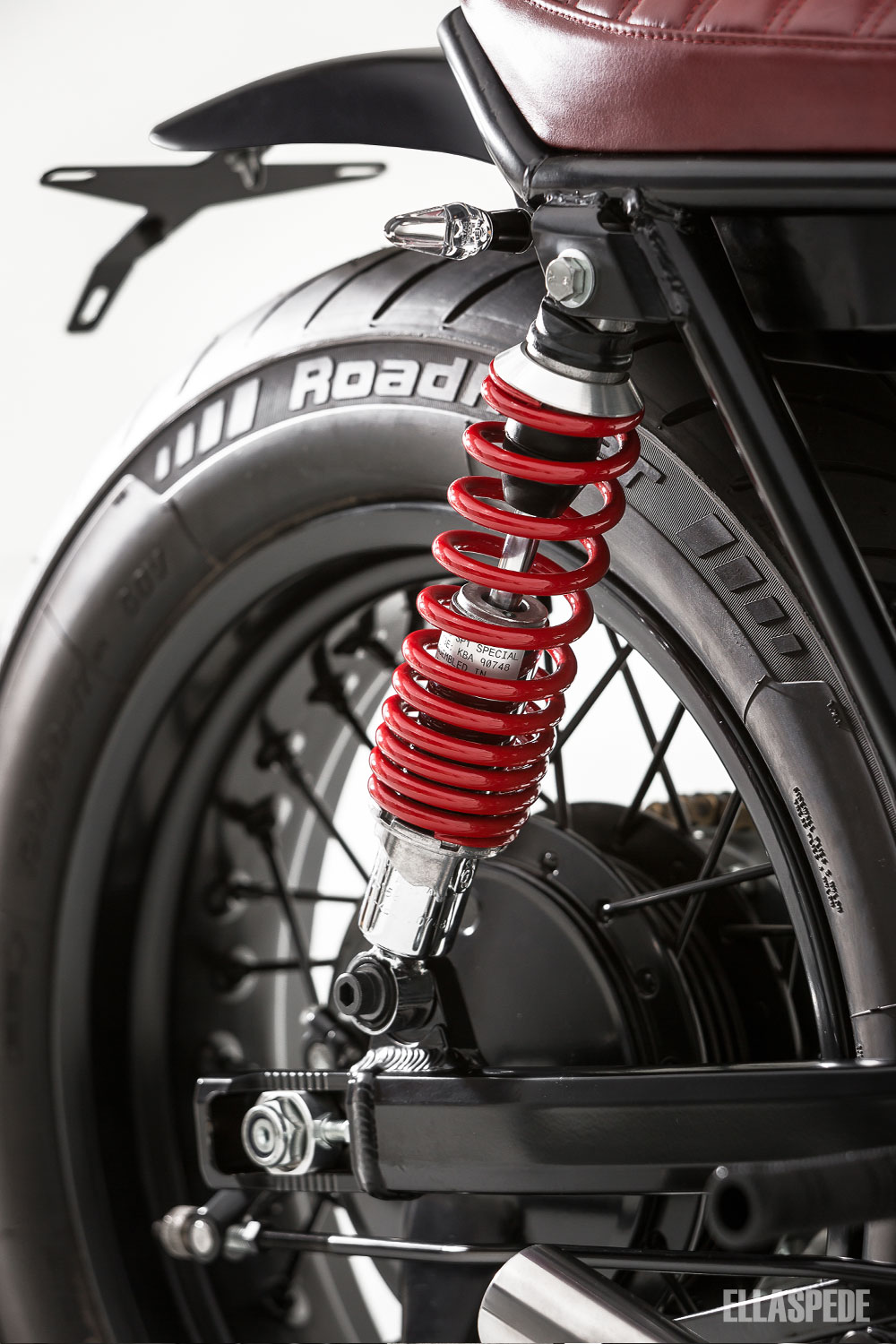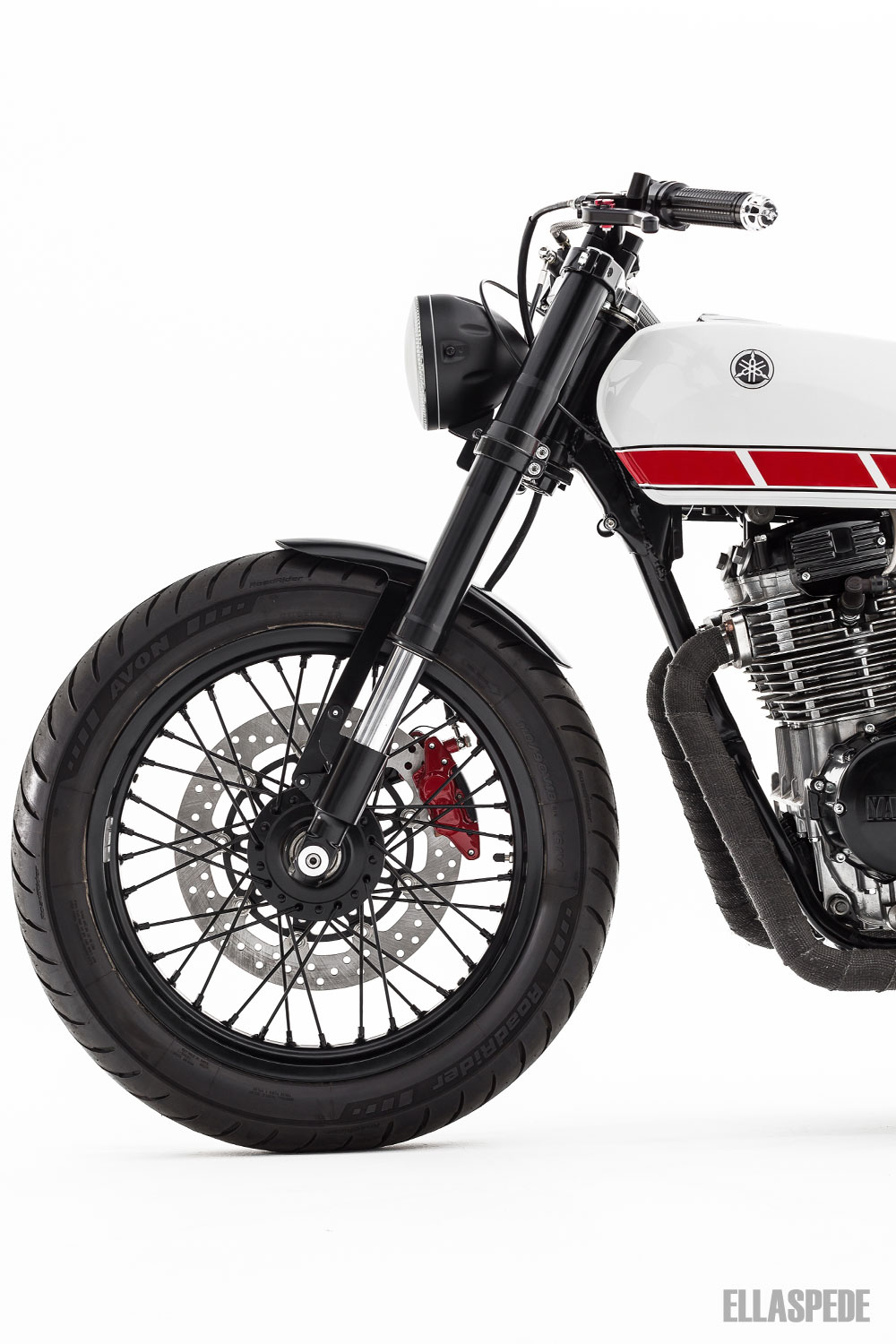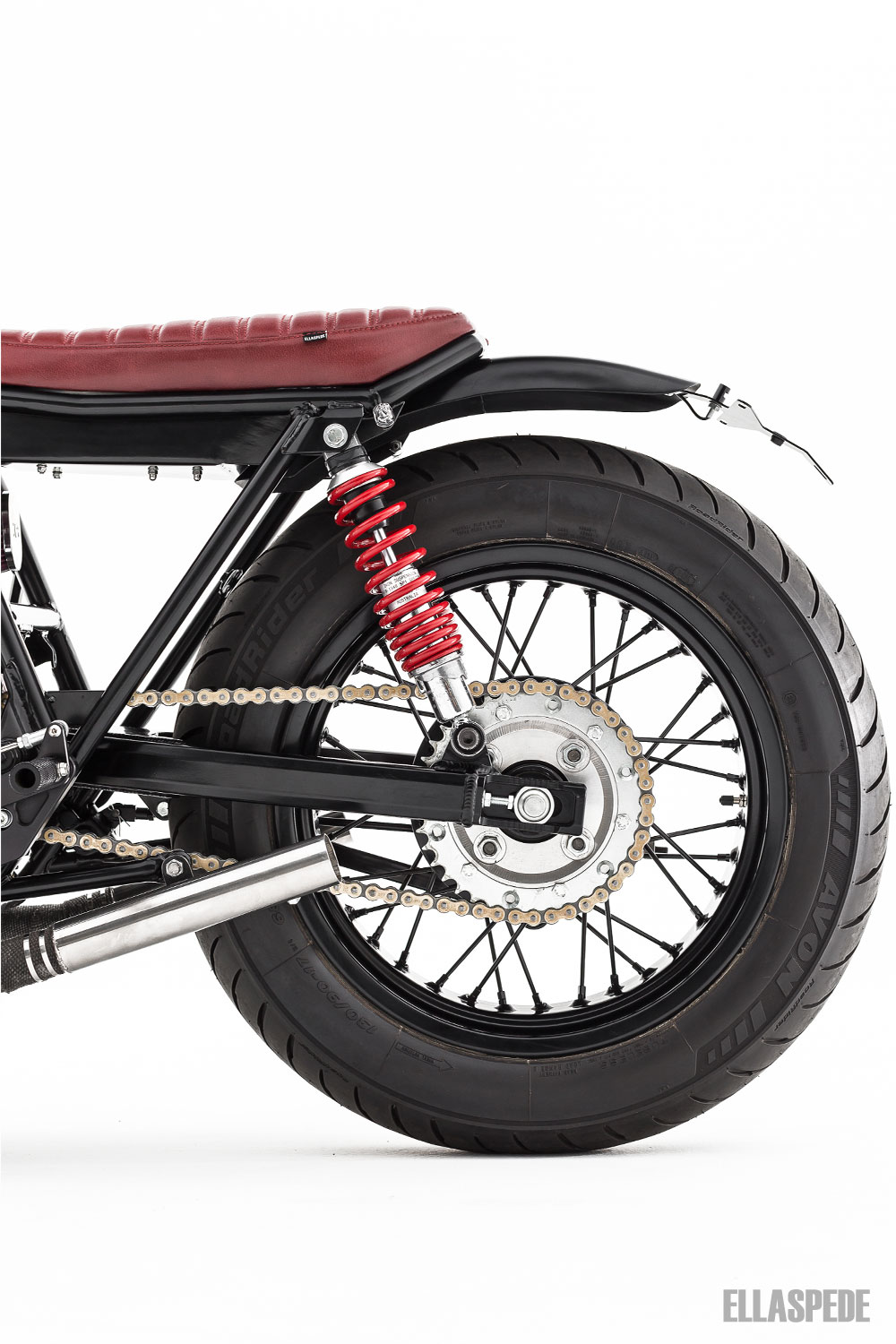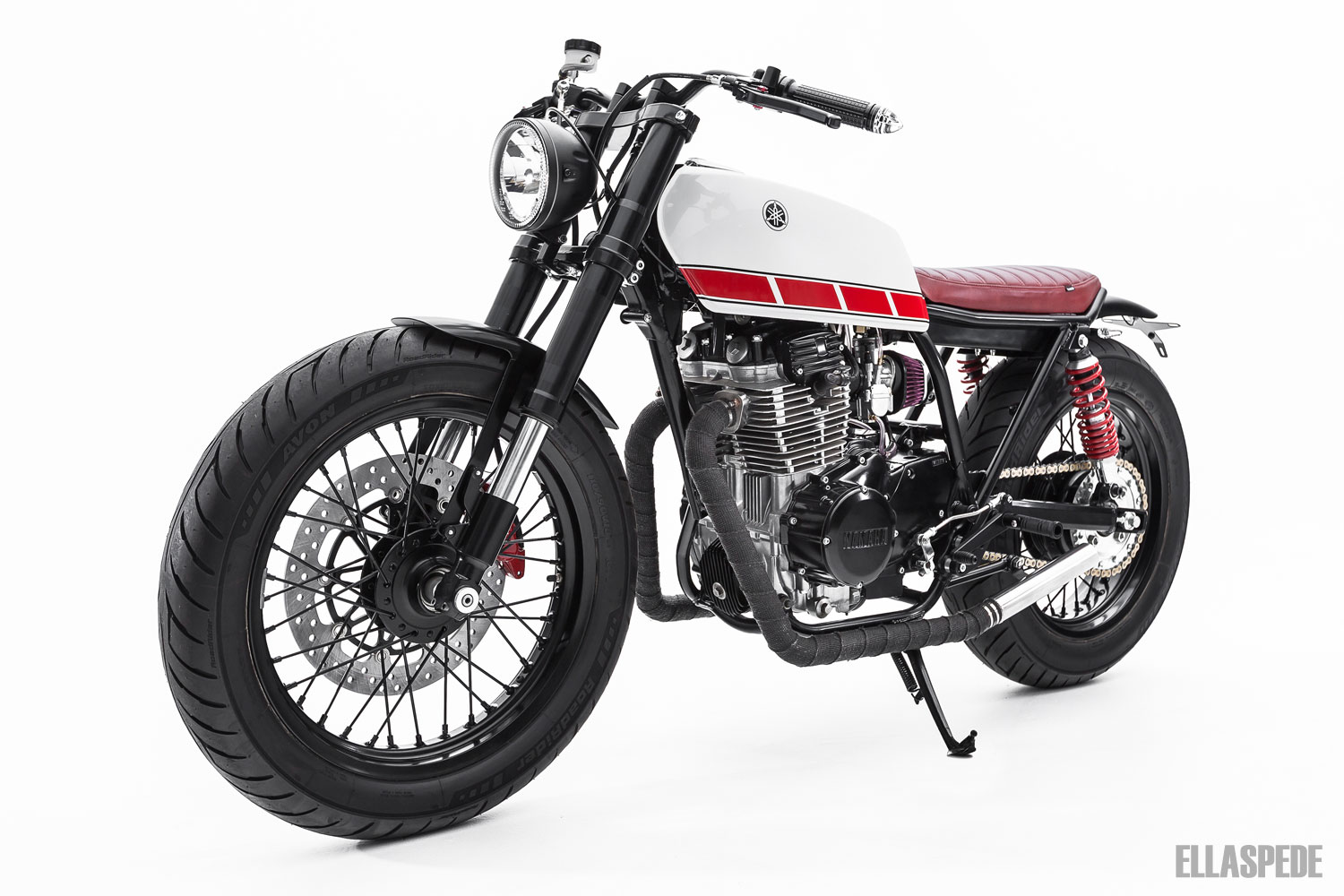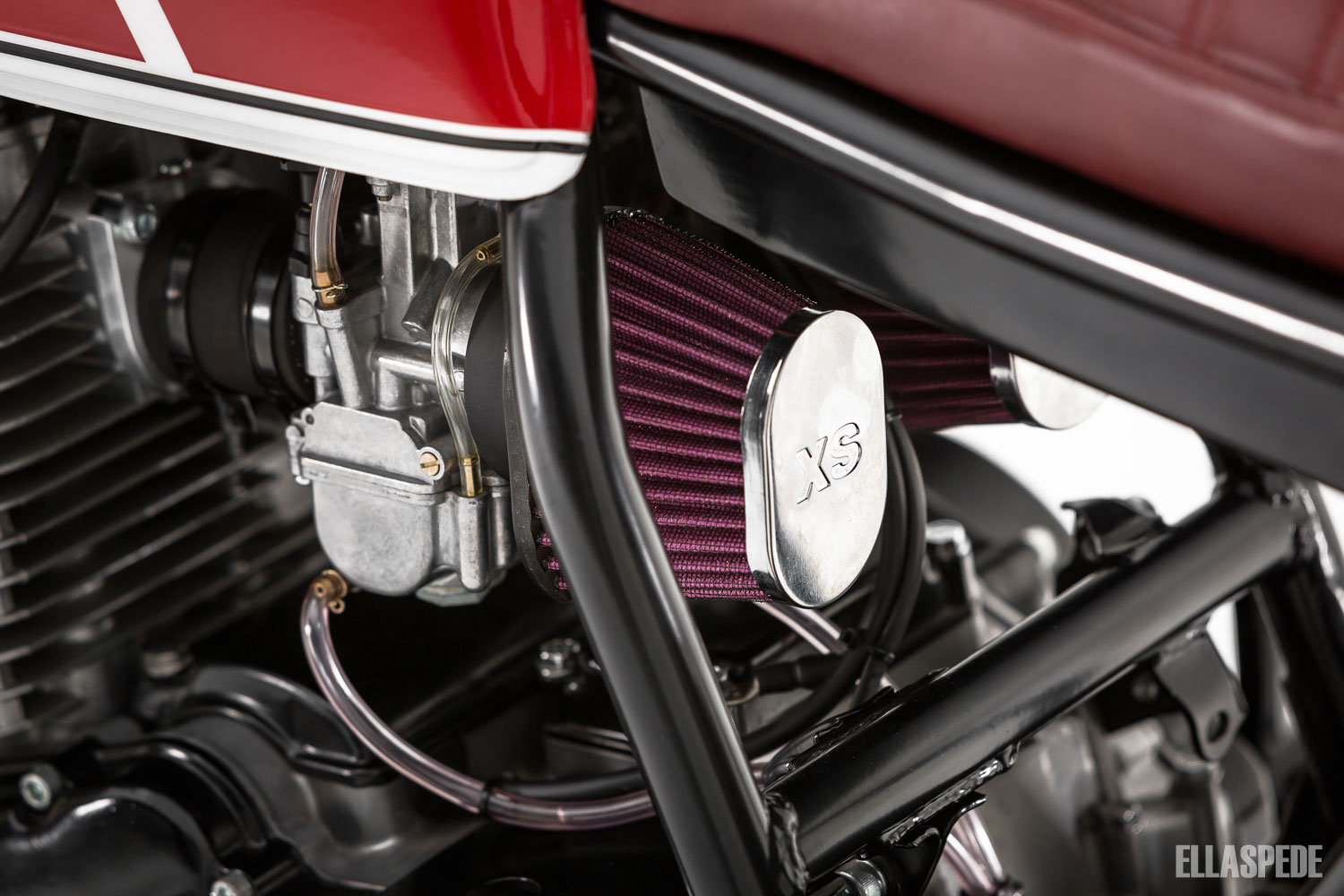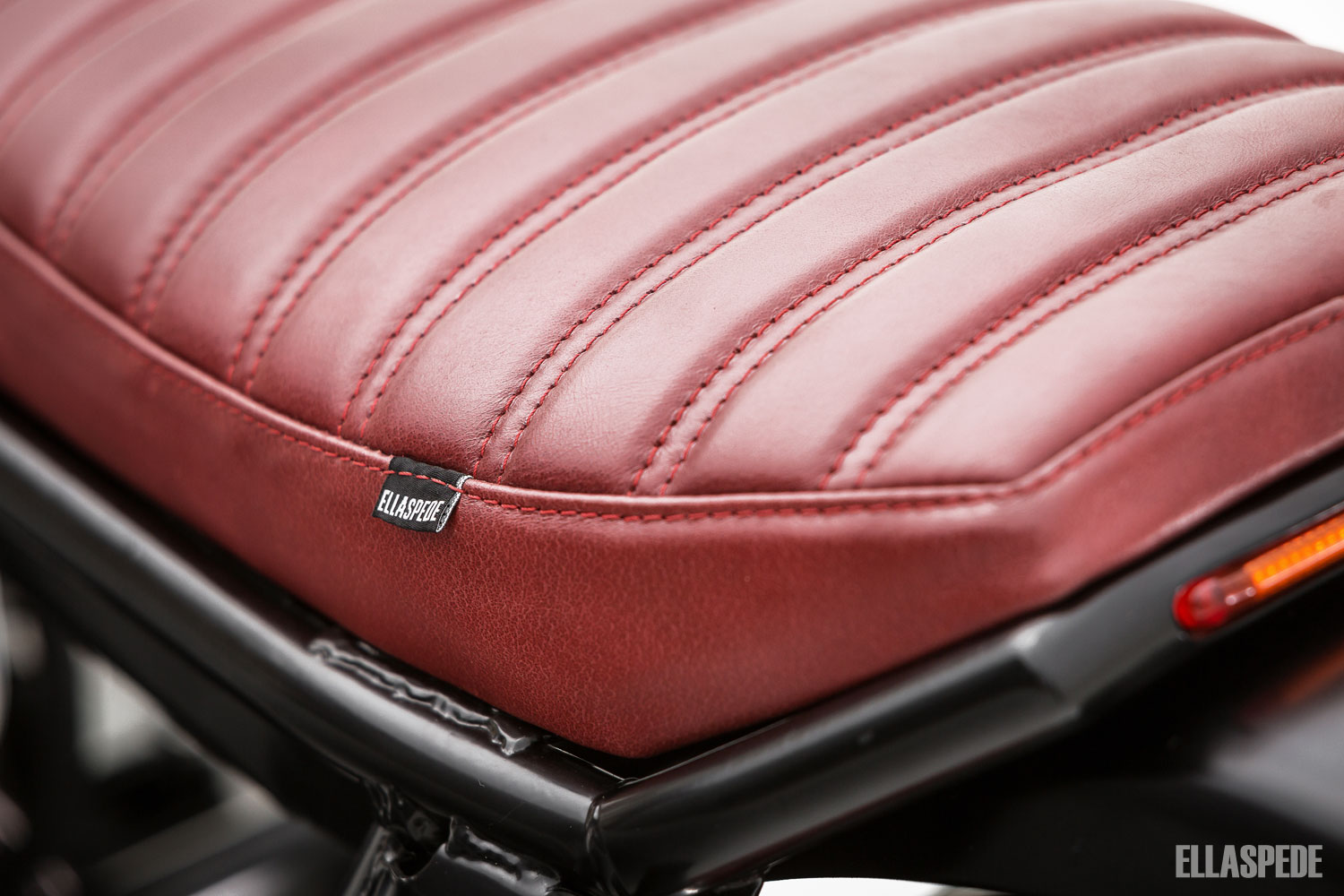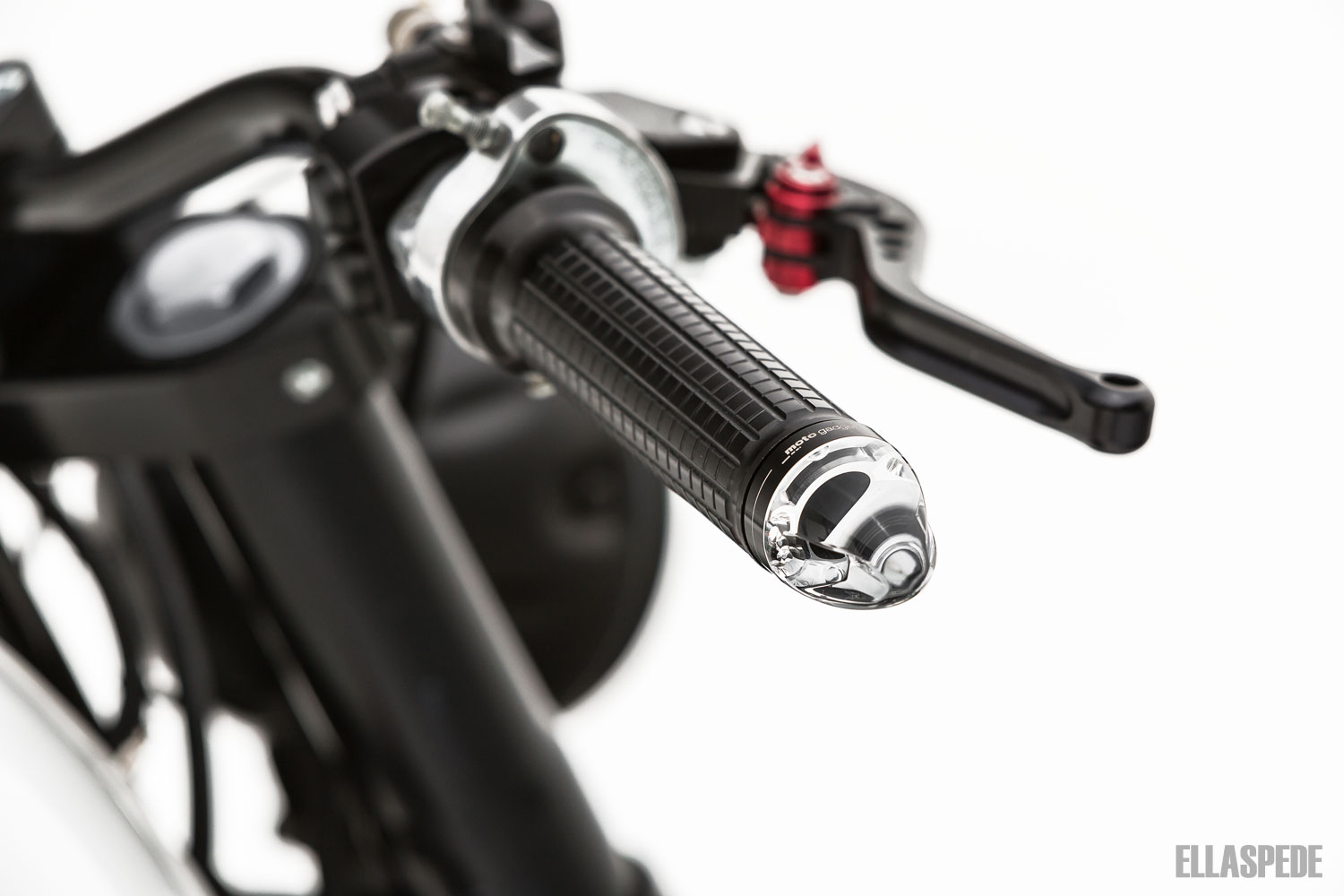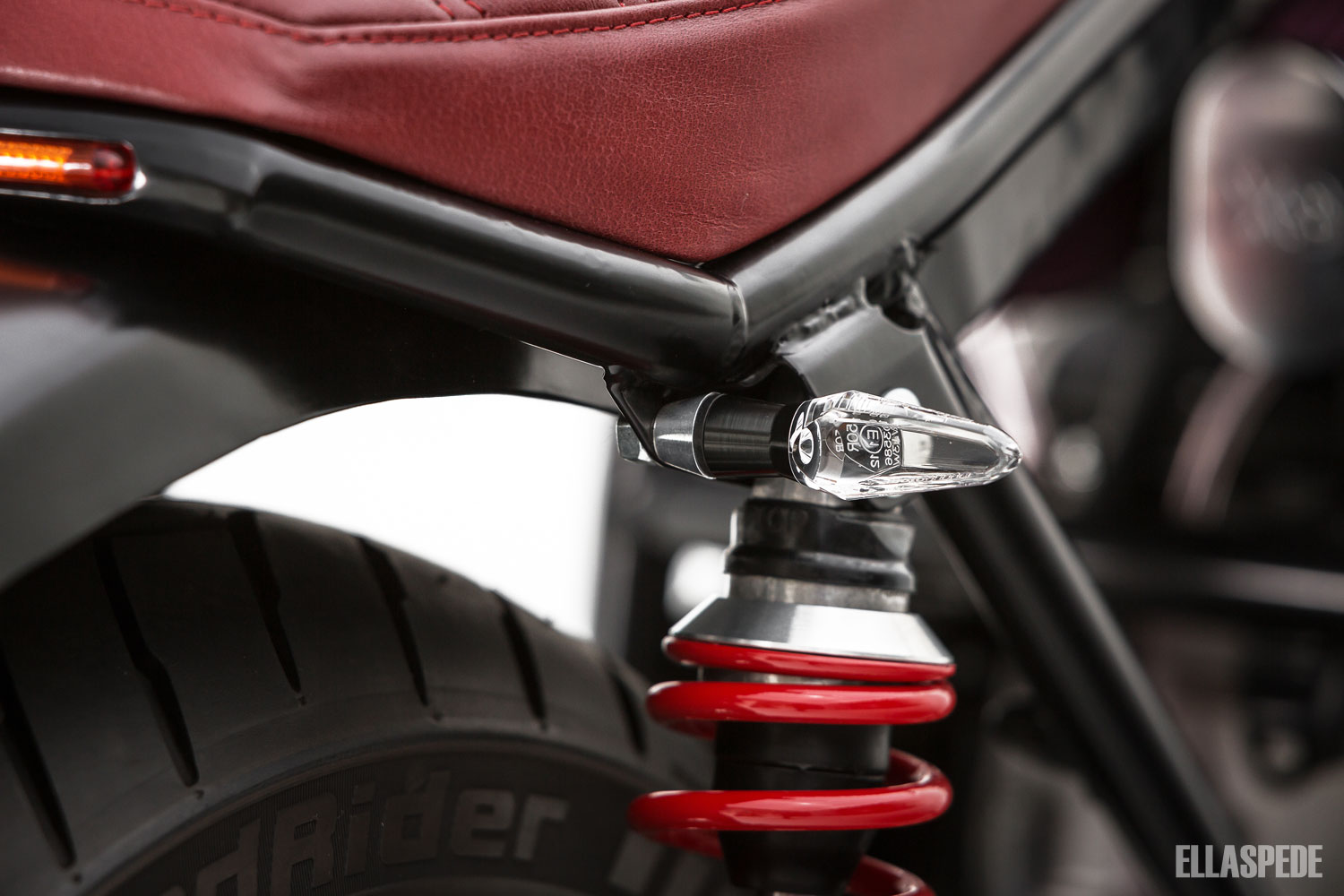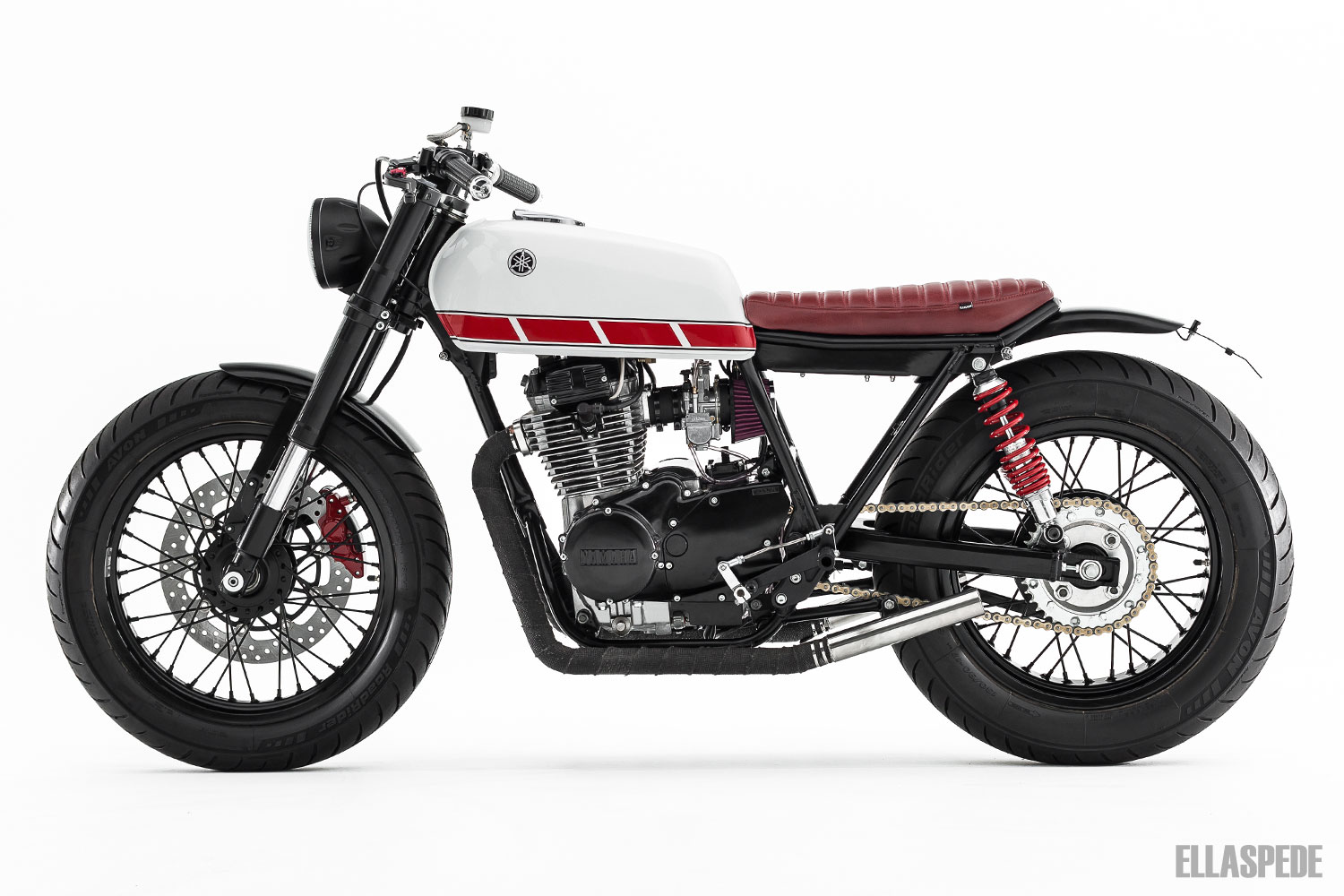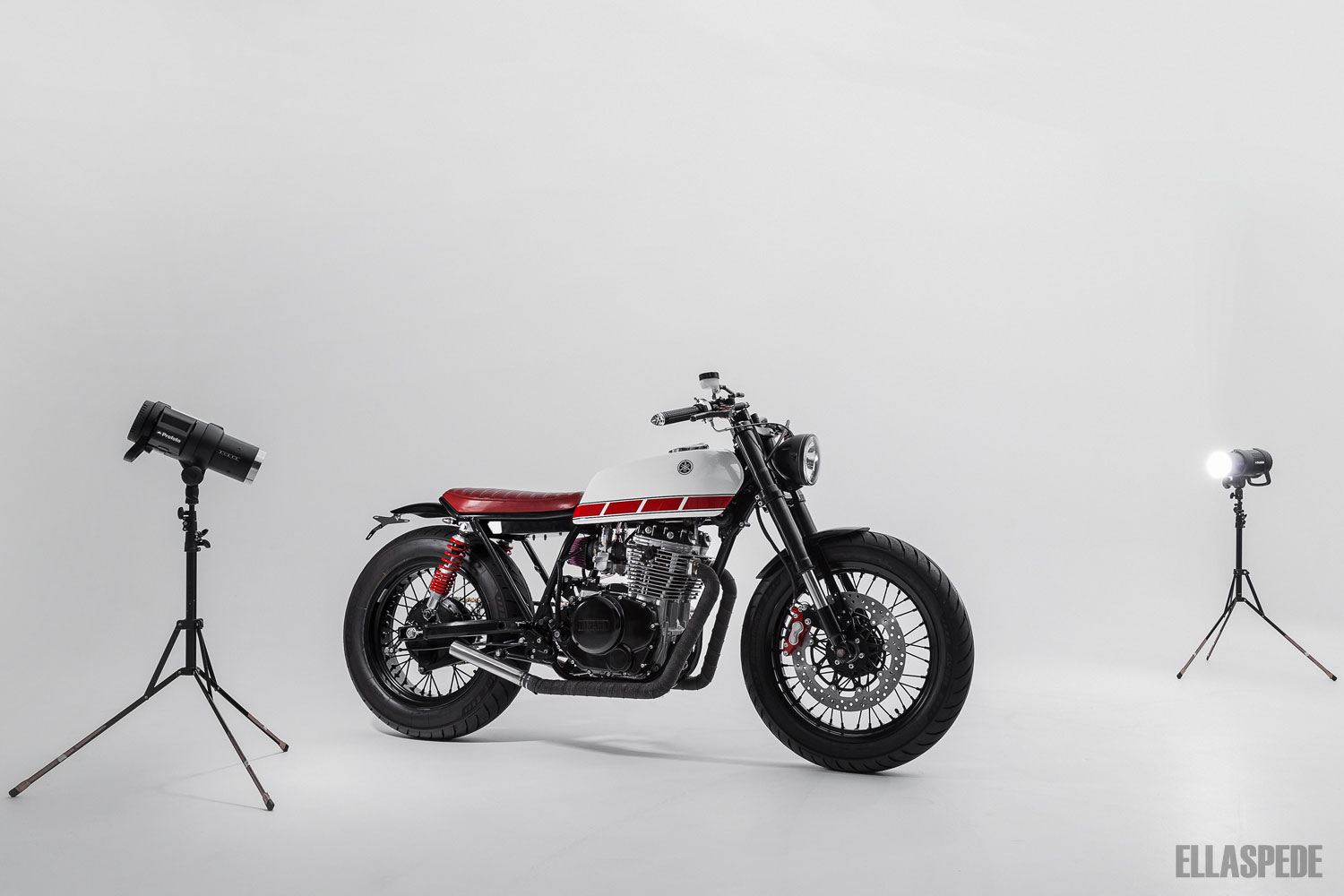 Albums we listened to during the build of this bike:
---
Photos and Features:
---
---
Comments (4)
Rearsets

By:

Jason

on 28 August 2021

Hey guys- did you make the rearsets in house, find them in a catalog, adapt xs650's? I'm stuck on rearsets on my cafe Thank you





Ellaspede Response
Hey Jason, it's been awhile and we can't quite remember what brand these rear sets were, but they definitely weren't specifically made for an XS400 and had to have some mods from memory. Apologies we can't be more help! Cheers
---
Rough Price?

By:

Kosta

on 28 February 2021

Hey, just wondering an approxmiate price on a build like this. Cheers





Ellaspede Response
Hey Kosta, Shoot us an email mate and we can give you some approx build costs. contact@ellaspede.com Cheers mate!
---
Mad As

By:

Paul

on 23 February 2021

Nooiiccee .. simple beauty .. it would look even better with S&S Shotgun exhaust .. I'd like to see what you blokes could do with a 650 XS 2 Yamaha .. or a 57 Triumph Bonnie .. while playing in the background 'HEY NINETEEN' by Steely Dan .. lol ..





Ellaspede Response
Sounds like a good plan for a build Paul! If you want to bring in a 650 Yamaha or the Bonnie we'll happily throw that soundtrack on and get to work on it for you mate!
---
Like it;!

By:

Kirk Young

on 7 January 2019

Looks great
---
Leave a comment