EB249 – 1976 Yamaha RD400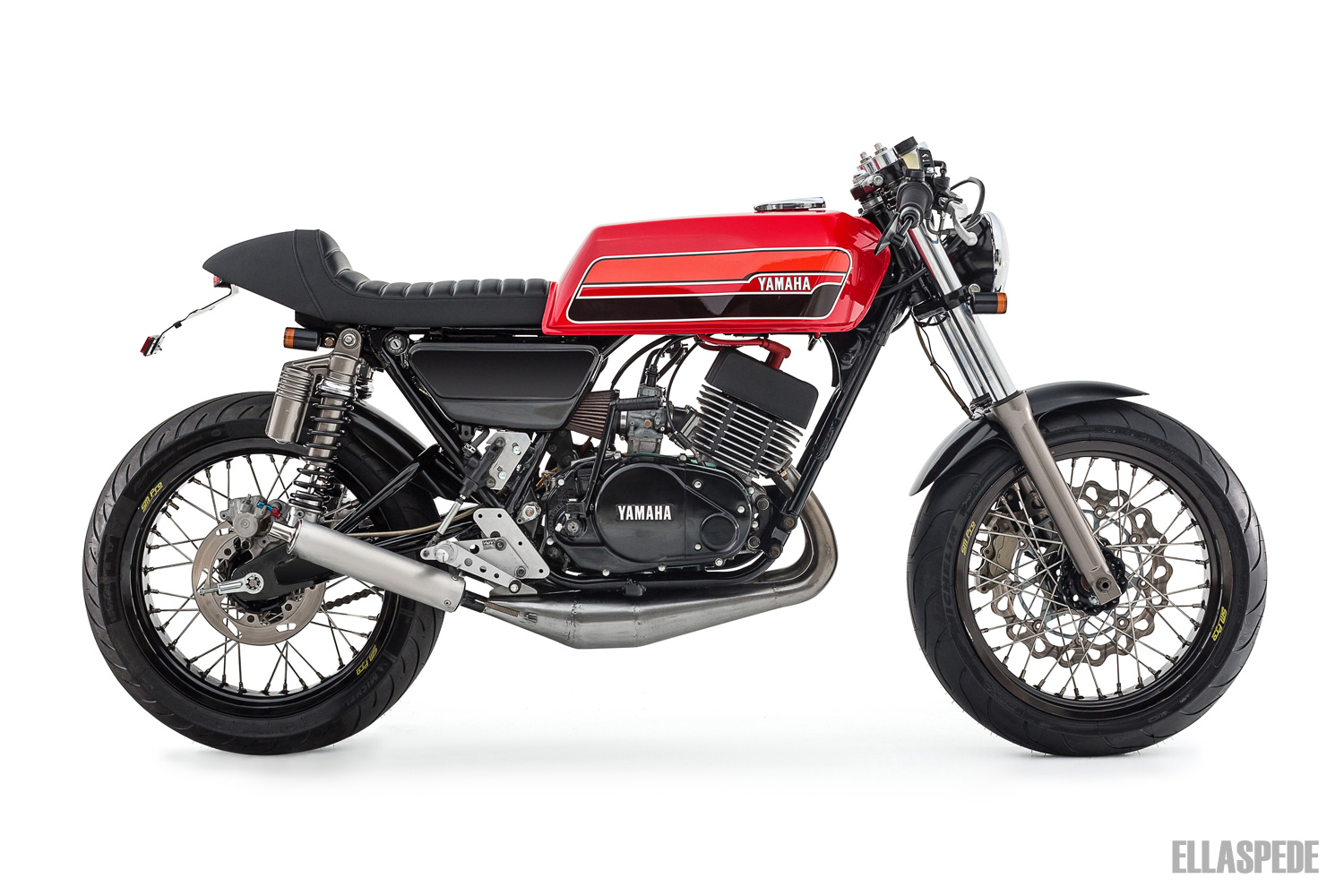 Owner Sheldon engaged Ellaspede to join the dots on his Yamaha RD400 project. After a few years gathering dust and a few more gathering parts, the lure of two stroke smoke was too strong. Sheldon starts the story…
…"I obtained the bike as a wreck from the now vanished bike wreckers in Wooloongabba for $250 a decade ago, without a care of future resurrection costs. It was a heart pounding moment of nostalgia as memories of being pillioned to boy scouts by my father back in the day when Z9's and 750 fours roamed the streets, my dad thought doing wheelies at every opportunity was the thing to do. No effort required with these little crackers, helped of course by the well positioned child ballast… Thanks dad."
"When I purchased this bike I was thirty something and working for a motorcycle shop (surprise), living the life and racing on weekends. I had the choice of the latest weapons off the show room floor as my daily ride, but in order to relive a piece of the past, this old pile of rust just had to be mine."
"10 years on and 20 other projects later, this is the result."
When Sheldon trailered the RD400 to our shop we knew it wasn't far off being something special. The custom pipes, motard wheels, big brakes and upgraded suspension all hinted at a howling two stroke just waiting for a touch up.
Work had already begun on the frame, we finished it off by de-tabbing, fabricating a rear frame brace to suit Sheldon's chosen aftermarket seat and welded things up.
The previously modified TT500 swing arm was simply prepped and sent for paint.
A custom battery box houses a smaller battery and other relocated electrical items. The wiring harness was tidied and modified to terminate under the tank, with only the necessary items extending forward. The ignition and handlebar switches were also relocated and rebuilt as required.
Lighting was replaced with a 5 3⁄4″ bottom mount headlight at the front and a compact LED taillight mounted on an Ellaspede Ninja Star licence plate holder kit at the rear. Daytona indicators on Ellaspede Builder Kit indicator brackets were used all round.
We opted for an Acewell 2853 gauge, mounted to a modified and machined top fork clamp.
Quite a mix of manufacturer's parts were used to bring the build together. Front forks and triple clamps are from a Suzuki GS400 Bandit, rebuilt and
painted in a subtle bronze before going back on. Steering stops were modified to prevent the forks from meeting with the tank.
Kawasaki ZR 550 shocks were rebuilt and painted bronze to match the front end.
A Honda VF750 front guard was custom shaped to suit the application, while a custom rear hugger mudguard was fabricated and mounted to the swing arm at the back.
17″ wheels were made for a Yamaha WR450 motard, with Brembos from a Yamaha GYTR on the front and a TT600 Belgarda clamping things out back.
Some aftermarket rear sets from a 2005 R1 were modified to suit.
The exhaust is a custom setup from a local shop, fabricated to bring some extra 'bark' then modified to fit with the R1 rear sets.
Custom Yamaha decals were added to the re-sprayed factory coloured tank before the rear mounts were modified allowing a better fit for the seat.
Paint was laid on the side covers, swing arm and hugger guard, while powder coat got the nod for the remaining parts and pieces.
We've enjoyed bringing some two stroke 'twang' back to the streets with this modern retro build combo. Gone are the days when two stroke screamers ruled the roost, so getting this little red rocket ruffling feathers again certainly brings back some fond memories.
Sheldon is no novice around bikes and well capable of extracting the most out of this little oil-burner. Aptly, he finishes with these words…
"Thanks to all my friends who have contributed and reminded me at every chance to take it easy."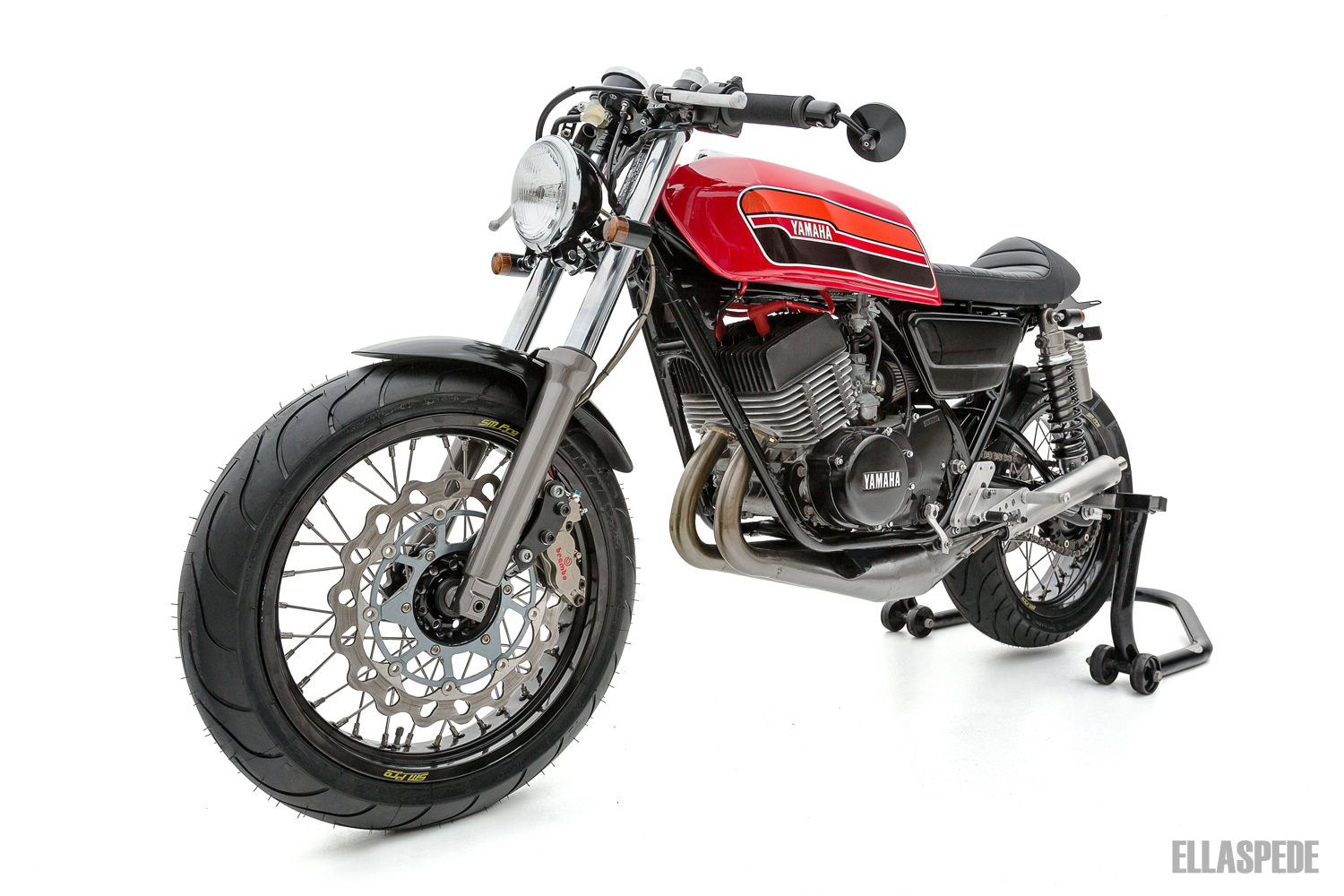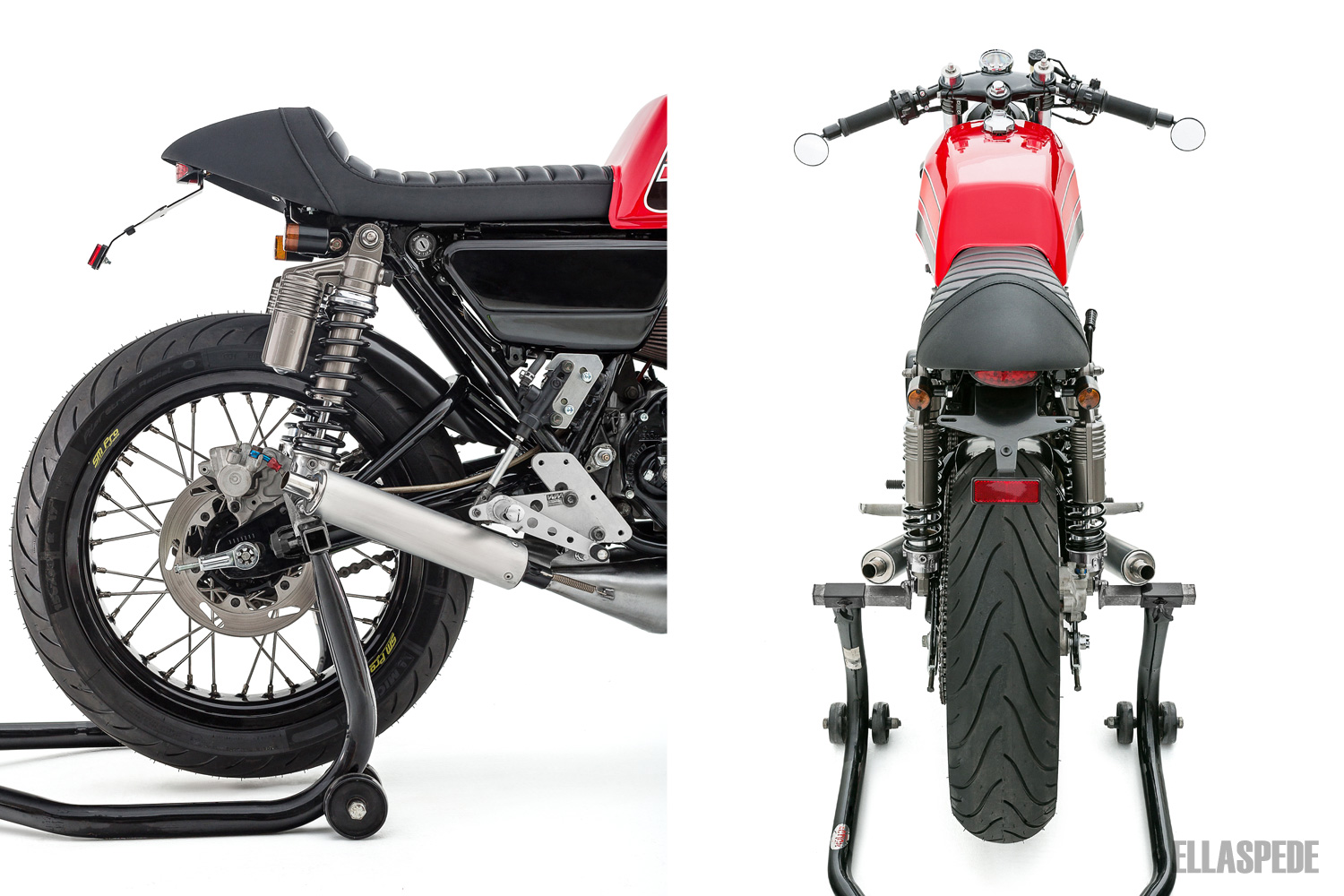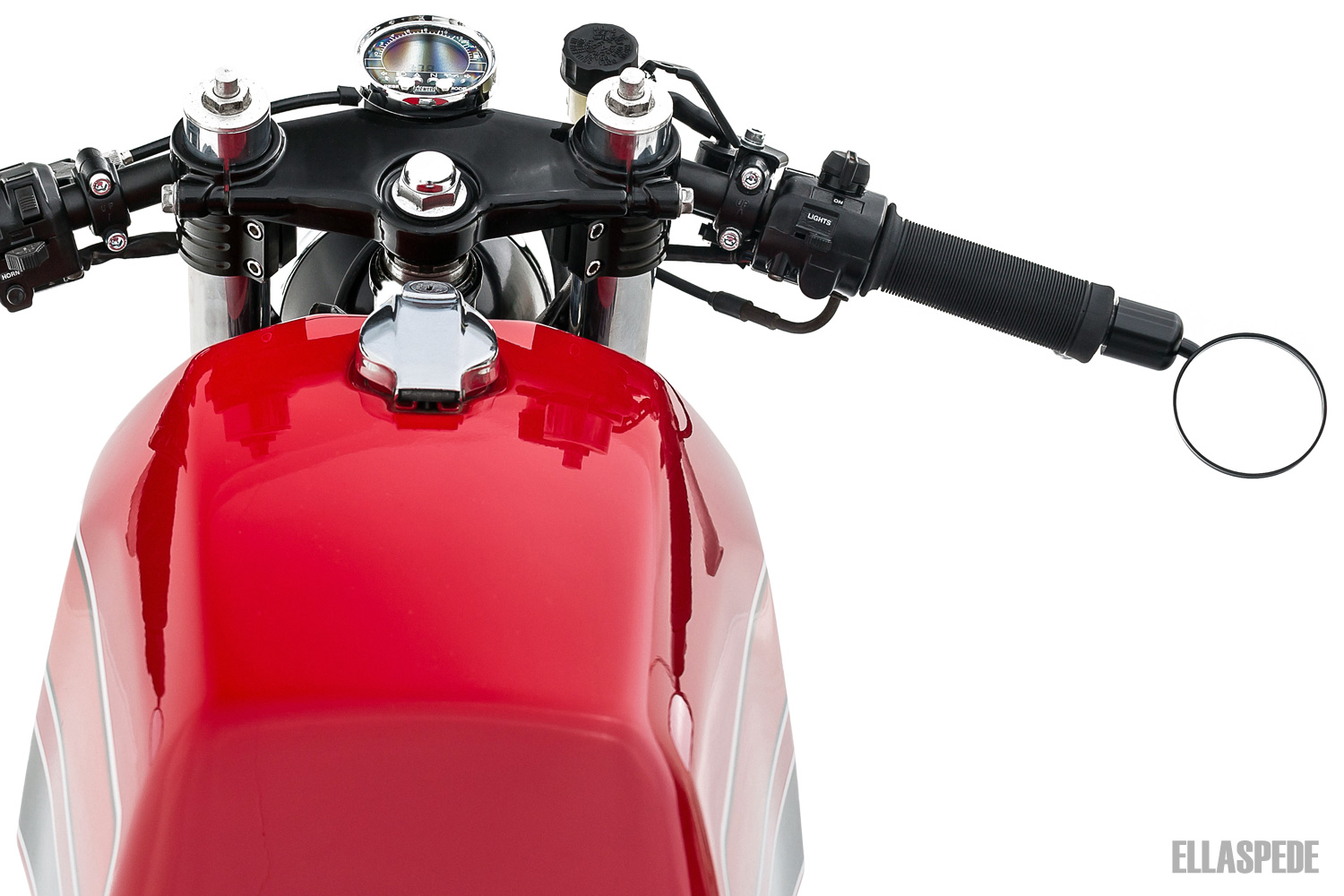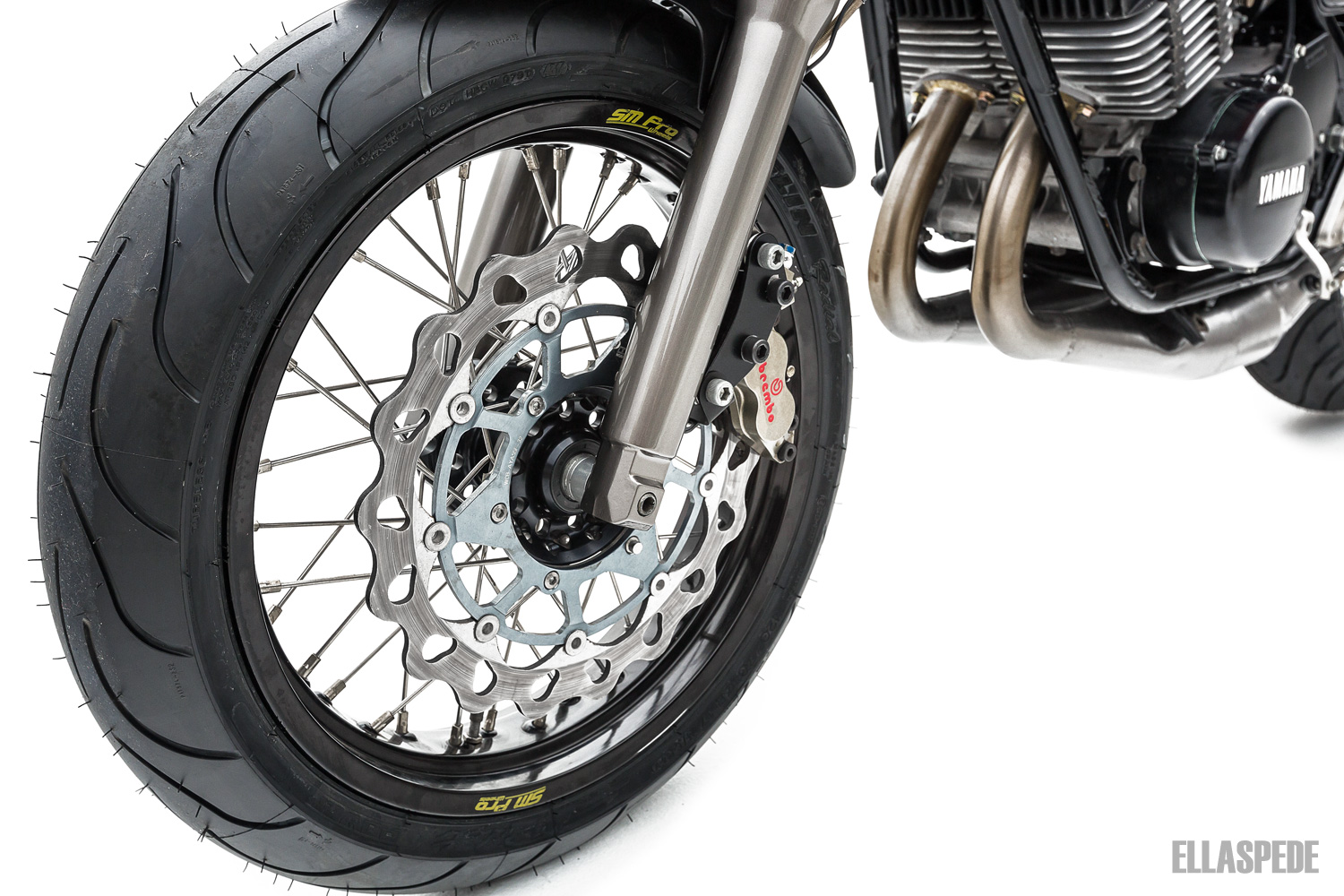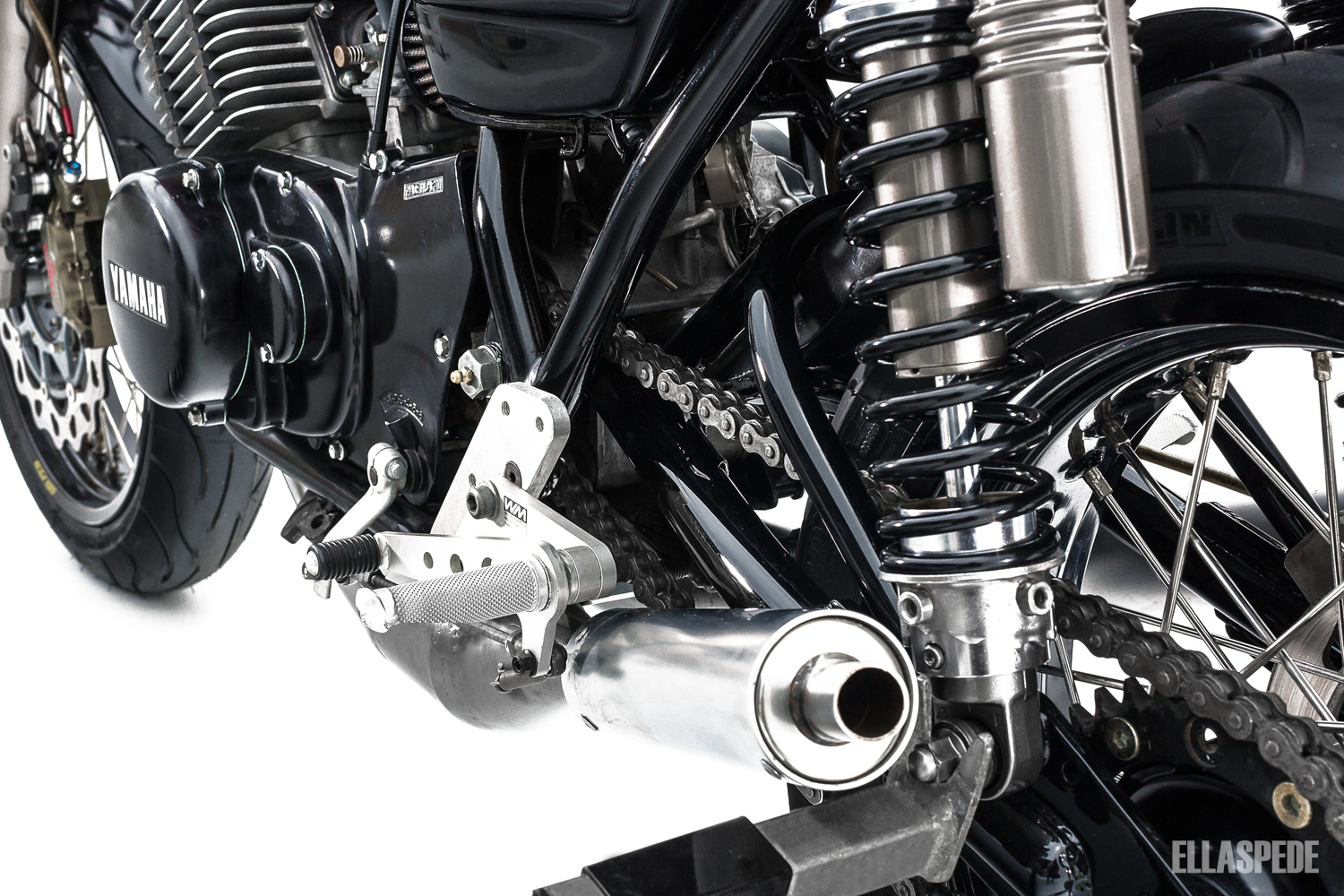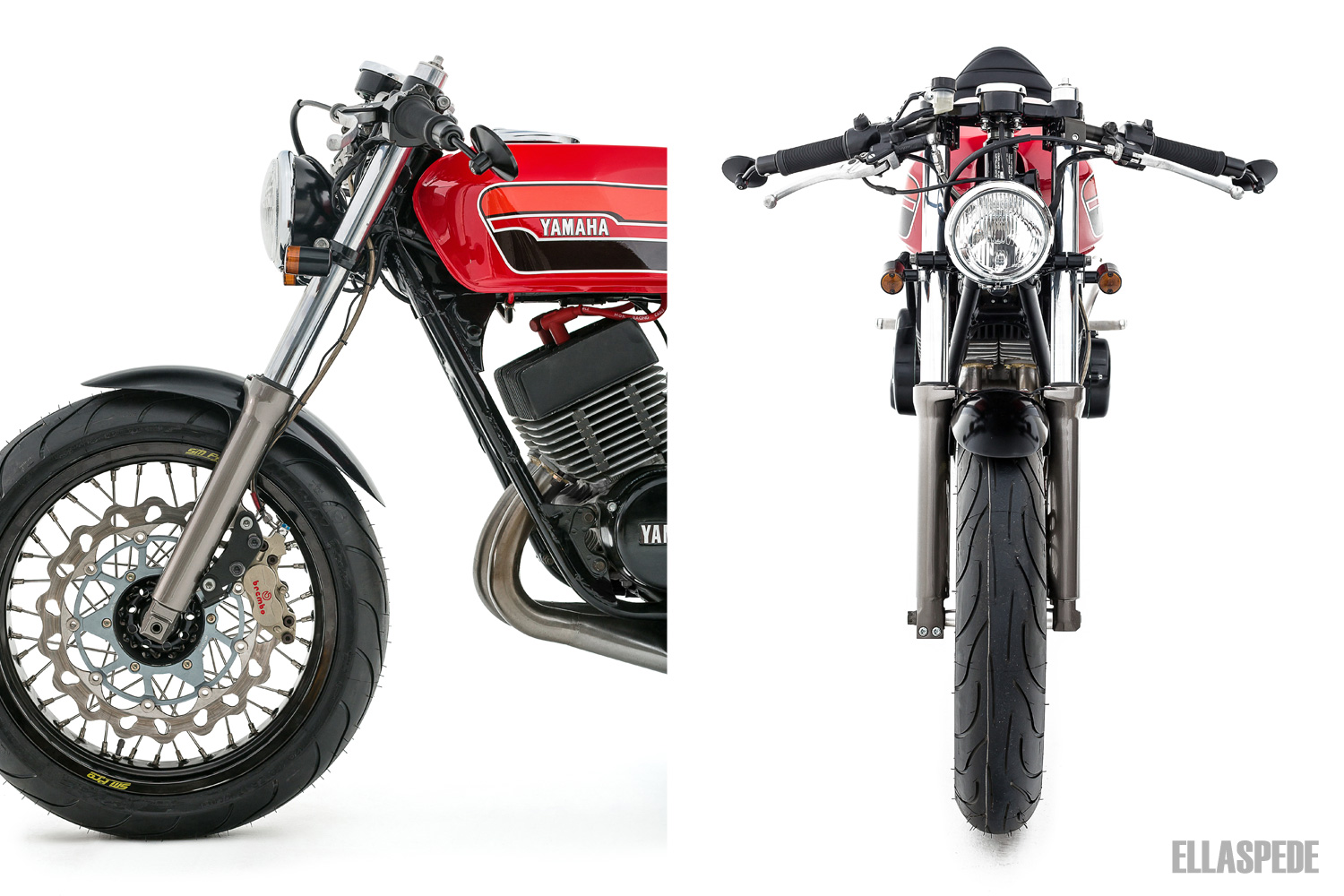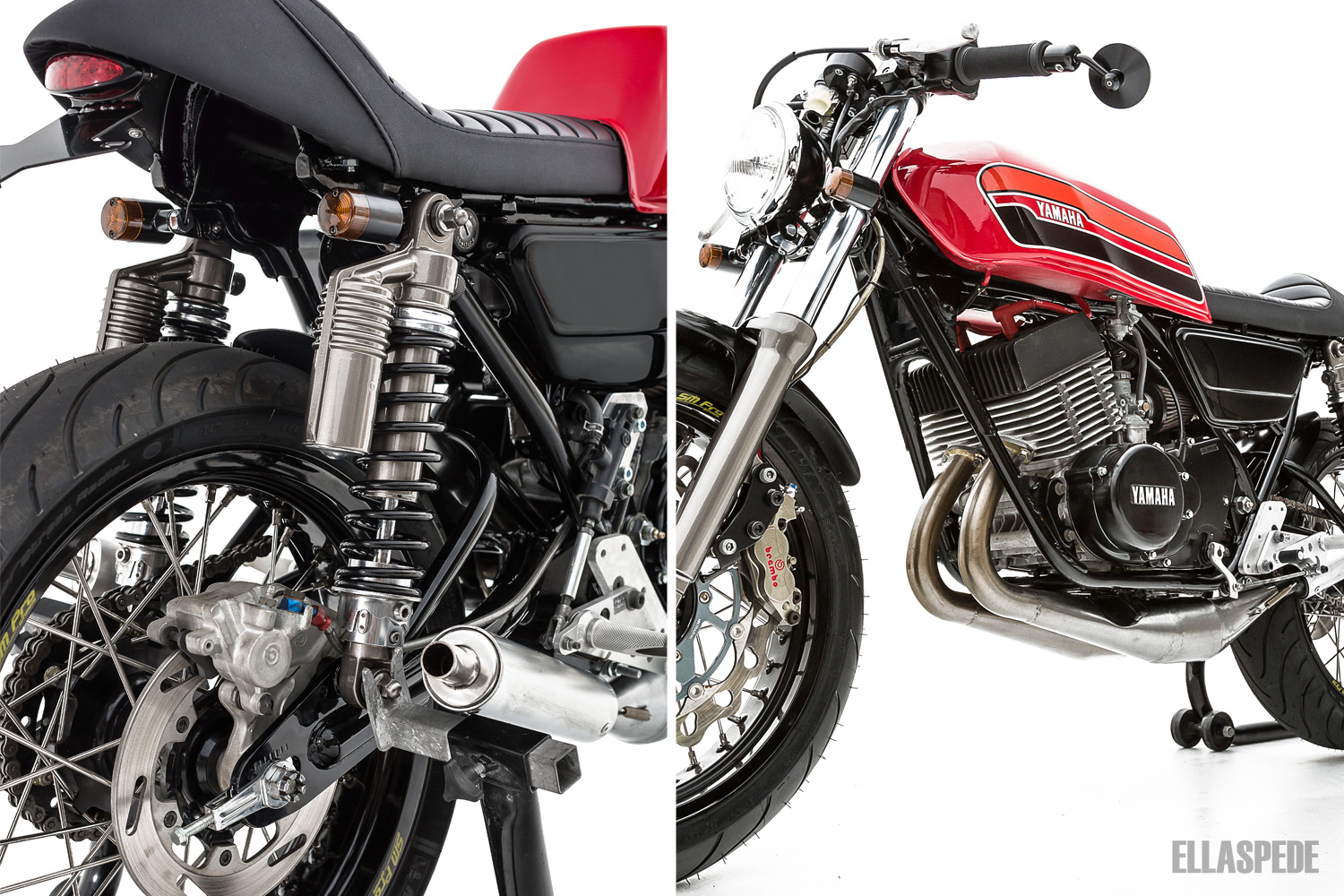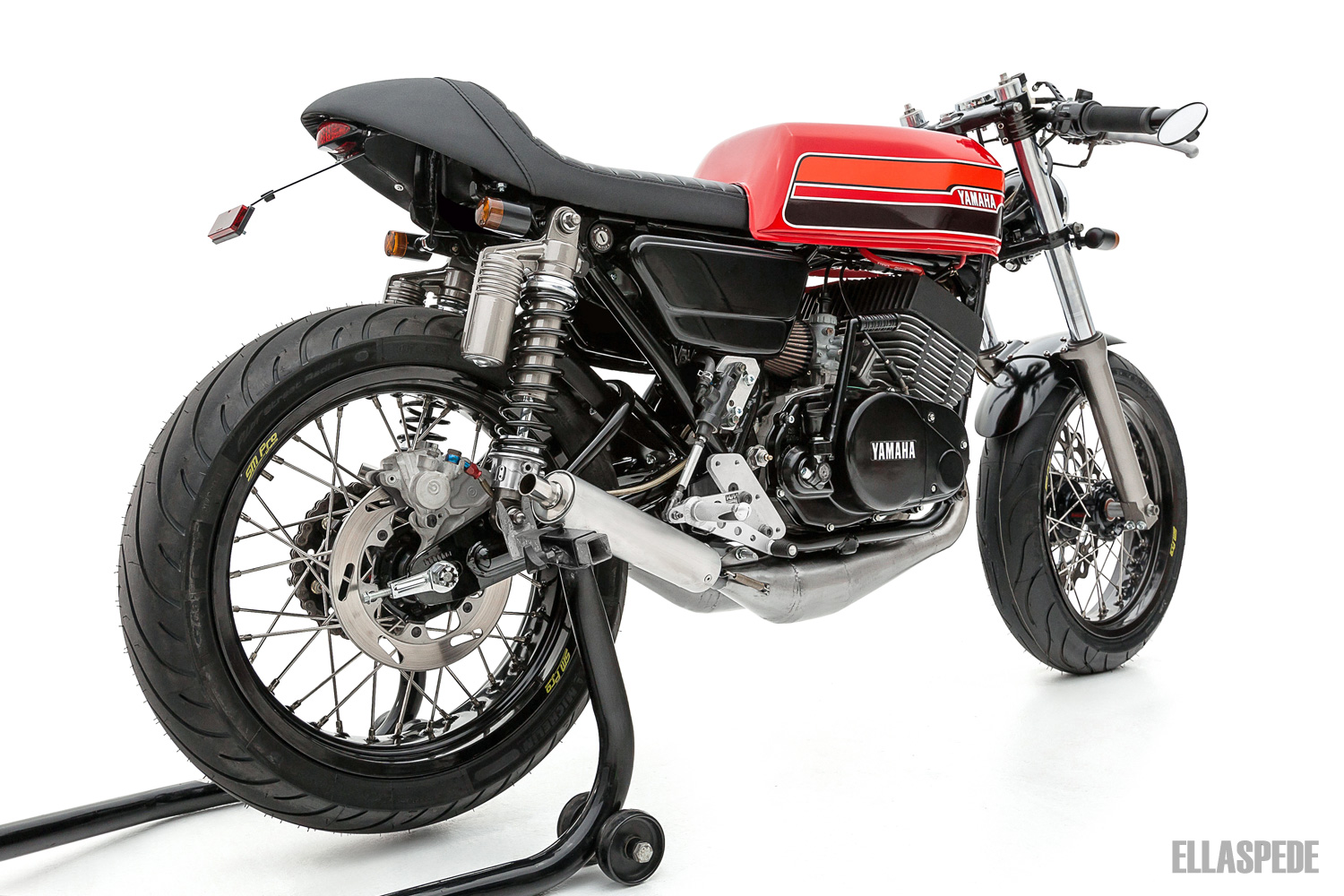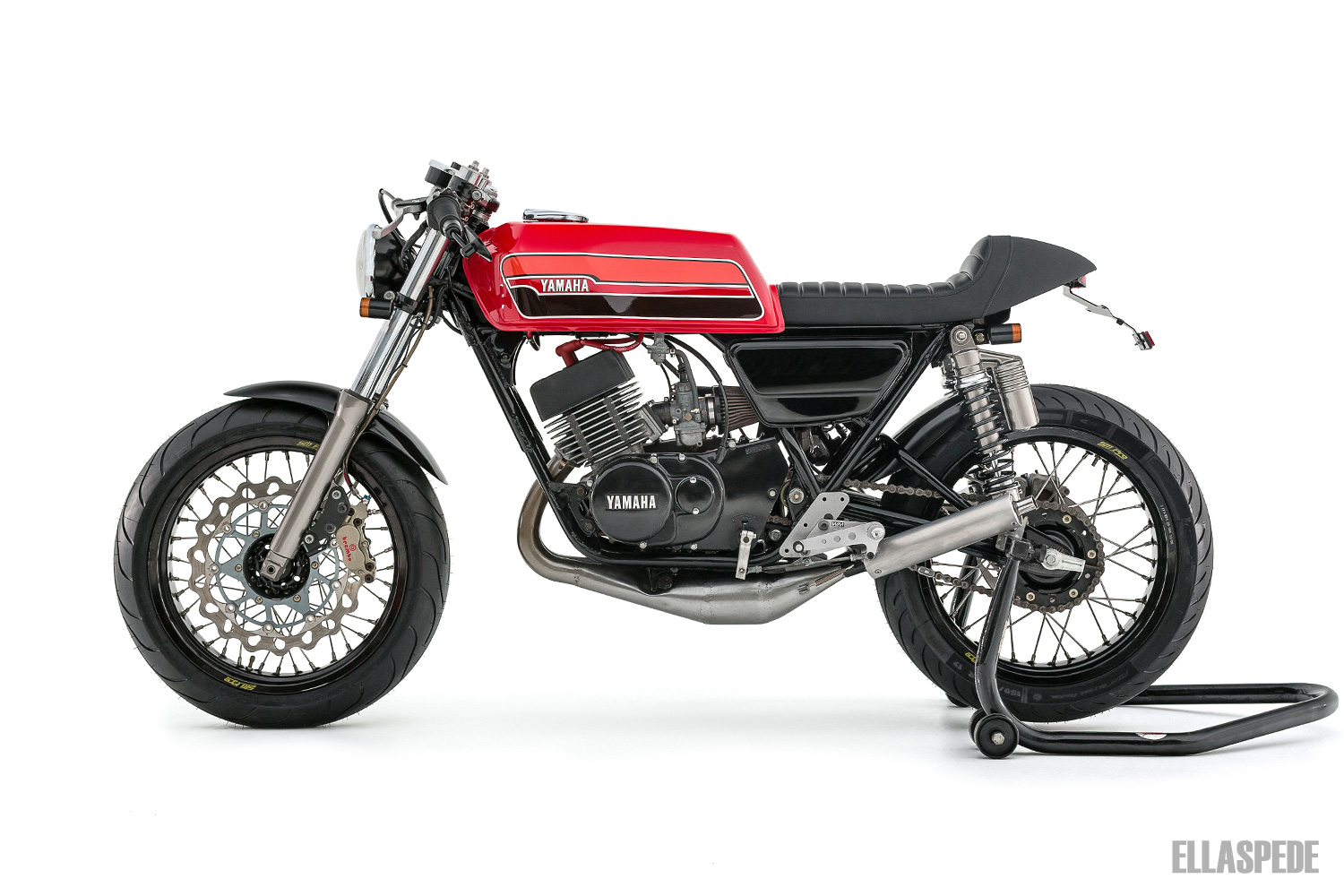 Albums we listened to during the build of this bike:
---
Photos and Features:
---
---
Comments (4)
Seat

By:

victor

on 17 August 2022

Who makes the rear seat and do you have pics of the frame brace you made?





Ellaspede Response
From memory the seat was a 'Nitroheads' brand made for an SR400. No pics of the under seat bracing and frame mods sorry.
---
Video

By:

Martin

on 2 January 2022

Hermosa moto. Me gustaría ver un video de la reconstrucción.





Ellaspede Response
Thanks Martin, we're glad you like the build. We don't have a build video of this one unfortunately mate. Cheers
---
Well done. looks really good

By:

At Kmh

on 28 November 2018

Having had one of these. Thanks for the hopped up memories
---
Envy

By:

Andy Smerdon

on 26 August 2018

When I was a young fella - quite a few years ago - I rode a Suzuki GT250 and my mate rode one of these. I was so envious of the acceleration and I loved the sound of both of our bikes as we screamed our way up the coast. Great bike and great memories. This is one sexy build.
---
Leave a comment