EB085 – 1974 Benelli 125 SS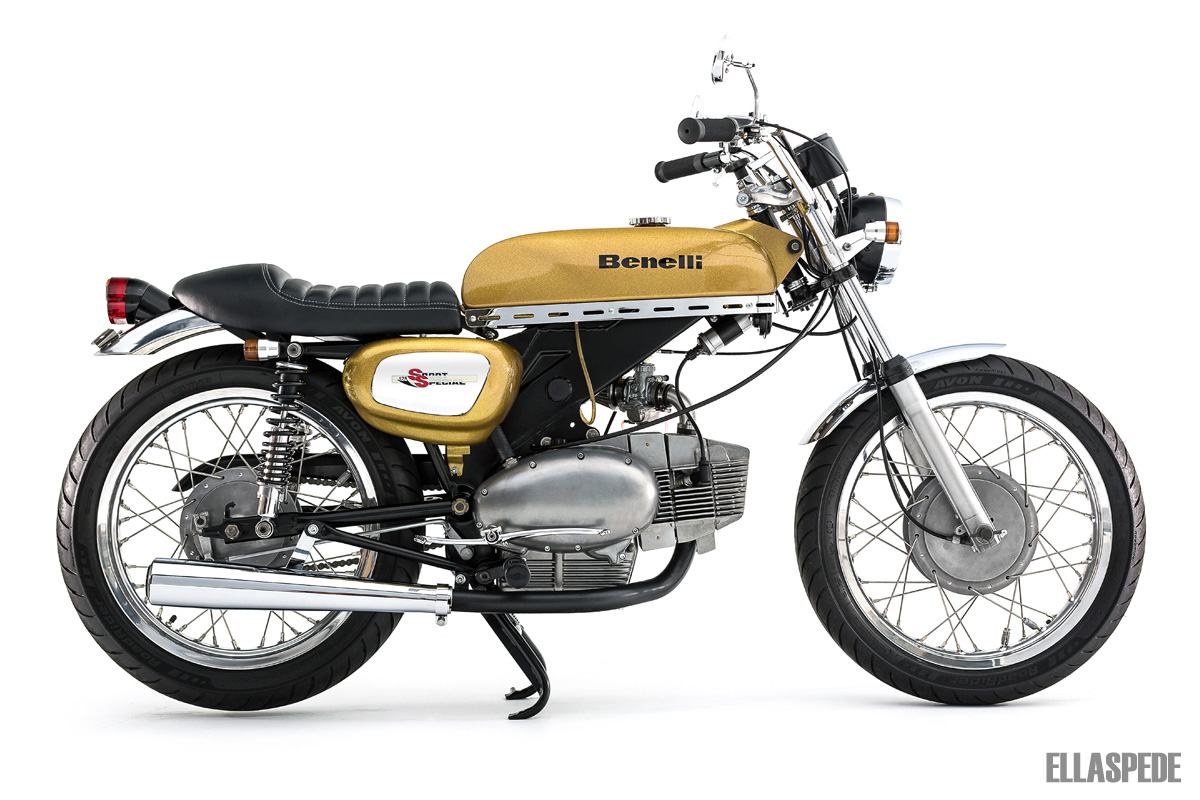 We probably all have stories of a family member or someone we know who has had an old gem tucked away in the garage or shed gathering dust and credibility.
Our latest client John has a few stories to tell, not the least of which is about such a gem… his 1974 Benelli 125SS (Sport Special).
This story begins in 1978 when he purchased new another bike (the same as this one) to commute to uni on. After years of service including at least one long road trip the little piston gave up and the bike was disassembled for assessment, boxed then put into storage… Cut to 1986 John happened on an add for what was at the time the only other 125SS he'd ever seen… so now he had two Benellis with broken engines. The 2nd one (the one you see here) was mechanically righted and ran for a while until the engine gave up again with an apparent misaligned bore cited as the issue.
Fast forward to 2013, John revisited the pair of 125's (still in storage) and via some encouragement from his wife (what a lady!), decided to resurrect one out of of the two.
By this stage the once fresh baby Benellis were not all they use to be and John knew it would require serious work to get one going again.
After seeing one of our other bikes in an exhibition that year, the couple approached Ellaspede with their plan. After consultation we made a start on the build in the second half of 2014.
John's thoughts were to rebuild mechanically and freshen aesthetically using salvageable parts from both of the bikes where practical.
Well, the mechanical rebuild was big and the aesthetic freshen up turned out to be major, transforming this little Italian basket case into something brilliant.
The 125cc engine (known as "eggs" for obvious reasons) required 40 years worth of work to bring back to life. We thought we'd be fabricating and machining new parts to replace certain old parts, such is their scarceness, however John managed to find a replacement piston and rings along with some other items in Italy. With these in hand and after some hydro blasting, we sent the 125 motor through the mill and produced a sweet little single the Benelli brothers themselves would be proud of.
John supplied us with three old Delorto carbs to get it running. After a clean and inspection it was decided to go new and the Delortos were set aside in favour of a Mikuni round-slide.
With a modified Postie bike manifold fitted, numerous jetting changes, mixture adjustments and timing tweaks we had the egg singing better than Pavarotti.
As mentioned, the idea of an aesthetic freshen-up grew to something more and part of that incorporated some subtle modifications to modernise usability and toughen the looks, whilst importantly maintaining "elegance and sophistication".
After a complete strip the frame was given a general clean up, the pillion peg mounts were removed and bracing added. The centre stand required straightening and was also braced for good measure.
The frame (along with many other parts) were then sent off for powder-coating in satin black.
A local chroming house did a great job in refurbishing the interesting clip-on handle bars, headlight lip, under-tank strips and side cover plates.
The original seat pan was shortened, beaten to suit, lowered, re-foamed, shaped and upholstered.
New Ikon shocks now hold up the rear end and the forks were re-chromed then re-built with new seals.
Wheel choice is important and the the original hubs came up a treat after blasting and light polishing with 1.85 x 18 front and 2.50 x 18 rear Excel rims laced on. Avon Roadriders are the tread on duty and as a larger package this combo gives the bike a more substantial presence.
Paintwork is similar to the original colour with "the right amount of metal flake" for a bit more 70's flare and glitz.
The electrics were all rebuilt to 12V specs and the addition of indicators help the safety side of things. In this case Posh Chamfers were employed. The original taillight was cleaned, polished and mounted on a custom interface to the custom rear stainless guard. The front guard is also a custom stainless unit.
Many hours were spent rebuilding, refinishing and replacing items across the bike.
The final piece of the puzzle was applying the "Motobi" logo to the seat rear (Some internet research will provide an understanding of the Benelli / Motobi logo relevance).
Over the course of the build this cute little bike has become a favourite around the workshop and now once again has proudly hit the streets, starting the next chapter in it's story.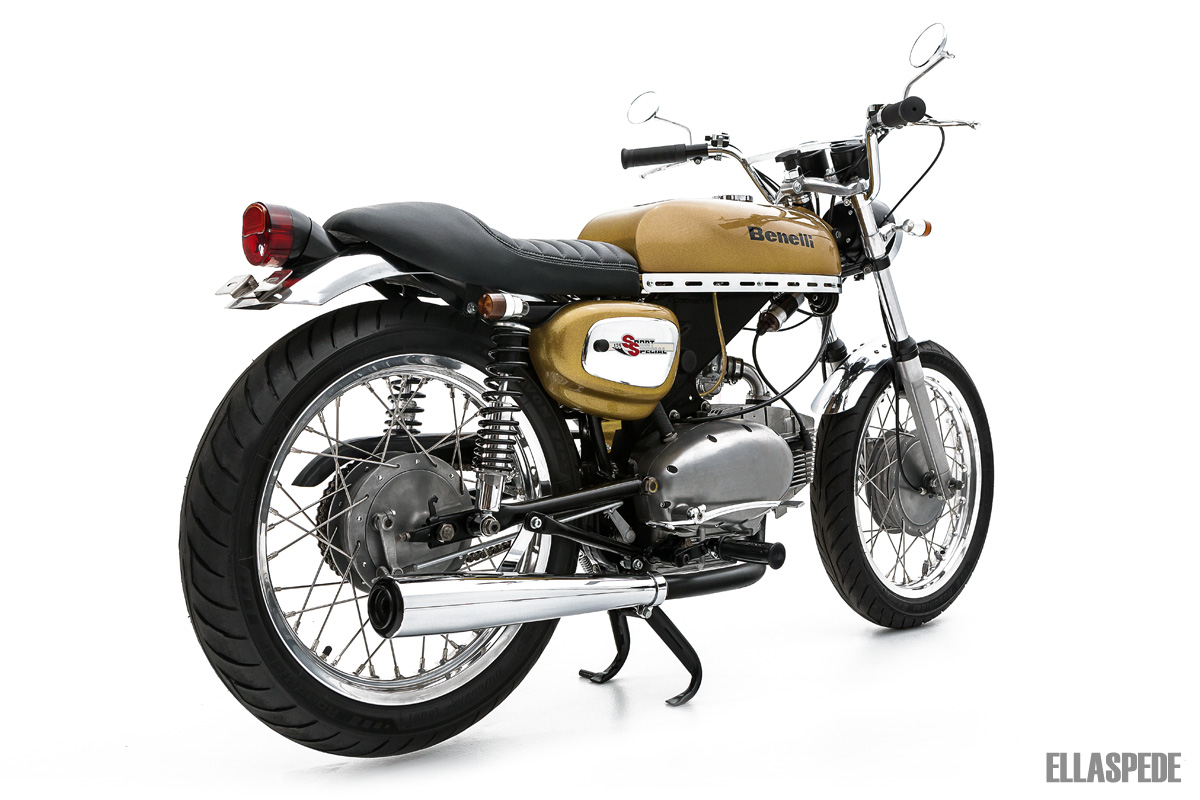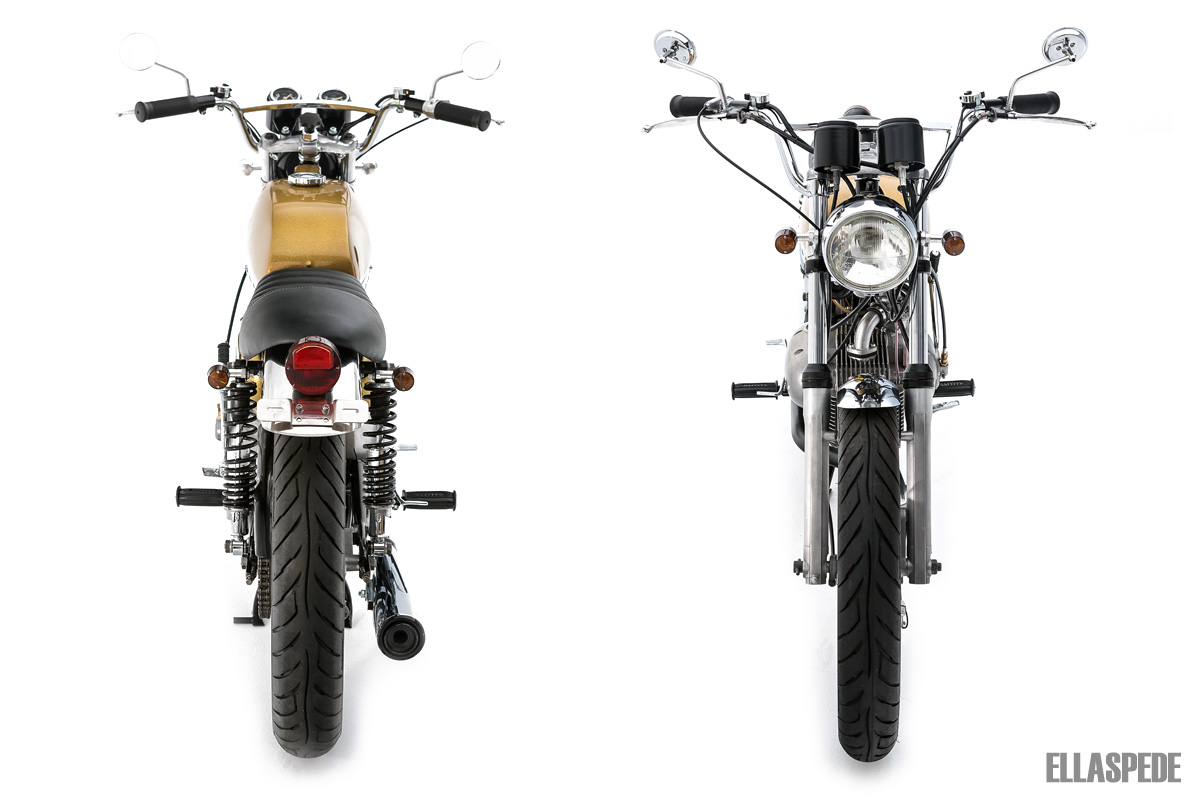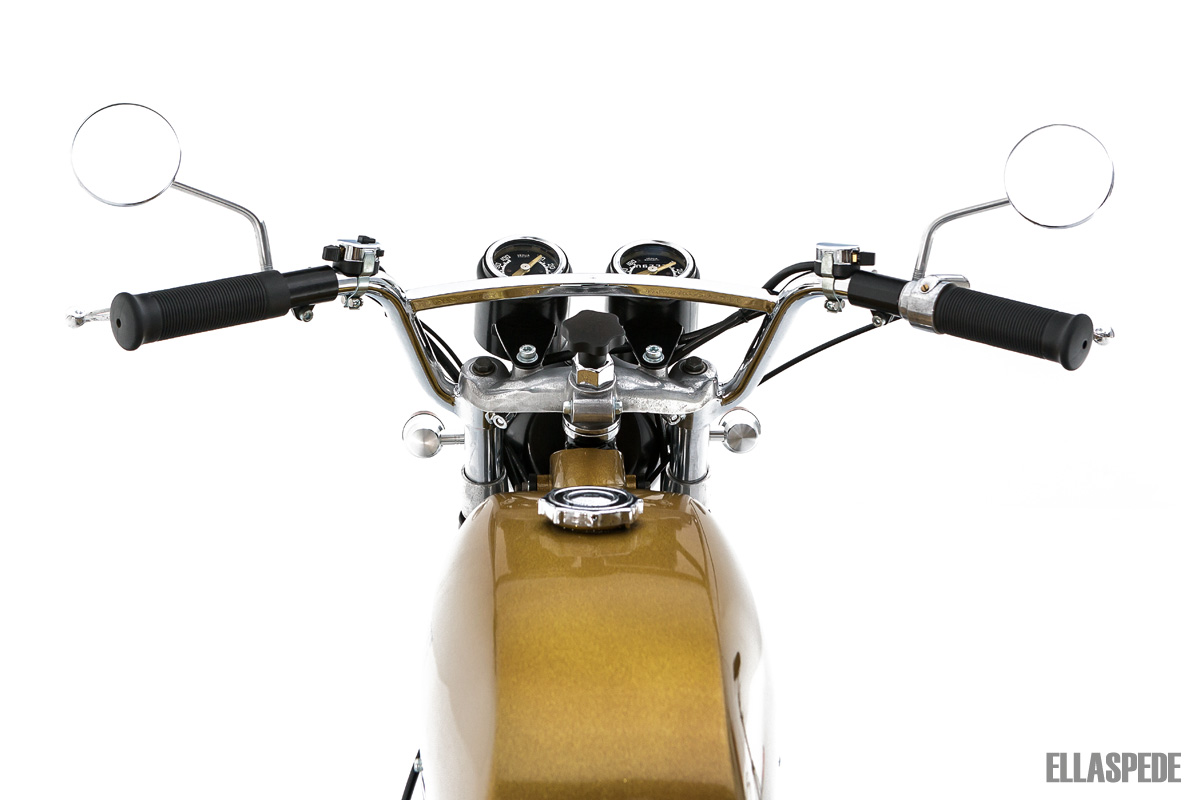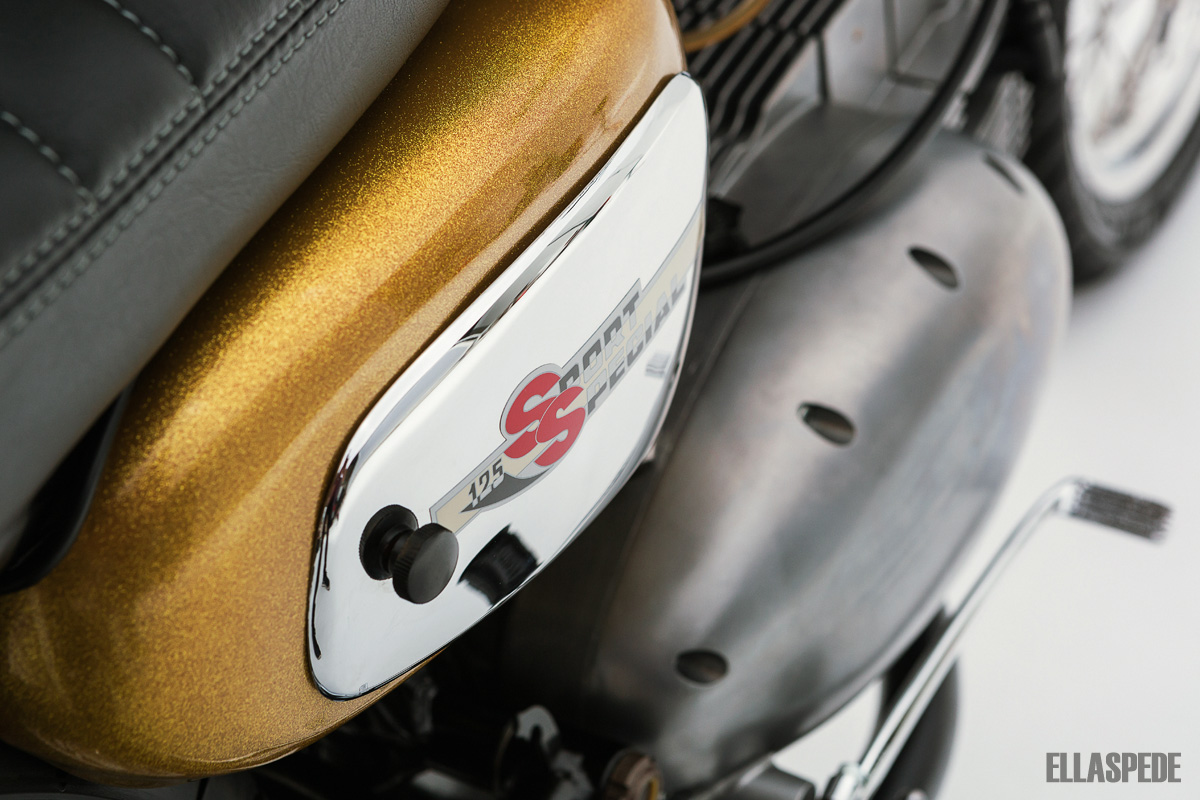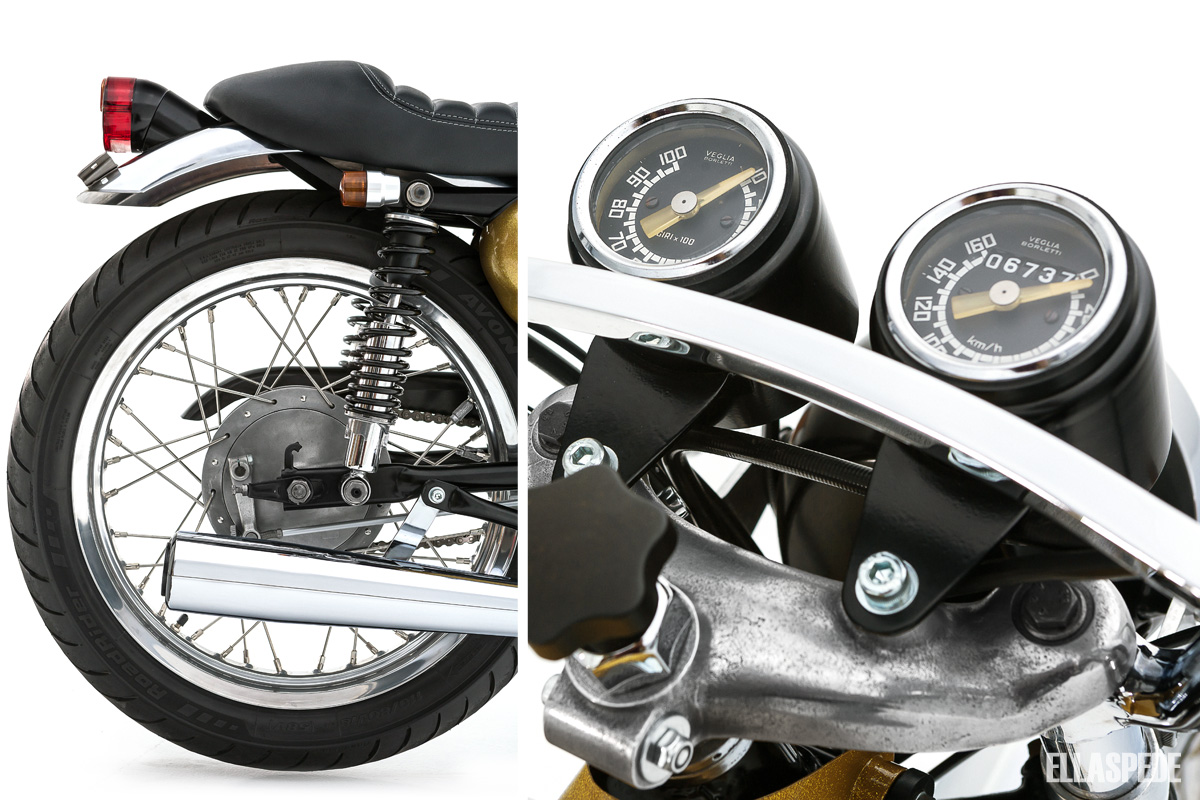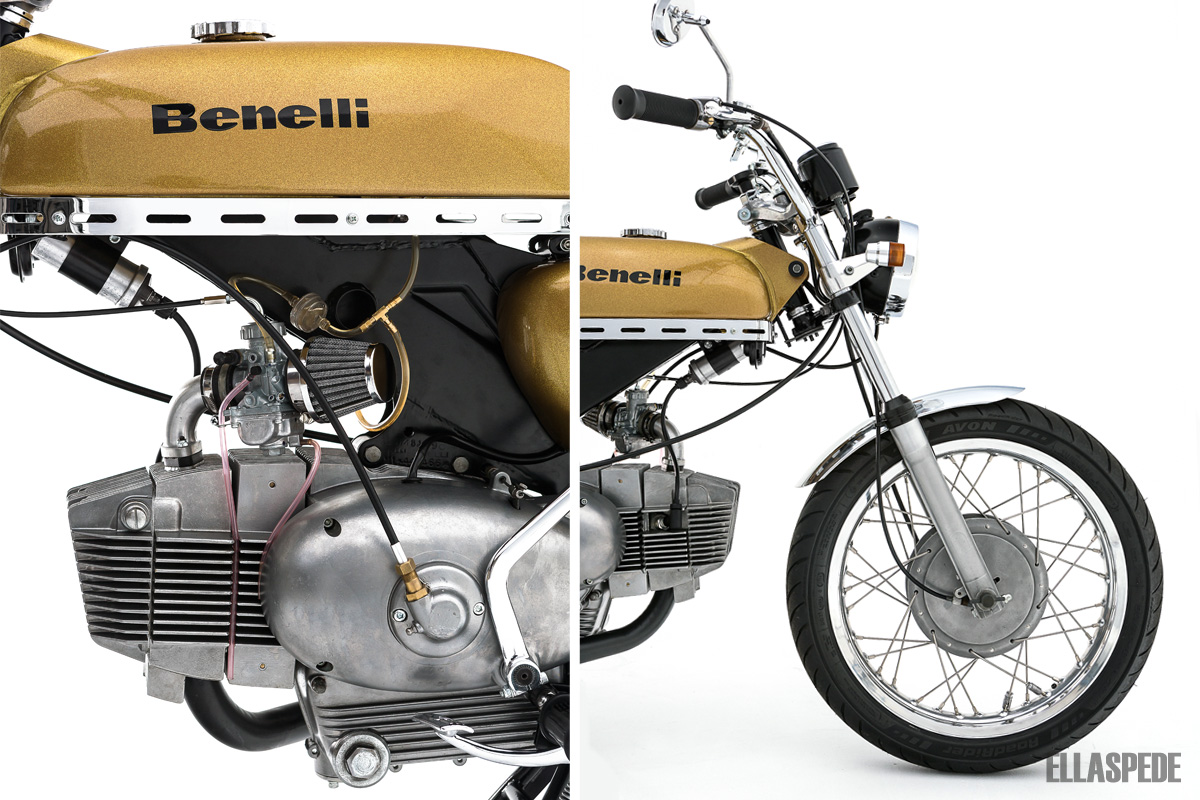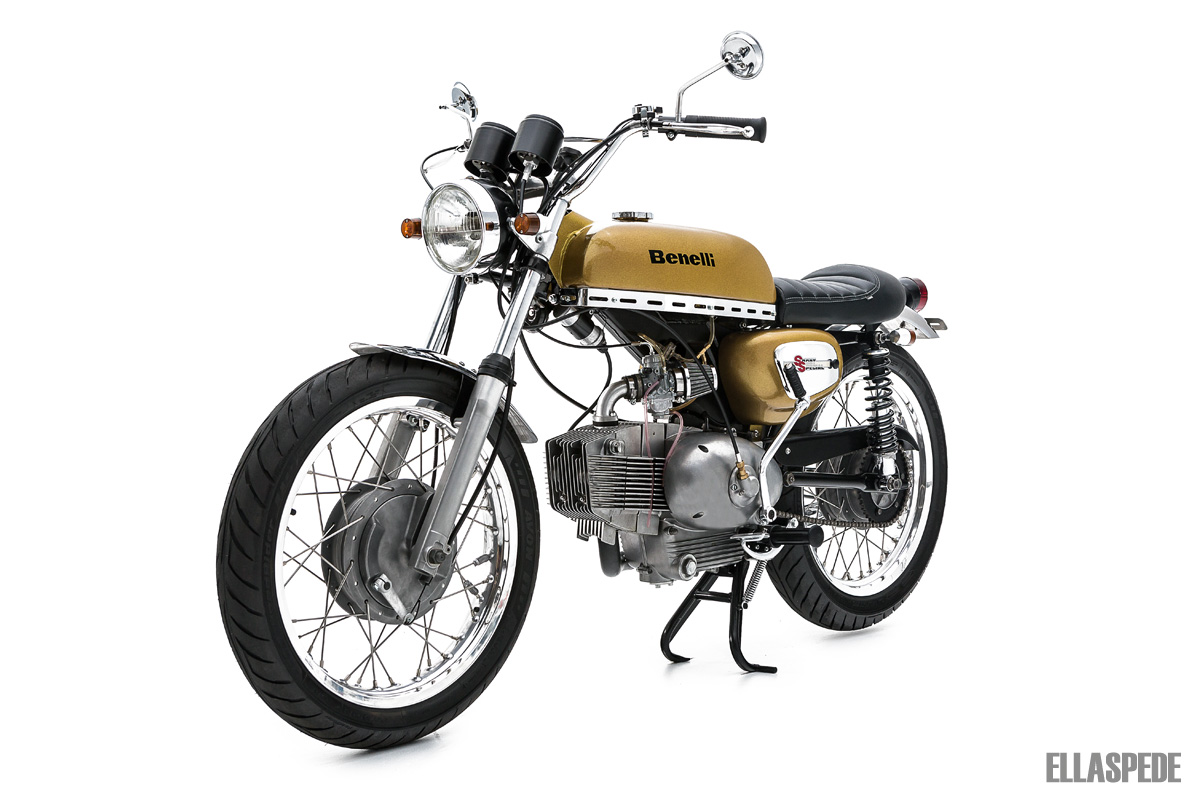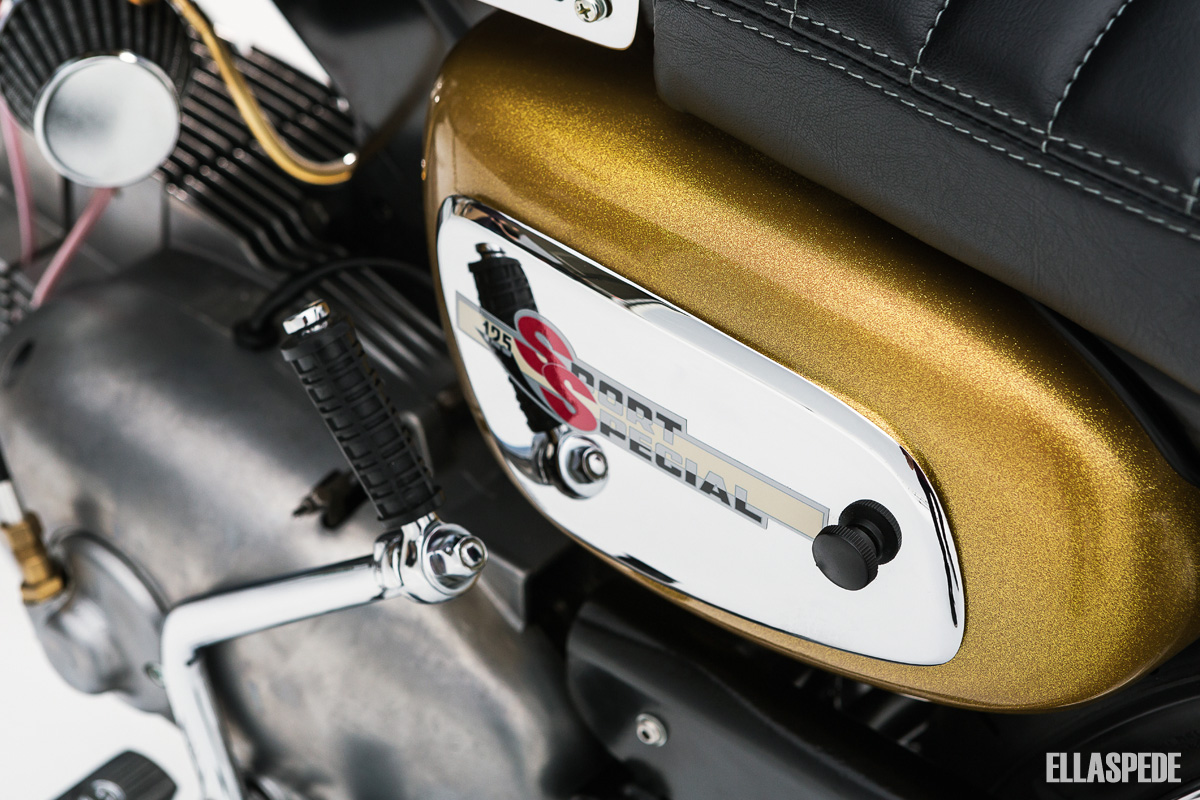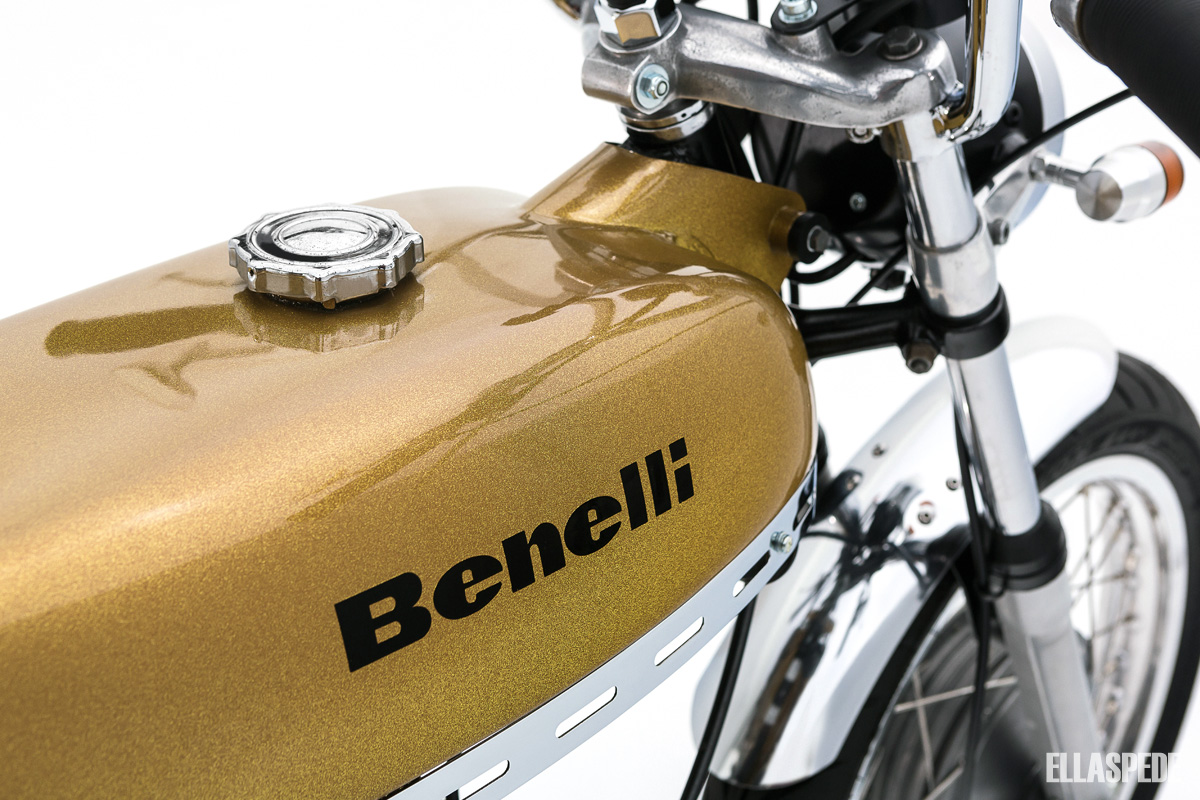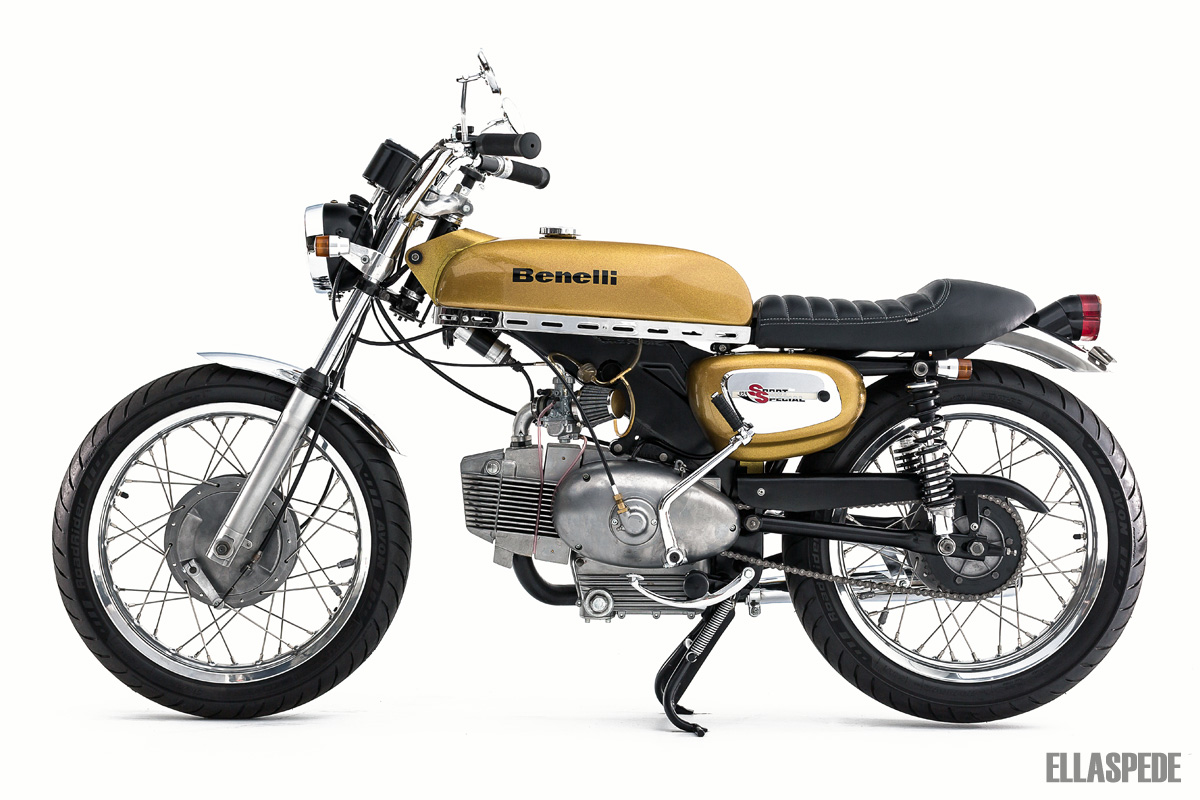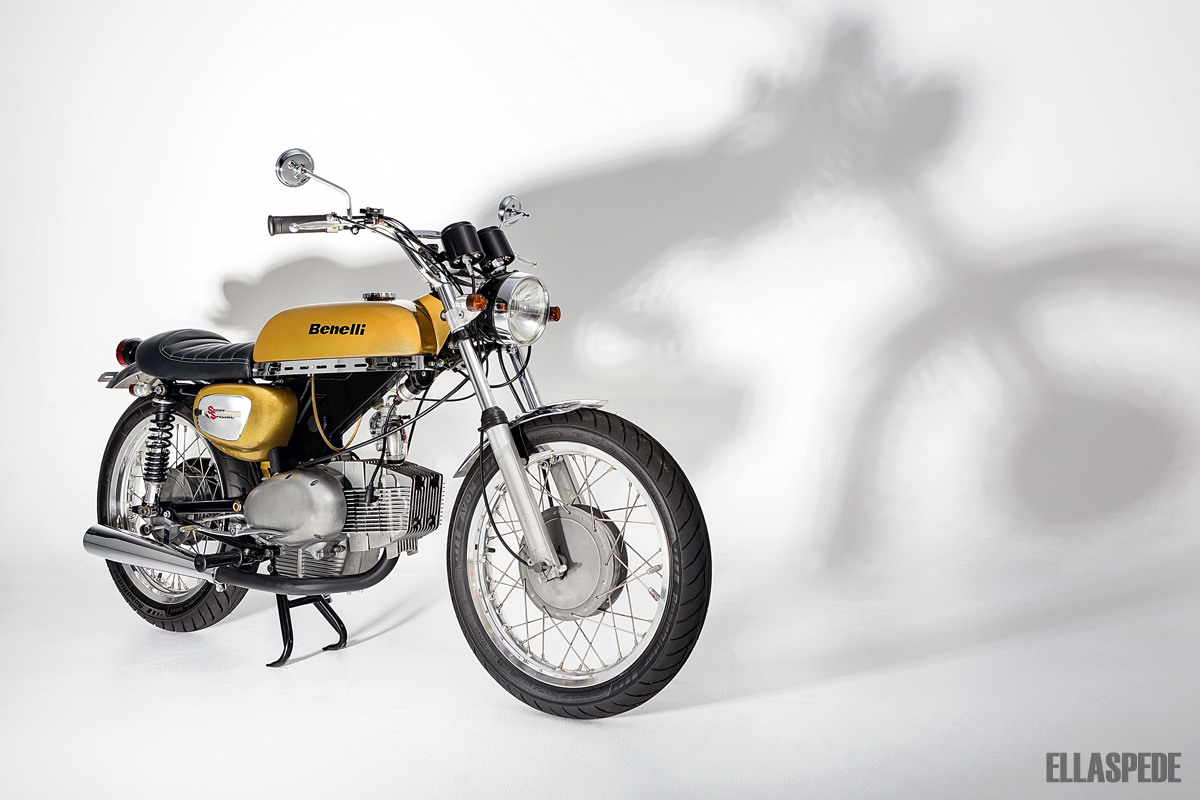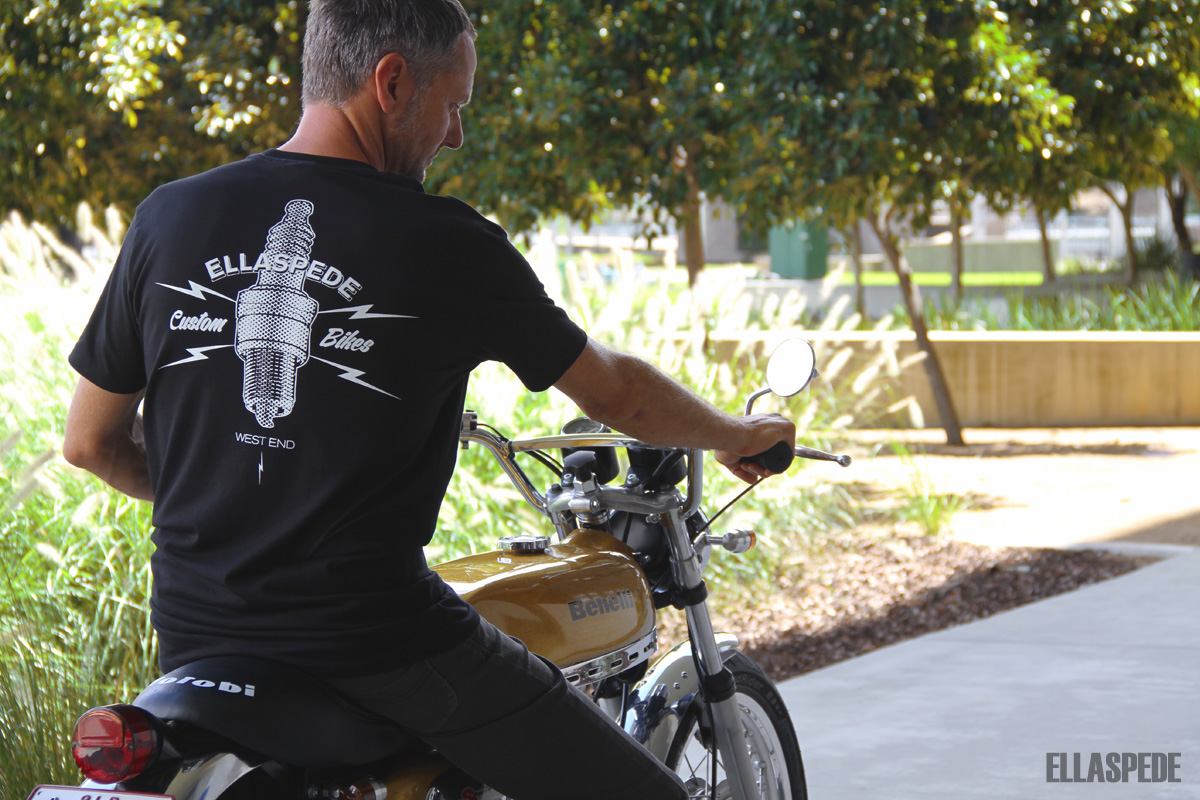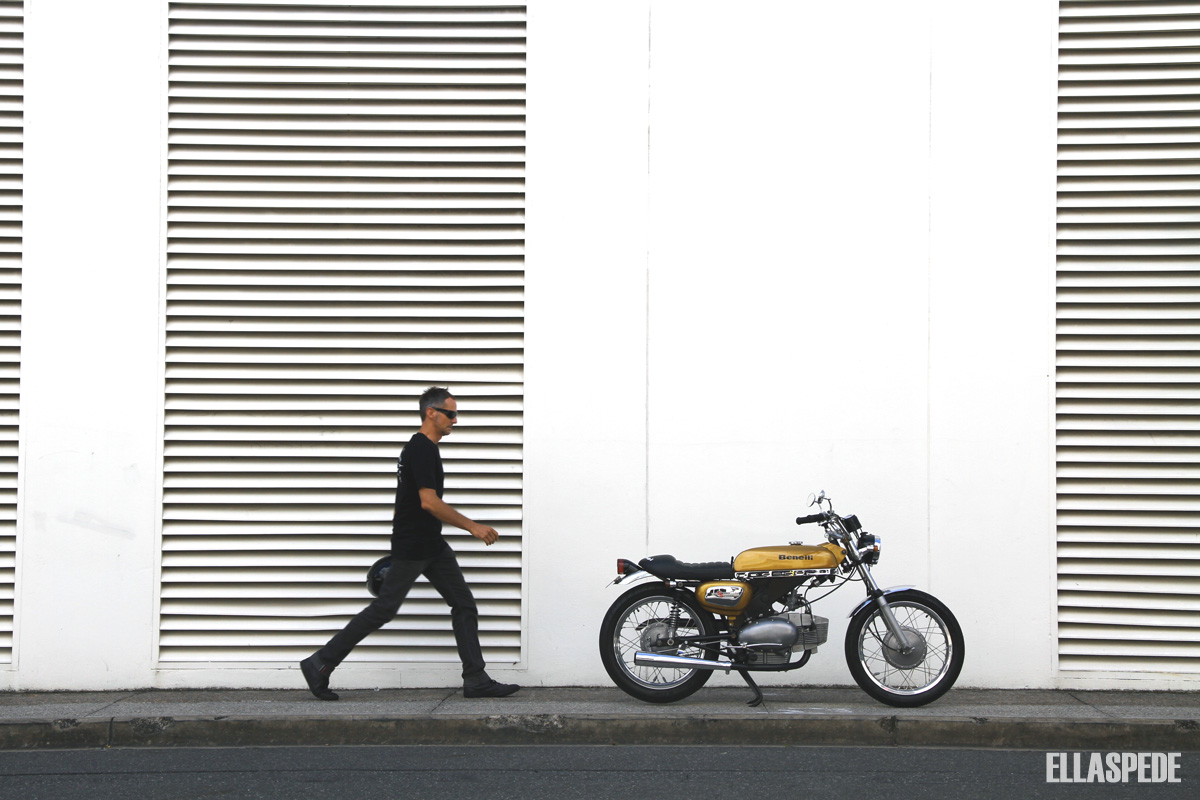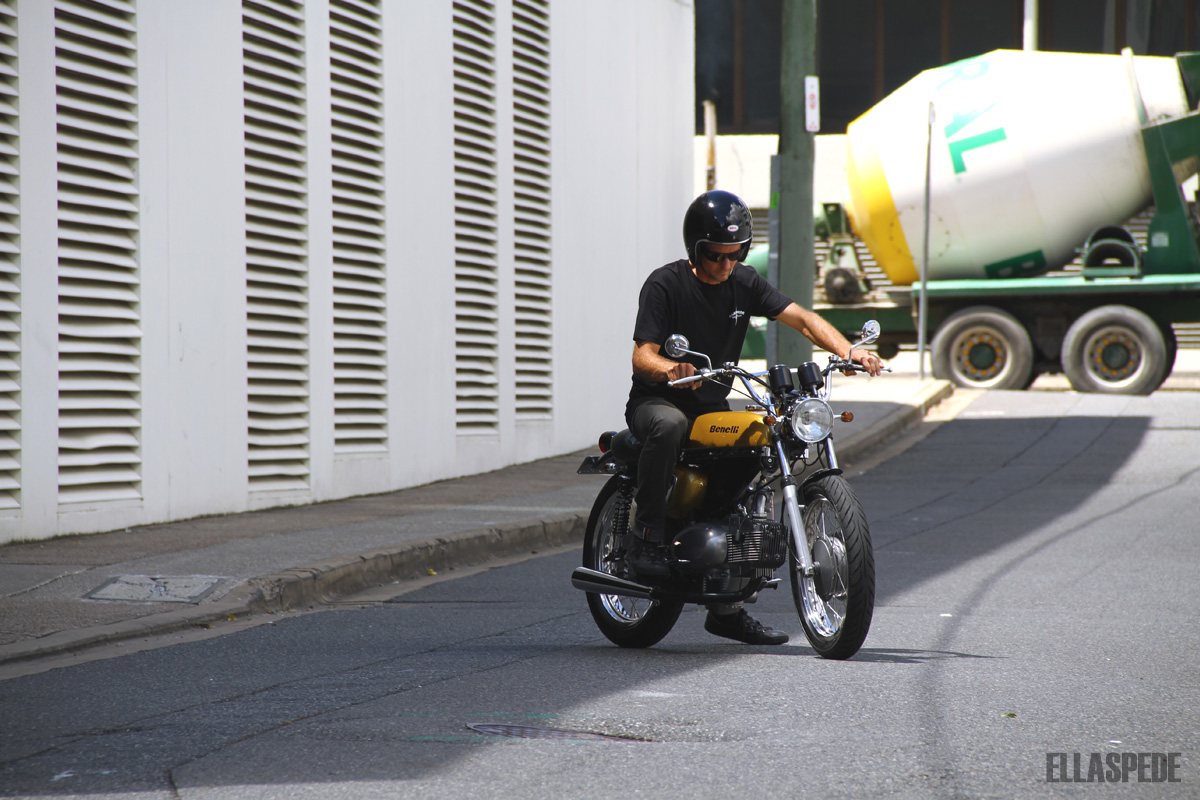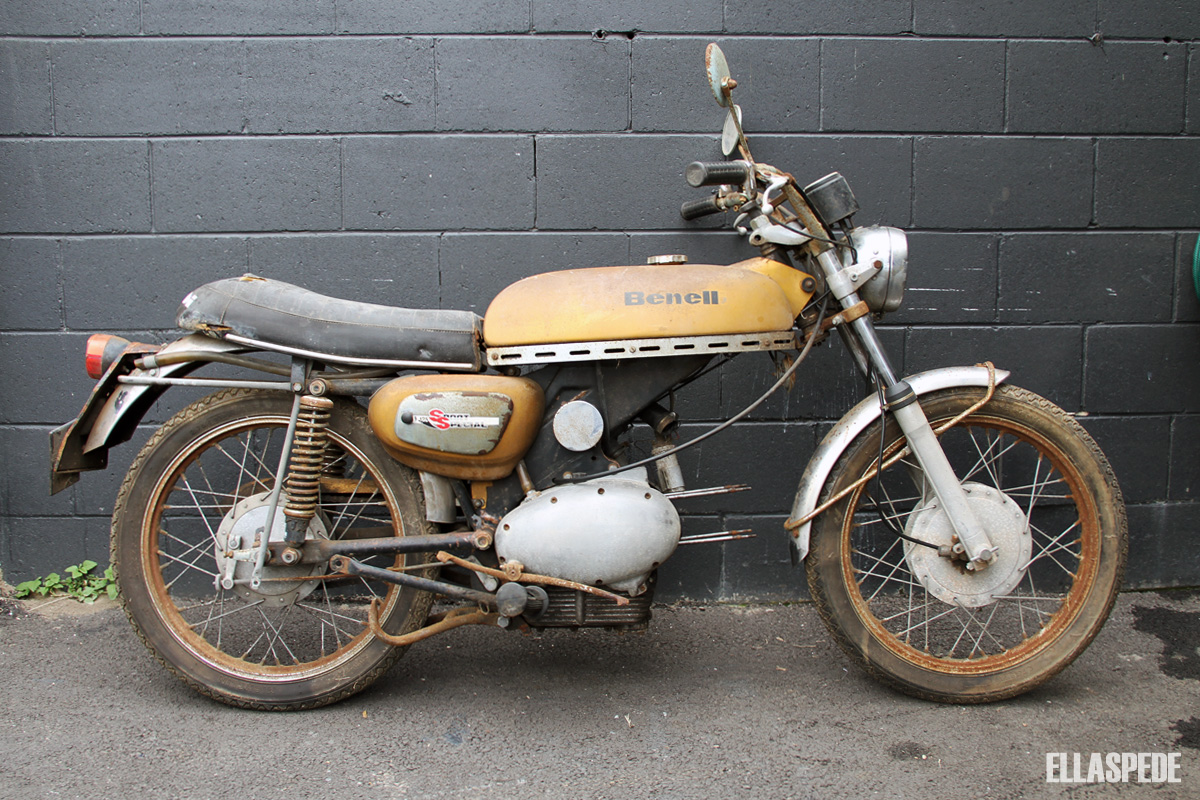 Albums we listened to during the build of this bike:
---
Photos and Features:
---
---
Comments (1)
paint colour code

By:

Max Rombouts

on 14 March 2021

Goob morning, Have seen your Benell bike on the internet . Compliment for the superb restauration and the nice combinations of the scrambler. On the moment I am starting to restore a Benell 125 sport special. Your choise of the paint colour "Gold metallic" is fantastic May I ask you to send me the real colour code of the "gold", that will help me a lot. Thanks for your response, Regards, Max Rombouts Dongen Netherlands





Ellaspede Response
Hi Max, Thanks mate, we're glad you like our build. Unfortunately we don't have a colour code for the Gold paint, it was a special one-off mix that our painter put together. All the best with your build! Cheers
---
Leave a comment