EB569 - 1973 Suzuki TS400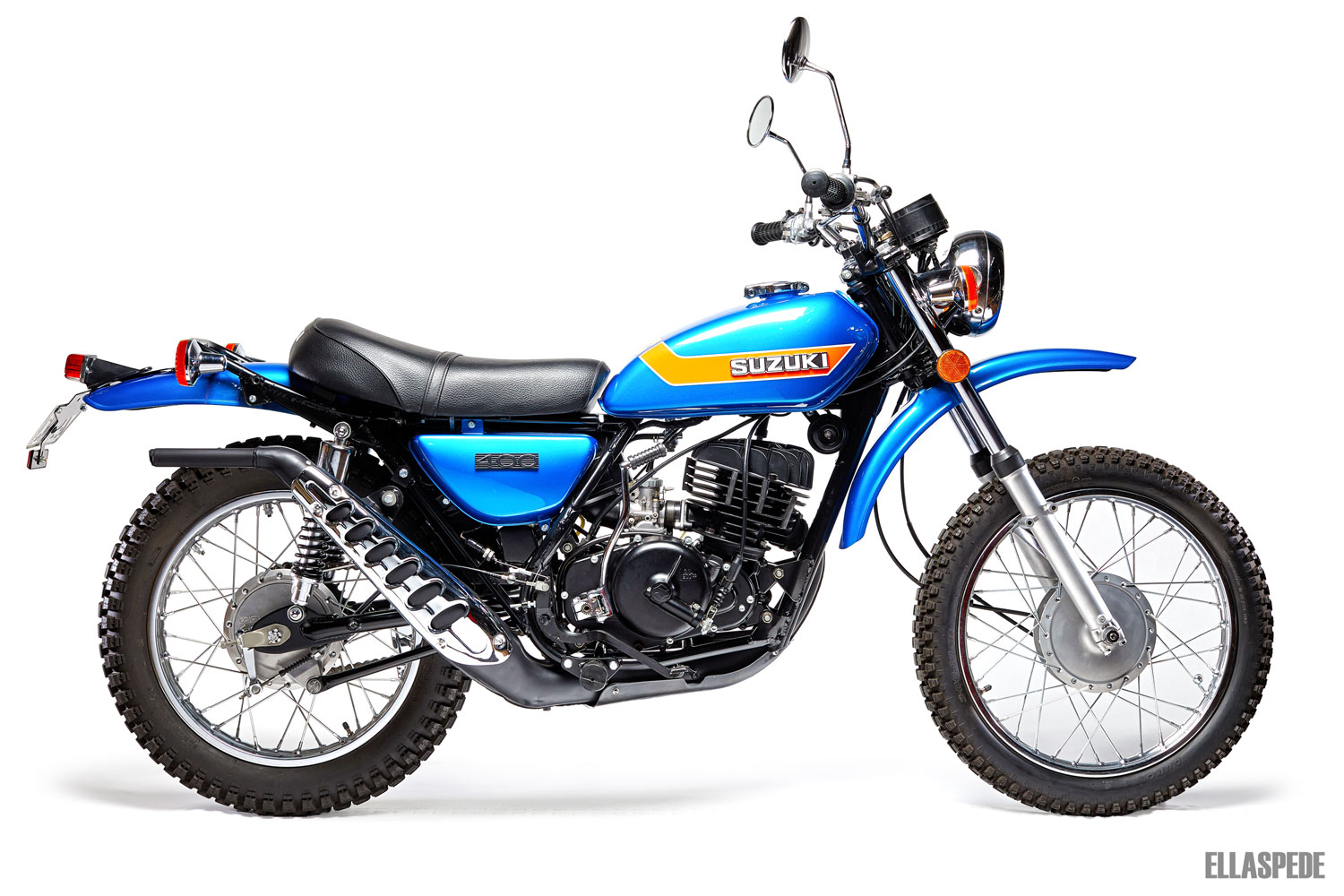 "If that bike could tell a story" is often heard when discussing motorcycles with history and patina. Ray's 1973 Suzuki TS400 is one such example, although the story almost ended before his kids came to the rescue.
Ray starts the story…
I got my TS400 in 1976 and road it for about 4 years registered trail riding before I deregistered it and mainly used it for bush riding around Queensland and the Northern Territory.
I had it about 30 years and had pretty well run it into the ground, so rather than buy a new dirt bike I decided to have it restored. I gave it to a guy to restore with all the parts i had bought on the net, but eventually he disappeared and I never saw it again.
I loved that bike and had a lot of history with it. I liked that it had a saddle for a seat which was lower to the ground, plenty of usable power and I suppose I had just been riding it that long I felt it was part of me.
About two or three years ago my kids found another 73' TS400 on the net and surprised me with it! It had only done 450 miles, it had been sitting in a shed for 40 years so it looked pretty reasonable but needed a lot of work to get it back into shape.
So with a 'newly acquired' TS400 of the exact same year and colour as his original bike, Ray set out to finally give his old favourite the restoration it deserved. His kids proved to be pivotal in the process once again, when his son Matt suggested Ellaspede was right for the job after having seen some of our previous work and knew some of the team at the shop.
As Ray mentioned, the 73' TS400 was a special part of his life. It was involved in a stack of his life stories and the kids all remembered it being around growing up. So after losing one in an unsuccessful restoration attempt he wasn't going to let this one slip away, and with so much of his history attached we knew it was going to be a special build.
When the bike rolled in it was 'all there' and presented well for a bike of this era. Probably due to the low milage, which was believable given the lack of apparent wear marks and usual damage from off road riding. Although the bike was mostly complete, it had been sitting for so long that a full rebuild was in order to ensure another 30 years of memories could be made on it.
The bike was completely stripped back to a bare frame, before all the parts were assessed and the plan was formulated. Good parts were sent for powder coat, chrome and paint, while the rest was divided between repair and replace.
To ensure a trouble free future the motor was completely rebuilt top and bottom to factory specs. All engine cases were high temp coated, bolts replaced and new seals and bearings slotted in before being screwed back together. A dyne tune came later when the whole shebang was back together.
The wiring loomed needed some repairs to replace old wiring, with the remaining connectors, switches and components all getting cleaned or replaced. Lights and indicators were rebuilt with new lenses where appropriate after chroming and polishing. The original tail light proved hard to find in good condition so a smaller replacement currently resides in its place.
The hubs and rims were vapour blasted and chromed before new spokes and nipples were installed along with fresh bearings. Period looking 'trail block' tyres wrap the rebuilt wheels. Pulling up the new hoops are rebuilt drum brakes with new pads front and rear.
Front suspension lowers were also vapour blasted, with re-chromed stanchions, seals and new fork oil being put in. Rear shocks are 'period' items from Ikon.
Paint was only ever going to be a vibrant version of the factory blue and orange livery. New badges were sourced before the the tank, side covers front and rear guards were all coated. The orange and white tank graphics weren't available, so the team set about designing some artwork to match the originals, these were painted on.
Almost everything else was repainted, polished, ceramic coated or vapour blasted to resemble a renewed factory finish. This isn't a 'concourse' restoration, so new bolts and cap screws replace many of the tired factory fasteners throughout.
Overall, it's been enjoyable to bring a big old 2 stroke back to life, and event better that it's road registered! Being the biggest in Suzuki's off road range at the time, the TS still gets along pretty well by todays performance standards. Definitely enough to stretch the cables on those drum brakes every once and awhile.
Once the 'second' rebuild was finally complete Ray said… "I always intended to use it again for bush riding but the restoration came up that good I can't bring my self to bush bash it, so now i just use it for show and going to lunches etc. Thanks for the great work!"
Ray could write a book with all the stories about what him and the original TS400 had done. Now with a little help from his kids and a little time at Ellaspede we're hoping the second chapter will have just as many great stories as the first!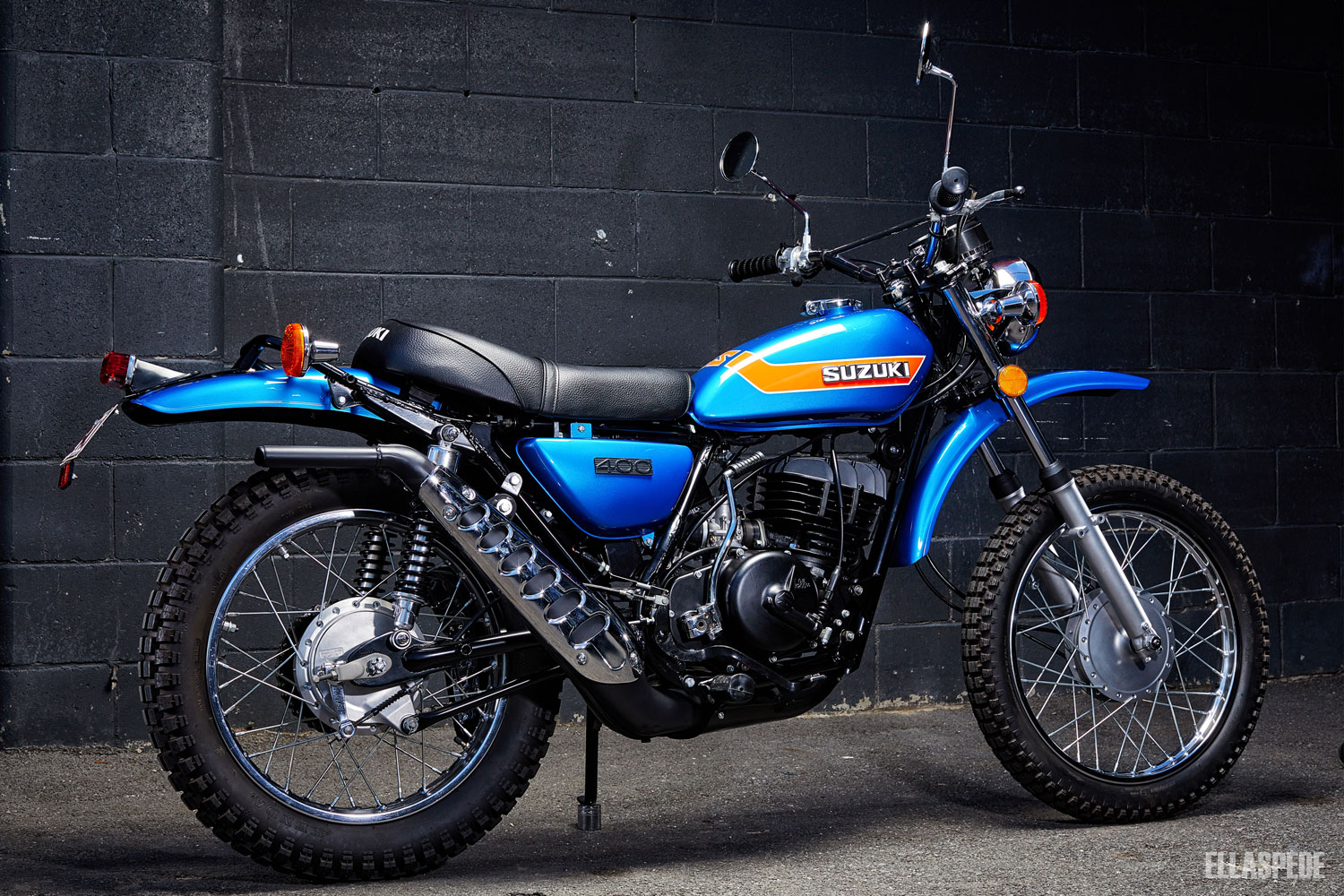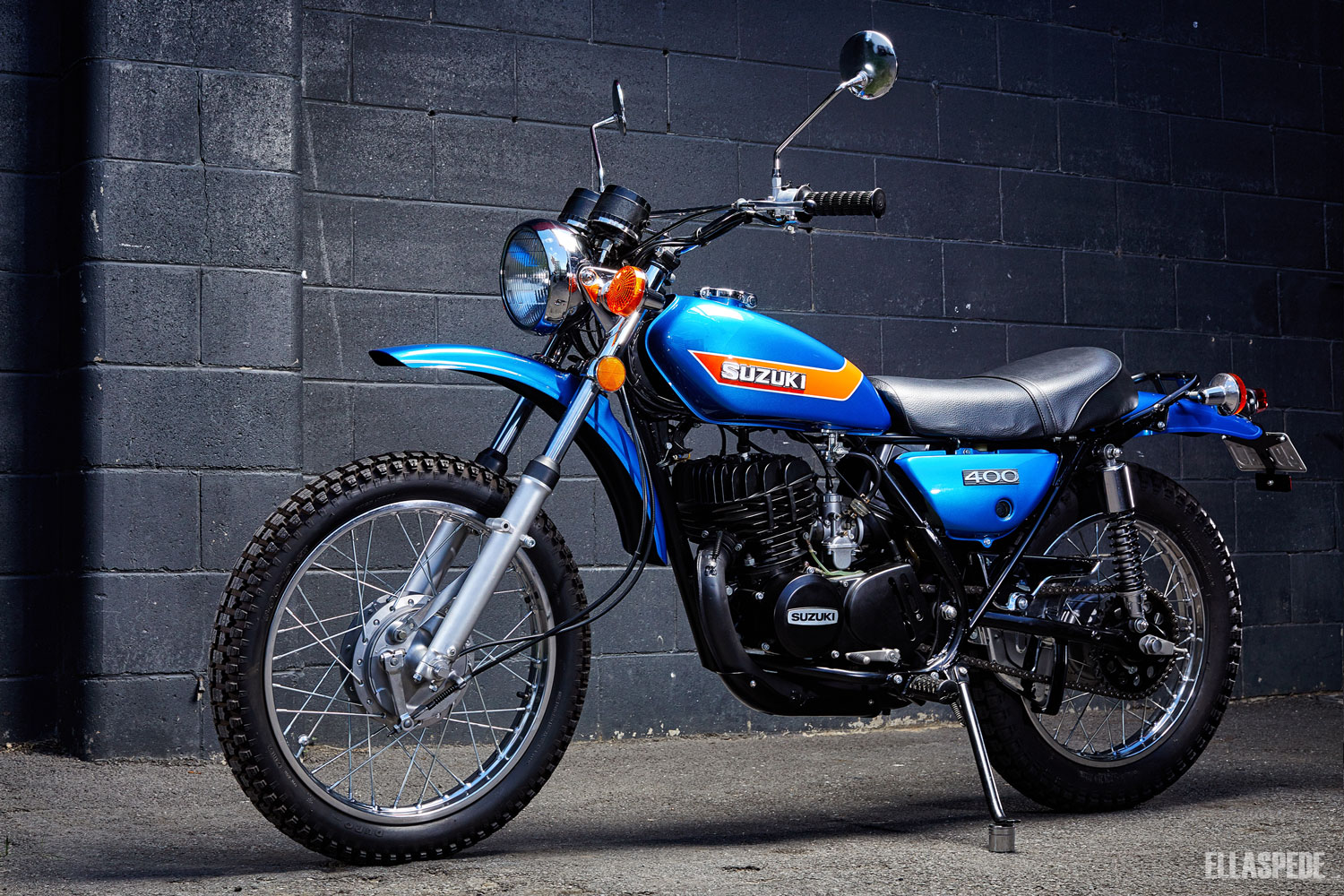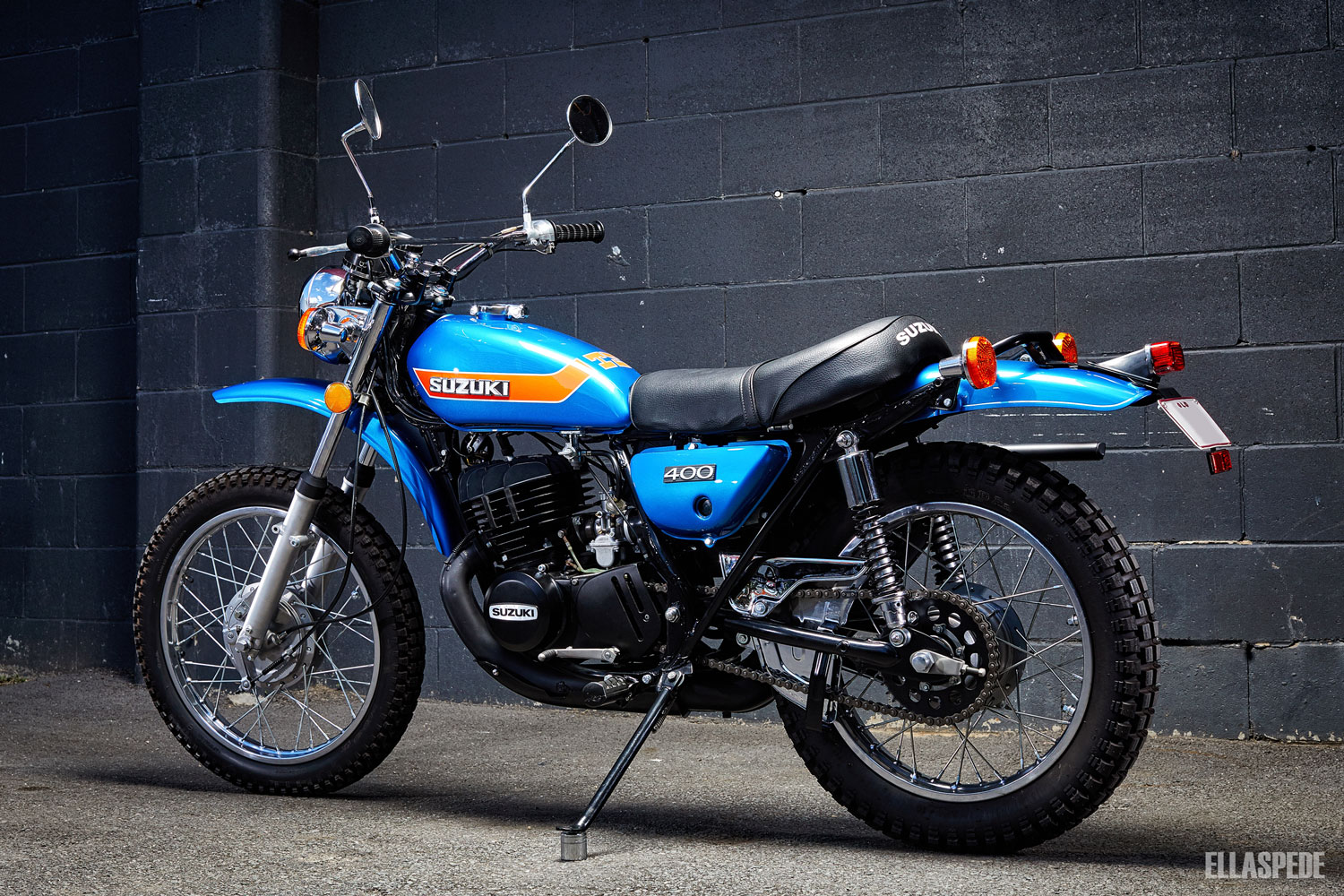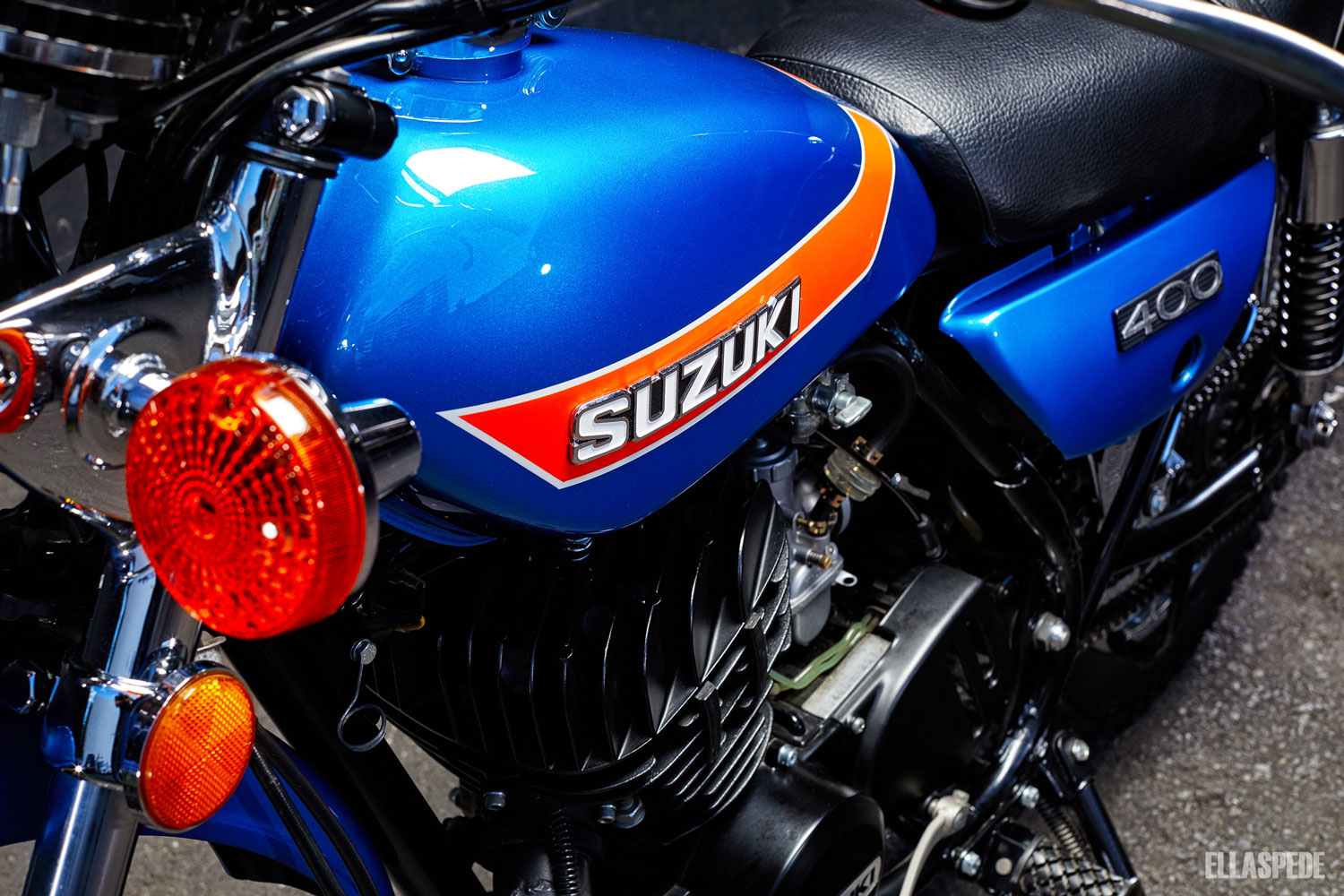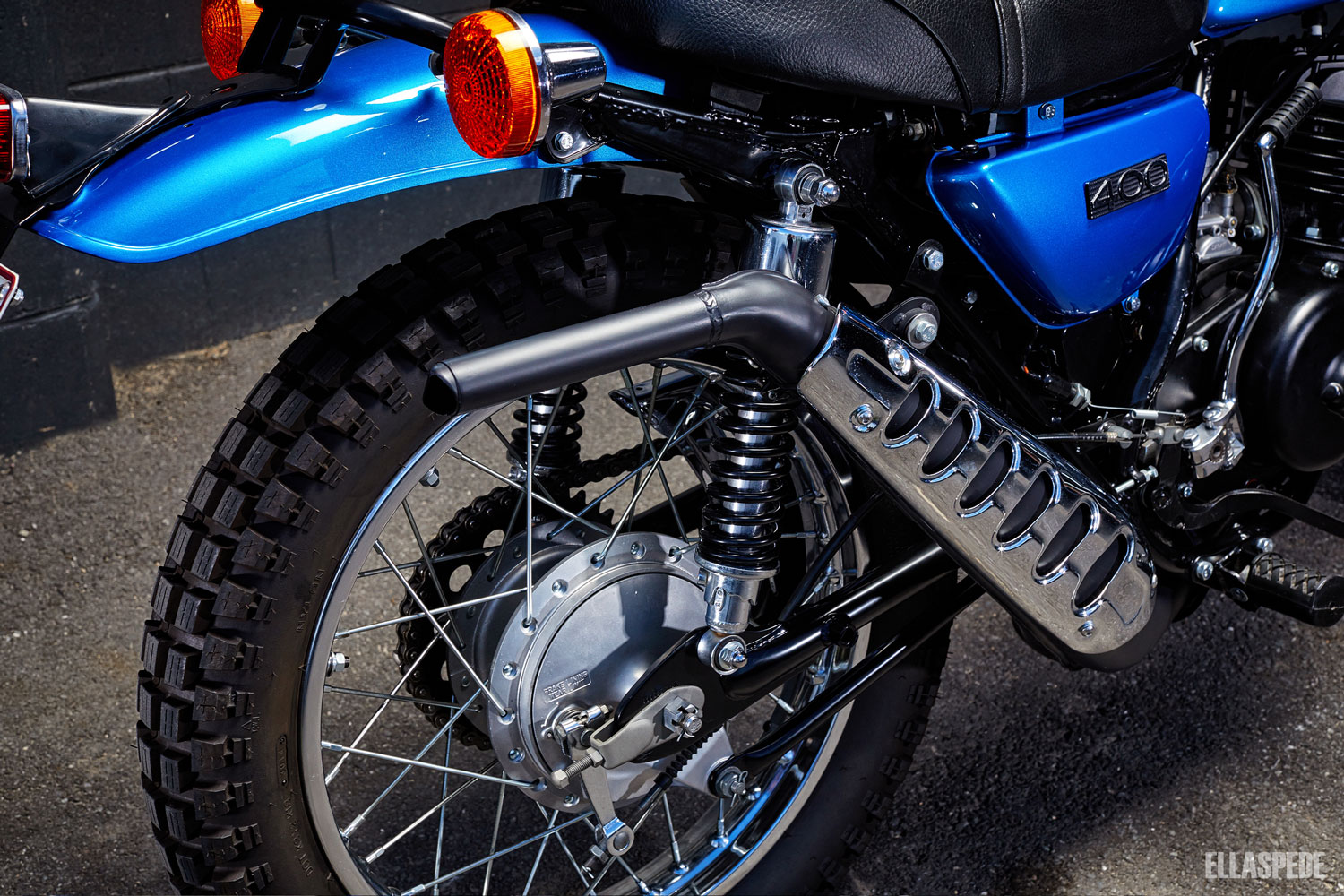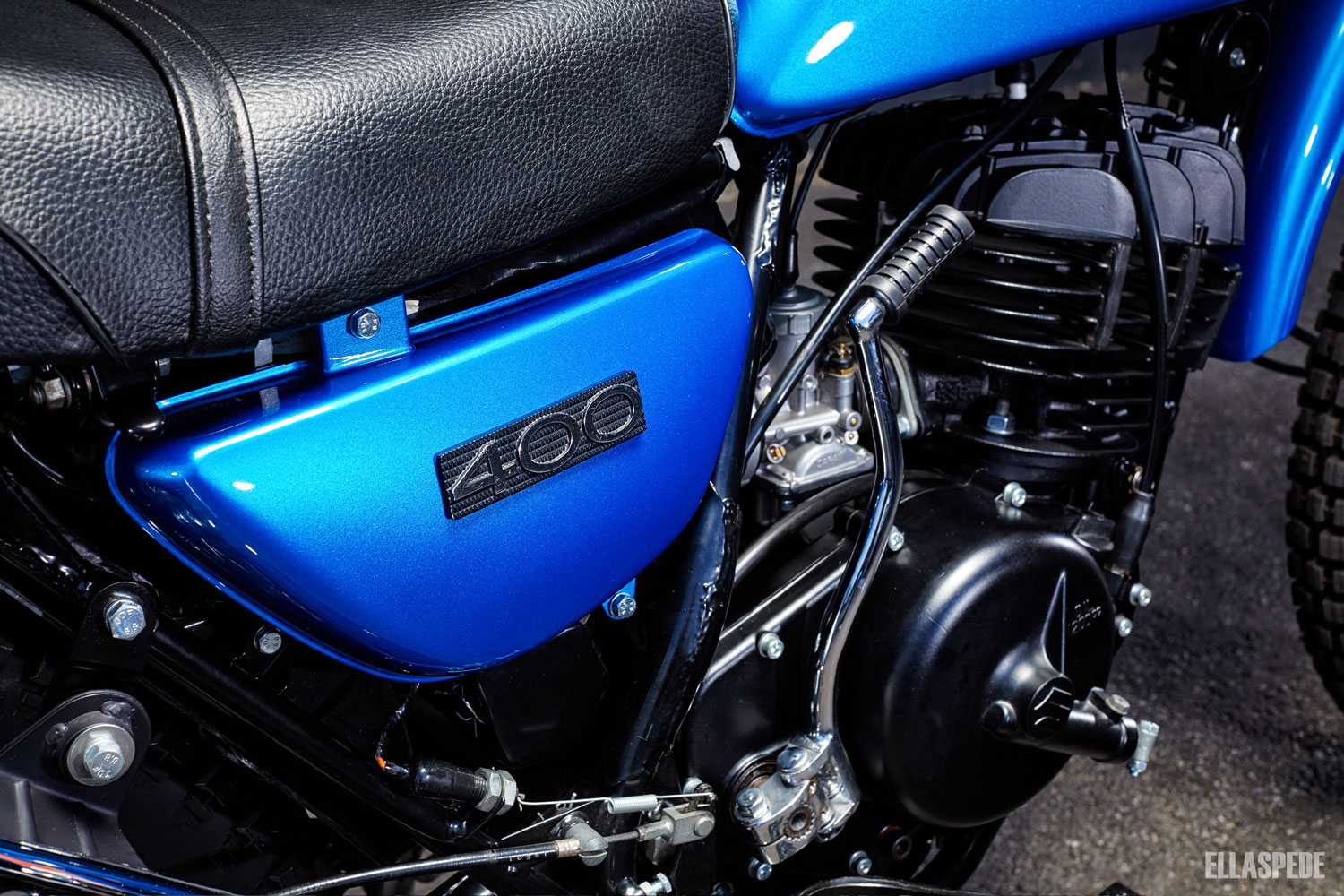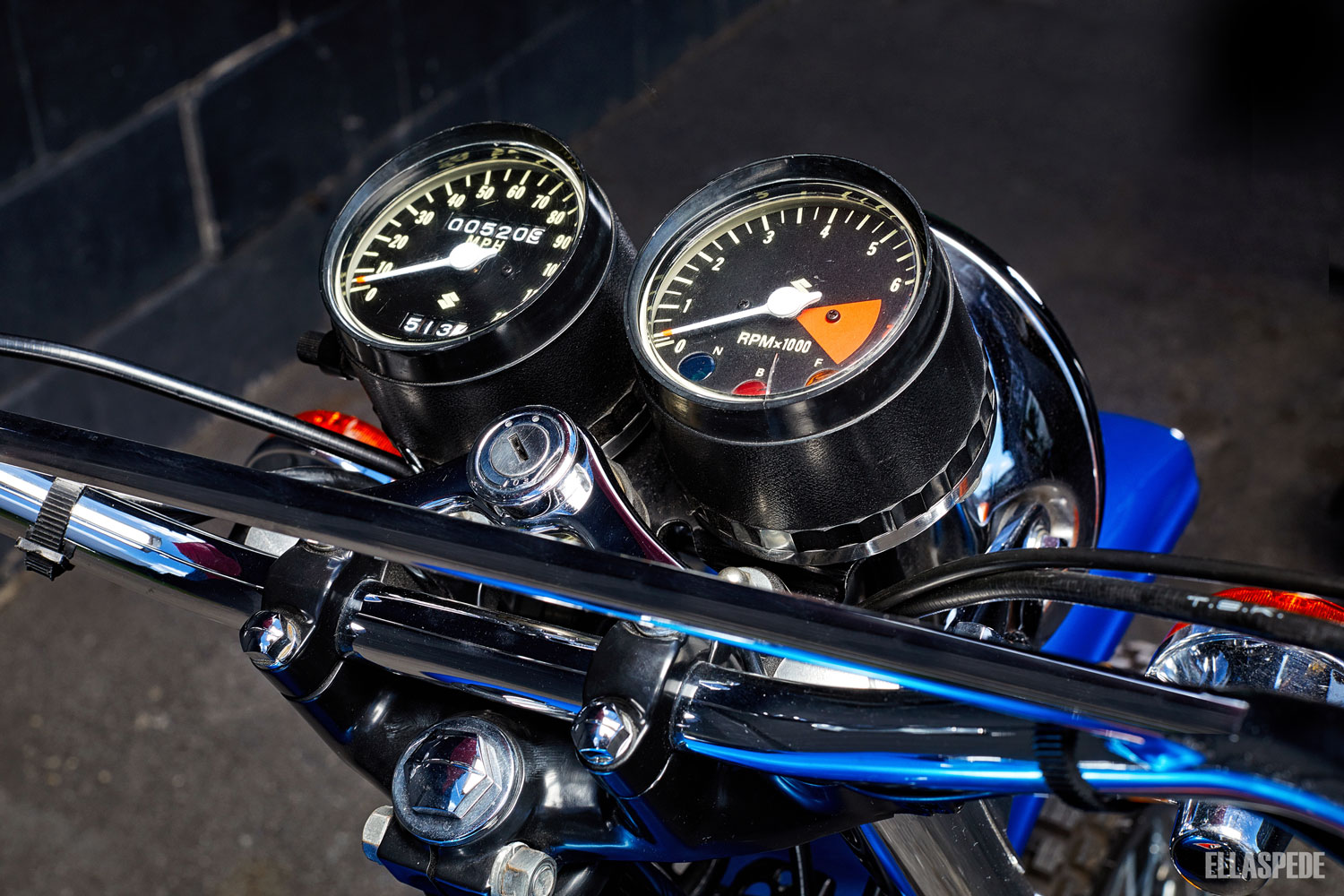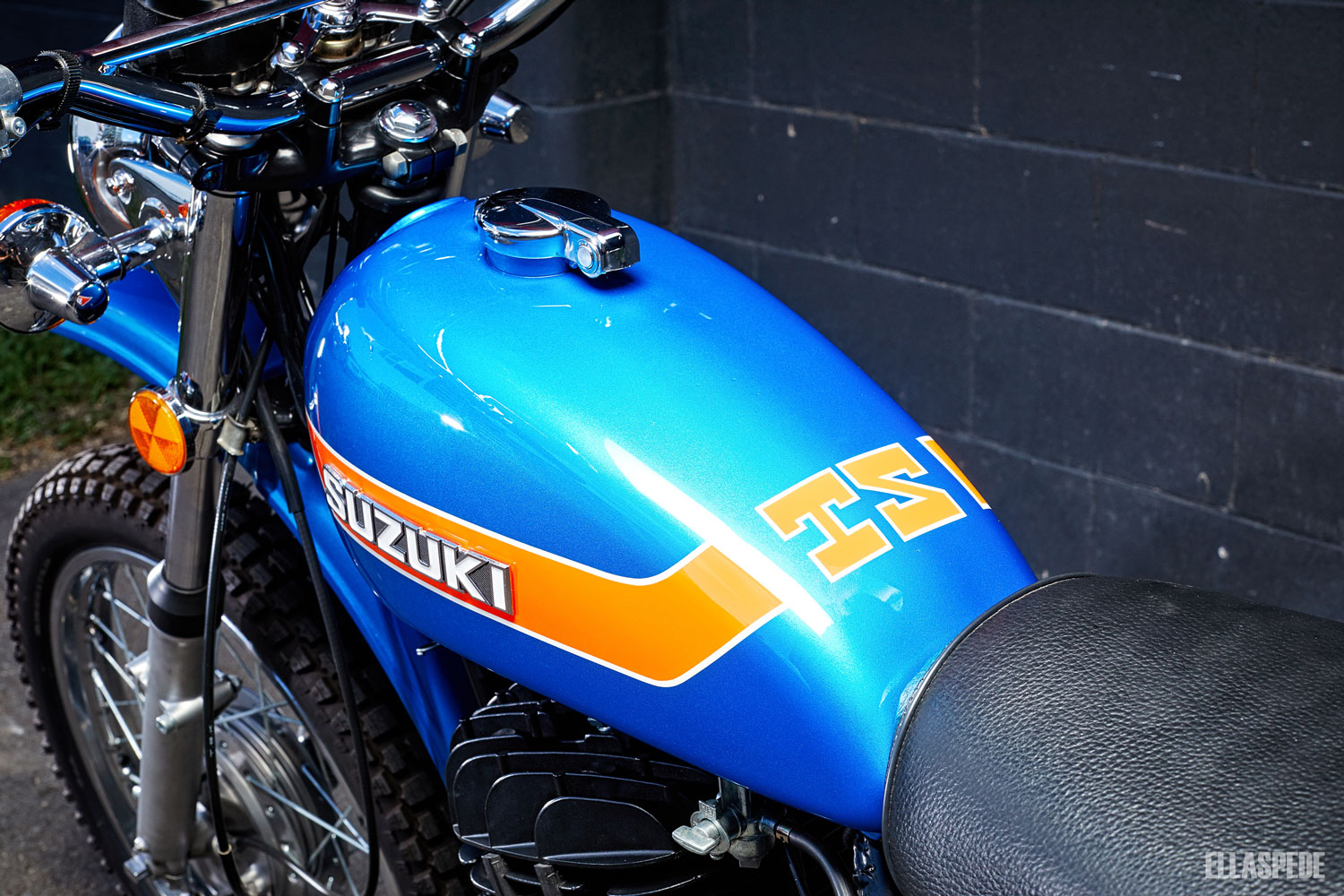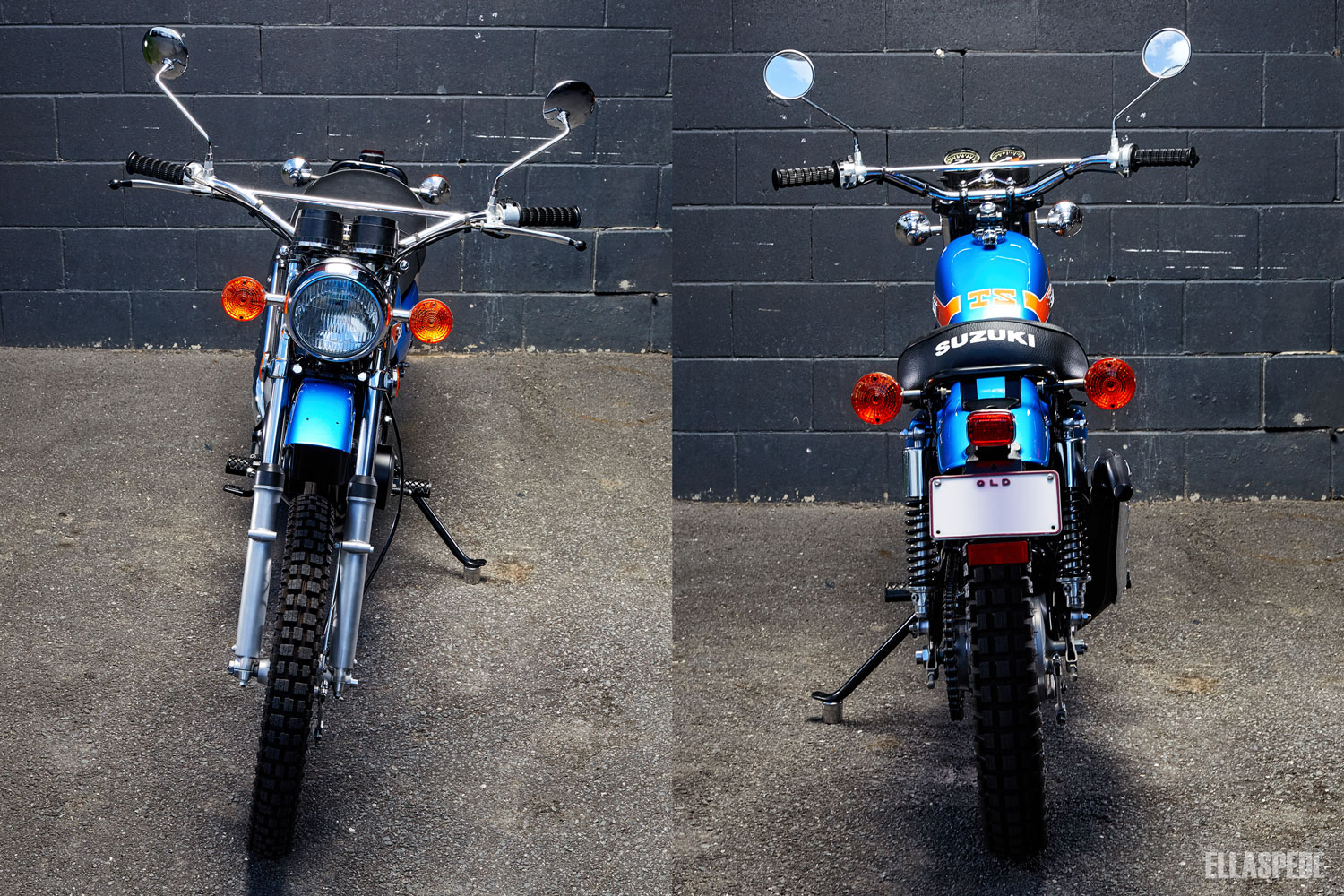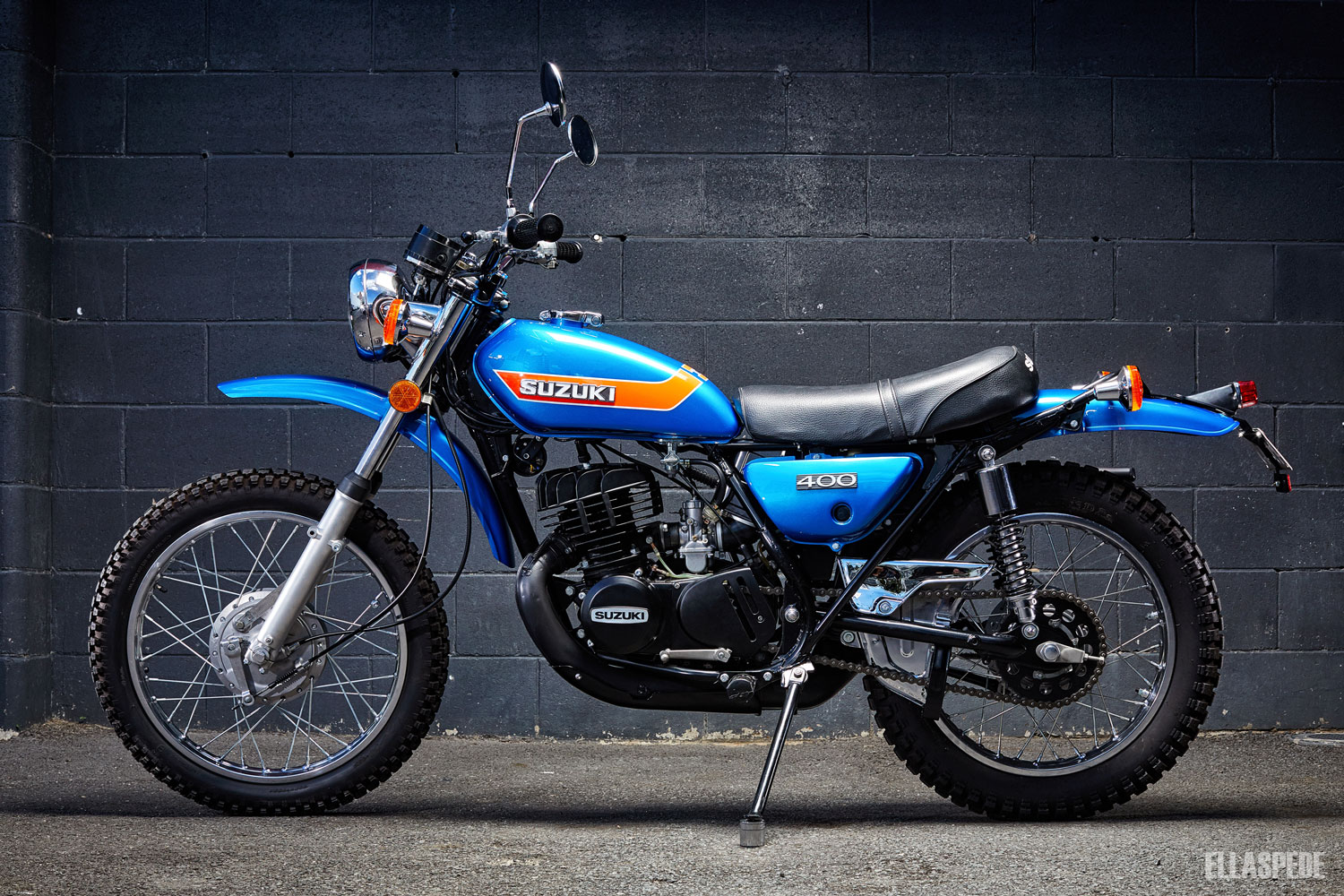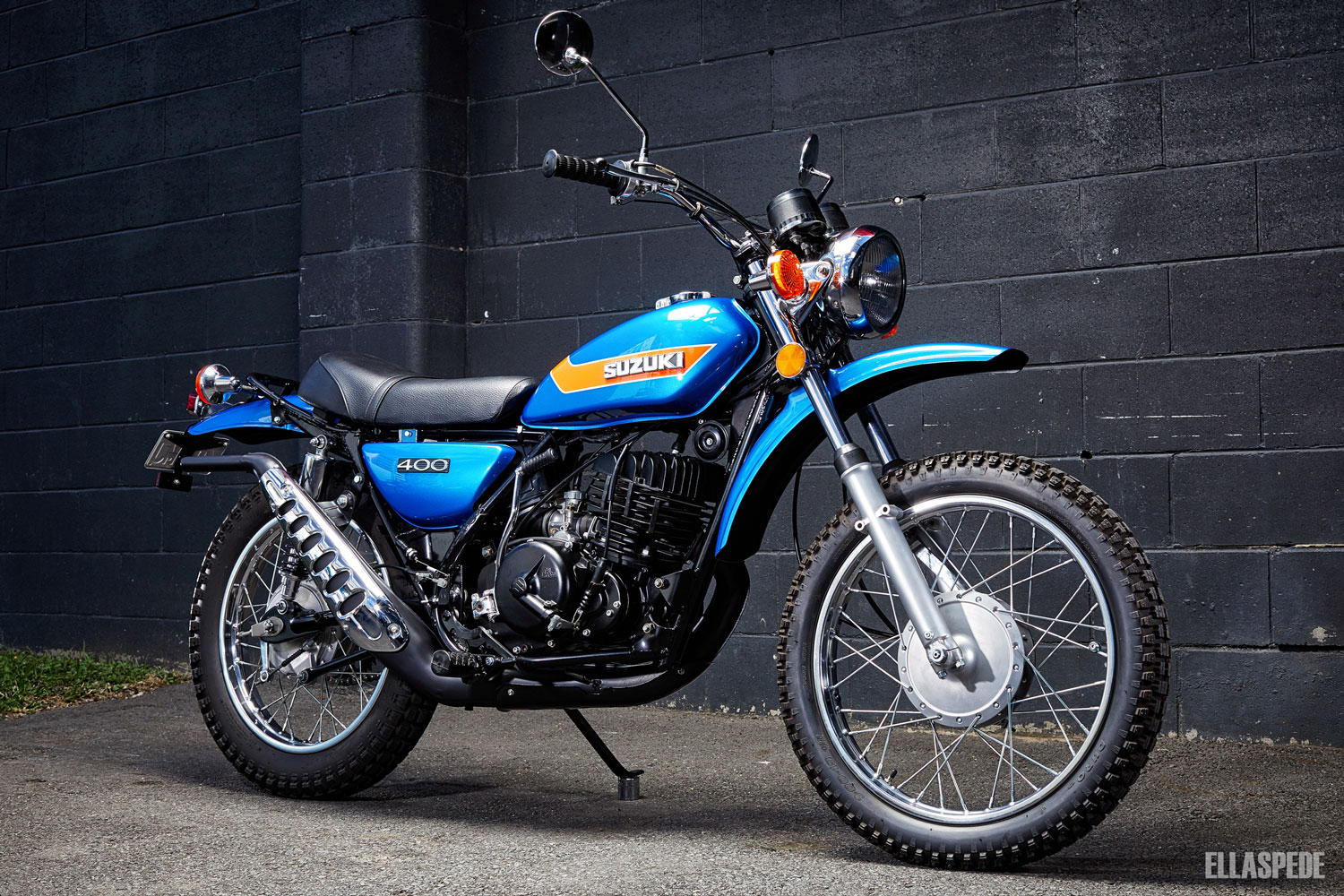 ---
Albums we listened to during the build of this bike:
---
Photos and Features:
---
---
Comments (9)
TS 400

By:

Pat Cipolla

on 7 February 2023

I bought a TS 400 in the spring of 1973 from a Suzuki dealership. I still have it. I believe it has about 3,00o miles on it. Most of then I was told are all tore up if you can find one. Mine is exactly like yours. I've kept up all the maintenance on it and hardly have ridden it. I keep it in the garage covered up. Occasionally I show it at our club rally. I belong to the Vintage Japanese Motorcycle Club Kansas City chapter. By the way you had a magnificent restoration done on it.





Ellaspede Response
Very cool Pat! Nice to hear that you still have your TS400 that you've owned since new and you continue to enjoy it. We're glad you like our resto mod too. Cheers mate!
---
Great Job

By:

Richard

on 19 November 2022

Really great looking bike (hope it runs as wella s it looks) I can imagine a lot of hard work must have gone into getting it to a standard that is better than the day it left the showroom, well done is an understatement. I hope to find a good example here in Germany to drive around on on day, I don't think it will match the perfection of this restoration. Would be nice to see some before and after shot. For the moment I am happy with my vintage TS 125 and need to wait a bit till the TS 400 fund is topped up sufficiently.





Ellaspede Response
Thanks Richard! It's a great old bike. Hope you find a big 400 over there one day soon too. Cheers mate
---
Have one for sale

By:

Cody

on 18 October 2022

Have a one owner all original all there except the tank good strong compression all works lost key tried to bypass ignition no luck 10 years later I inherited the bike found key went through everything needs final bit of wiring wired up all plastics and lights and gauges clutch breaks carb ect all good paint is pretty good chrome also seat even the headlight bulb 2000$ clean title ready to ship great bike with just a small amount of work I have to many projects that take rank and don't want it to just sit couple hours work and she will rip I have photos
---
I have one that I may sell

By:

James Cameron

on 2 March 2022

I have a 1973 TS400 Suzuki. I'm the second owner of the bike, The registration says 1973 TS250 I still have the 250cc engine and all it needs is Piston & Rings. I put the TS400 engine on the bike. I purchased a new expansion chamber and silencer, the crank bearings and seals, new Piston and rings, I bought a new Carb and also have 2 frames one almost complete.
---
I was looking to buy a blue 1972 TS 400 cause it

By:

Chris Lavely

on 19 September 2021

That was it!
---
1972 ts 400

By:

murry humble

on 20 January 2021

On July 1st 1972 my self and 3 other friends road to Alaska from Cut Bank Montana. My self and Jim where on the TS 400s. The other two on Yamaha 360s.Round trip it was 6000 miles. Got back and traded it for a TM400 road and raced it for 3 years and survived. I have owned 15 motorcycles from a Honda 55 trail to a Bmw R90/6.Dont have a bike now. I would love to have the old TS400 Apache back.





Ellaspede Response
Very cool story Murry, that would have been an awesome trip. Sounds like you've had some good bikes, but the TS400 is definitely up there!
---
I Want to buy 74 Blue Suzuki TS 400

By:

Mr Bill Banning

on 2 December 2020

My name is Bill live in San Diego I rode a beautiful Suzuki TS 400 Savage 974 while in high school 1974 - 1979.. I would like to buy a clean working bike. Is there any1 out there can help me. Tks
---
Memories

By:

Robin pampling

on 12 July 2019

Fantastic story!! The bike looks awesome!!
---
TS 400

By:

Ray Smith

on 23 August 2018

Well done to all the team at ellaspede Thanks Ray
---
Leave a comment